The Healer. Chapter 35
8 min read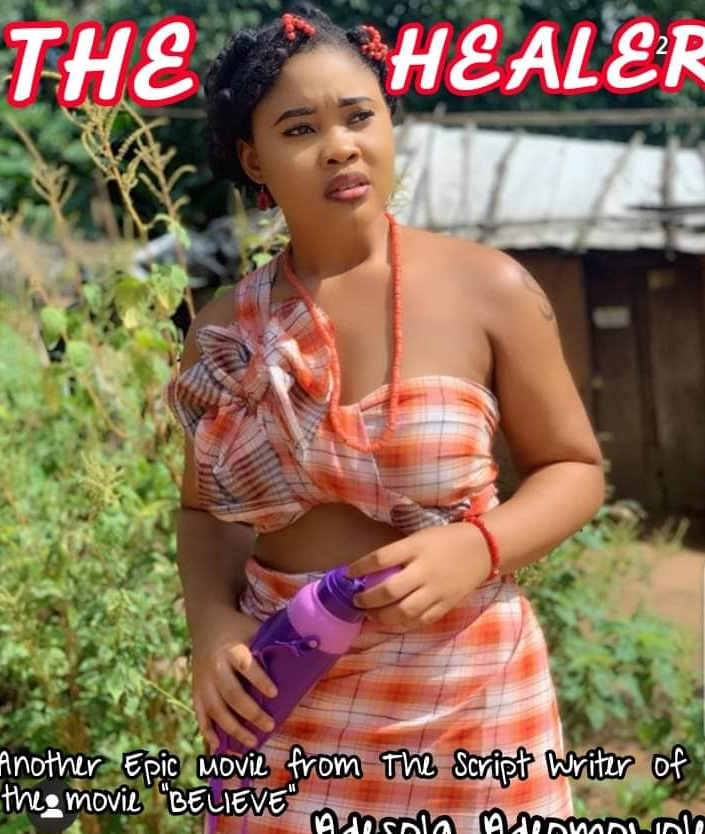 #THE_HEALER♥️
[kill me????heal my heart]
© adesola adeomowole.m.
Settings;Nigerian Epic drama????
Chapter 35????♥️????
now,enjoy..
"one moment please,"
Chidinma heard then the door opened to her face. It was a guy with am unfamiliar face but she guessed him to be prince drema's guard or assistance cos he doesn't even dress like a guard. She instantly hide the flask behind her back.
"good evening sir"
"ohh it's a maid servant" the guy, Stanley said.
"sorry wrong room".
she tried walking out, Stanley drew her back.
"I don't think it's the wrong room".
"it's really the wrong room, bye"
"are you a spy? what do you have behind you?
"well nothingggggh
"I think you are a spy,what's that thing behind you??
"no it's not yours
Stanley chuckled,he find Chidinma funny already,he turn around Chidinma and took the flask from her. He walked into dremma suite chidinma ran behind him as he closed the door in drema suite. she tried snatching the flask from him,he throw it to his other hand, Chidinma left him in surrender,he opened the flask and smiled.
"can you girls stop stalking prince dremma's room already??
"what?? that's a tea herb,it cures insomnia telle how does kindness turns into stalking" dinma said.she felt the air around her was different. that was when reality jolts her.
she was in the prince living room.
everywhere in the room was cold slightly..
the phosphorescent lights were dimmed and so romantic.
the stairs leading upstairs had golden bars on the rods..
the floors were something else.
oh boy!! was this a whole house on it's own.
she blinked her lashes and walked out of the suite so she won't get carried away.
"may god save drema from all this women,who knows if it's poisoned or she put do as I say charm inside?"Stanley said as he scented the tea herb.
"what smell is this??
"I think I smell honey…….
"hmm what's ziza grass smell doing here, smells like sweet fragrance..
"shanyoles grass
"holy heavens how did that maid afford this,did she use up all her savings" he said to himself.
He dropped the flask
"whatever"he picked it up and walked upstairs with it.
"boss"he took his lips in.
"come in"he heard,he opened the door.
drema already changed his dressing,he deeper the white band in his hair.
"tell me"he said.
"one of the girls drop this,she calls it insomnia tea"Stanley responded.
"a maid servant?? insomnia! I told you and nkem not to collect anything from those girls right???" Dre said without turning.
"am sorry my prince,I will dispose it" Stanley replied.
"stop"
stanley stopped…
"drink out of it"Dre said.
"I…I….okay boss"Stanley replied.he filled the flask cover halfly and drank out of it.
"it's bitter"Stanley said,Dre looked at him he swallowed it forcefully.
"let's see what happens in the next 7hours".
……………….
meanwhile chidinma was still standing behind the garden waiting to see if Stanley will pass or come out.
like she predicted,he came out.
she rushed him.
"hi,did you deliver it? she asked.
"no,I drank it instead. Hope it's not poisoned, next time don't bring stuffs again"he replied and walked out.
"I really wasted my money,what was I thinking that he will accept it.my money just wasted" Chidinma frowned.she returned to the maids quarter.
"why am I even angry,not like am expecting something in return right?? maybe am angry because if the money I wasted.
"how was it?? was it delivered?"olive asked.
Chidinma nodded negatively.
"I guessed right"Dika said.
"let's just forget about it,I was only trying to help"dinma said.
"is the back door opened"dinma quickly changed the topic
"yes".
"okay".
they are breakfast together.
"I haven't seen Nina and Hana??
"they are in the 5th building"
"no wonder here is calm"
Chidinma didn't eat.
"if it's because of the money you wasted,forget it…I will give you 20k so that we will both share the loss".olive said.
"am okay,its just…am thinking of something.I think I should be going now,today is Thursday right?". Chidinma left, she bath and changed her dress.
…………………
Light opens on Nora.
She sat in the palace guest room doing nothing in particular. So many things ran across her mind,her friends will laugh at her if they know of her situation…
She walked out.
"my dear have been expecting you"queen chiamaka said.
"really am here mother"she replied.
"drop this for rema"
"okay"
Nora smiled.she picked the tray and headed to dremas suite.
she entered without knocking,the room was empty. the plasma tv was on.It was even on news.
DREMA JEWEL CAUGHT ON CAMERA HUGGING A COMMONER NOW WHO SAID DREMA JEWEL IS FULL OF HIMSELF
Nora dropped the tray.
it's really drema in the news but who's that girl Nora checked well,the source of the news is unknown yet.
"isn't this a movie,I mean drema can't do this" she walked out and bumped into Stanley.
"where's prince drema?? she asked.
"he went out just now"
"okay"
Nora walked out,she came out right in time, drema just drove out.
she entered her car and trailed him behind.
…………….
meanwhile drema packed his car in the normal spot.He stepped out and beeped his car locked.He walked down to the place he usually waits for Chidinma.
"where is he going? is this the place he comes every Thursday and Sunday night" Nora also came out of her car.
"this place is too local,what's Dre going in this type of place???
"it must be that girl??
"whoever you are,just pray I do not find you tonight!!!
nora also mixed in the crowd,she lost sight of drema as she didn't get where he followed.
she kept on searching..
*******************
drema waited patiently,soon Chidinma arrived in the spot.
"you came earlier"she said.
Dre quickly took her hand,they both walked down…
"there's a lantern show there,let's watch it" Chidinma said.
"okay"Dre replied. I really want to confess to you tonight.
"it's so beautiful"Chidinma giggled.
"how did you find this things here?
"hmm don't talk again,it's pretty,I love the sight but why is that flower lantern hideous?" Chidinma asked.
"I think that's the most beautiful phoenix flower"Dre replied.
they left the show and went else where, dinma was enjoying her self meanwhile drema was thinking of a way to confess to her.
finally they settled in a quiet place.
she opened her drink,
rema looked at her.
"why are you starting at me??
"it feels great to stare at you"..
"hunnn
"never mind.
"i was actually sad before, I lost money and it really pained me"she said.
Dre paused his drink."how much??.
"Not really lost but I think that's what is good for me cos he didn't send me"dinma said.
"he?? I don't understand"Dre said.
"hmm its prince drema,you know him right.. the third prince of the jewel"dinma said.
drema choked on his drink
"Prince drema??" he said.
"Yes,anyways I don't blame him"dinma said.
drema looked at her with love. silly girl prince drema is sitting right beside you.
"what about him? what did he do to you? I hope he didn't hurt you"Dre said.
"don't worry forget it"dinma said.
drema smiled.
"you really don't want to tell me"he said.
"I was only trying to help cos I heard he has insomnia so I used 40k out of my salary to prepare him tea herb not knowing I wasted my money and energy"dinma explained.
the drink Dre was holding dropped.
"you are also shocked right"dinma asked.
"you work in the palace???"
"yes,didn't I tell you"dinma said.
"huunn I shouldn't have helped him"she added.
"He might be cautious of something,dont blame him too much"drema said.she works in the palace,no wonder I feel her scent sometimes.
"have forgotten about it"dinma said,she stood up. drema stood up also,he suddenly held her back.
"i wanted to say something"he took his wet lips in.
"what??"dinma asked.
"can you date a poor guy like me??".
"but……"Chidinma paused and look in his eyes
"but what??
"but am still working in the palace,I am so occupied,we won't be allowed out as from next week and…..
"if your maid job doesn't exist will you still marry me??"he asked.
Chidinma looked in his eyes,her heart beat was something else already. it was as if drema was using charm on her,every where on her body was sweeting her.
she looked away shyly.
"I will talk to my mom first so that she can stop giving other guys hopes. when the times comes of course I…."Chidinma paused she took her hand away from him and the electric shock of love reduced.
no words between them. just stares.
"can you stop looking at me"she said.
"what will happen then if you talk to your mom?Dre asked.
Chidinma turned to avoid looking in his eyes so she won't say what she's not expected to say.
"when the time comes of course am willing to marry you"she said.
Dre moved closer,he was still surprised she agreed to his proposer even though he acted poor.
"repeat what you just said" he added.
"I said when the time comes of course am willing to….
drema hugged her from behind,he locked his hands around her waist then lean to kiss her.
Chidinma eyes widened,
the lemonade drink fell down from her hand
her eyes were widely opened.
Drema unlocked and look in her face.
Chidinma looked around and wiped her eyes
her mouth was still open.
drema looked at her quietly for a while and smiled again then he lean in and kissed her again..
he unlocked and locked into the kiss.
chidinma's heart was on fire,
she became steady by force as drema deepened the kiss.
he trailed the kiss to her cheeks then to her neck.He went back to her lips,kissing her slowly like he was taking ice cream.
she responded to the kiss slowly.
drema unlocked and took the back of her palm where he kissed.
"promise me you will be good to the prince" he said.
"hunn..okay but it's because of you"dinma said
drema smiled and kissed her again.
"I got this for you,if you lost it you're in trouble" he fixed the hair chain in her hair and kissed her again.
Nora showed up in the midst of their romance but it was so dark that she couldn't see their face.
"Drema!! she shouted as she tucked in her hair behind her ears,the noise was something else plus she was in a crowd.She only sighted them from afar.
"Drema!!! she shouted again.
Oh god.
????????????????????