The Healer. Chapter 36
6 min read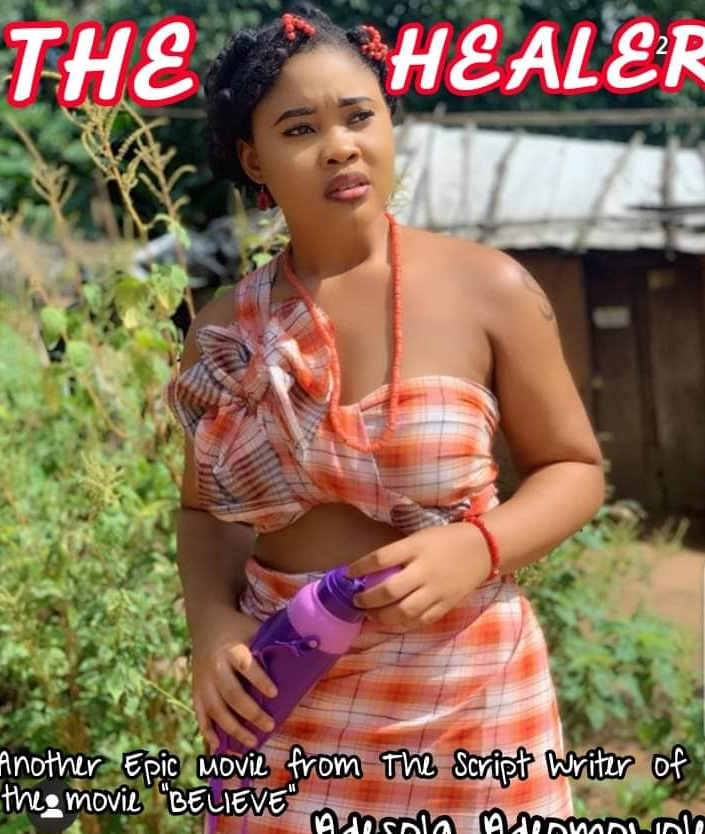 #THE_HEALER♥️
[kill me????heal my heart]
© adesola adeomowole.m.
Settings;Nigerian Epic drama????
Chapter 36????♥️????
now,enjoy..
Nora's eyesight reduced.
she walked closer and hide 5cm behind the nearest tree still she couldn't capture chidinma's face,only her backside was seen by her..
drema turned slightly,Nora moved in and hide well.
"it's cold come over here"drema's voice said
Chidinma chuckled and rested her head in drema's chest as they kissed again. drema deepened the kiss into her neck where he kissed tightly.
whaaaaaaattt. Nora clenched her fist.
I thought…what the- how come- what
am so confused
is this drema
who is this girl?
what nonsense?
she hastily ran out of her hideout with both hands on her face,she leaned on her car for a while then drove off.
oh no…I lost drema
what I was scared of happened
what can I do now??
won't I be laughed at?
drema you can't leave me and choose someone below me,I won't let go.
she stopped the car to the side of the street and wiped her tears.
she stepped out of her car and walked back to the place.unfortunately drema and dinma left.
She saw a woman selling lemonade nearby.
"excuse me madam"
"my pleasures my princess but what are you doing in this type of place? you're bian kingdom emperor's daughter right or am I dreaming"
"I am actually..you're right"
"my pleasures my princess"
"that aside,what about the two guys sitting here?
"they left just now"
"where???
"hope no problem? they took left direction.
"do they come here frequently?
"humm
Nora scoffed and took the direction the woman told her.
…………
meanwhile drema and Chidinma already walked down.dinma couldn't help staring at drema while he walk.
"I can't believe,he confessed his love to me am so happy"she said to herself.she stupidly thought of the kiss,he was so romantic.
"honey we are there..
"the mall?? Chidinma asked.
drema took his face cap and covered his face as they walk closer
Chidinma still stood outside the mall looking at the big door and the security standing there.
"come on lets go"drema said.
Chidinma ran behind him,they walked into the mall and soon rema headed for the health area.
"are you sick?"Chidinma asked him
"no. not do I look sick?
a man came forward to attend to them.
"I need something that can ease stress?…
"but you don't look stressed"Chidinma said.
"I can give you astymi….it's just 10,0
"don't call the price..
drema took the drug from the man and they walked away then he handed the drug to Chidinma
"what…why are you giving me this?
"I bought it for you"Dre replied.
"whaaaaattt
"stop screaming you must be stressed after using firewood to prepare herb for the prince,the firewood can get your hands infected so apply this on your hand while you drink this…."
"whaaaatt
"are you listening?
"why obim this is too…
rema touched her forehead in a caring manner."hey stop you're troublesome am the one paying right?
"what? I didn't tell you am sick right,am returning this" she dragged the drug back from drema and tried rushing back to the health center but drema took her back.
"hey stop you're troublesome
"ok ok let me go I won't return it"Chidinma said.
"ok let's go"Dre replied
just as drema left chest dinma,dinma tried running into the health center again drema rushed after her and took her hand .
"OMG stop you are embarrassing me(he looked around) people will recognize me here"
"you say what?
"nothing"
"just let me go,let me return this drug,this money will pay my house rent don't you know"
"don't bother I already paid"..
"all right let's go,I won't return it
"promise
"promise
"okay I accept the gift now ,so let us go" she tries rushing out drema drew her back like a little child till they got to the botique section.
"pick what you like
"ok
she walked about but she didn't pick anything she was busy checking the price tags.
soon a particular gown caught drema's eye it was black and pretty.
he picked the gown and headed over to where Chidinma stood.
"what do you think? pretty right?
Chidinma took the cloth from him and instantly checked the price tag "60,000".
Chidinma shouted "what"
"try it out".
"hunn"she check the price tag again
"well its too bright,thank you"
she hastily hanged the gown.
"try it out please"
Chidinma took the gown from him and headed for the dressing room later she came out wearing the gown she looked beautiful.. drema was woawed he checked her out carefully… she was indeed beautiful.
drema picked more clothes for her.
"can't you see the price tags,don't finish your money and get trapped in this place" dinma said,drema smiled and kissed her cheeks.
"what's funny??
"but my money can't possibly finish.okay I will pick cheap ones"Dre answered.
Dre picked every single female cloth that caught his eyes.
they went to make payment.
"how much?
just then he remembered the money might cause Chidinma to faint
"umm don't worry just collect the cost" drema said and handed over his credit card which the girl returned to him.
"you look familiar sir"
"no I don't"Dre replied
"if not for one thing I would have said you are drema jewel…
"really,are you sure"Dre asked.
he walked out with Chidinma….
"thank you,I like them but next time don't buy me more cloths you need to save,when you have a lot money then you can start buying anything for me this is too much for a start"she said.
Dre held her hand well. finally they walk to where they will part.
"take care of yourself,okay"
Chidinma walked away.
………….
unluckily for her the palace gate was locked.
jeeezzz.
she turned to pass the back gate which she guessed wasn't unlocked. unfortunately it was also locked.
"has the time passed?? it's not 9pm right, this is just 8:54??
she knocked,the gate was strong no one will hear so she used a nearby stone to knock.
She knocked and knocked she soon stopped. the door was opened by Nora.
"good evening"dinma said
"am sorry I won't stay out so long although it's just 8;54" she added and wanted to walk in. Nora pushed her out,
she looked at her cloth and recognized her as the girl with drema.
"was I wrong?" dinma said.
"it's not 9pm already" she added. Nora slammed the door on her face…
dinma continue knocking.
"you're fired" Nora said.
"I didn't do anything wrong…neither…
She reframed and left the back door to the main gate.It was still locked.
"is this also Nora doing? that girl is miserable" she said to herself and continue knocking with a stone. Until flashlight from from a car flashes on her from behind..
She turned,it was Charles.
Charles was also surprised to see her.
"welcome your highness"Chidinma said and collected her face immediately.
Charles step out immediately she collected her face,his guards followed him from behind..
dinma shifted away from the gate but instead Charles opened the gate for her.
"get in" he said.
"hunnn"
Charles opened the gate well for her..
"thank you"
Chidinma entered."why did he help me??
????????????