The Healer. Chapter 37
7 min read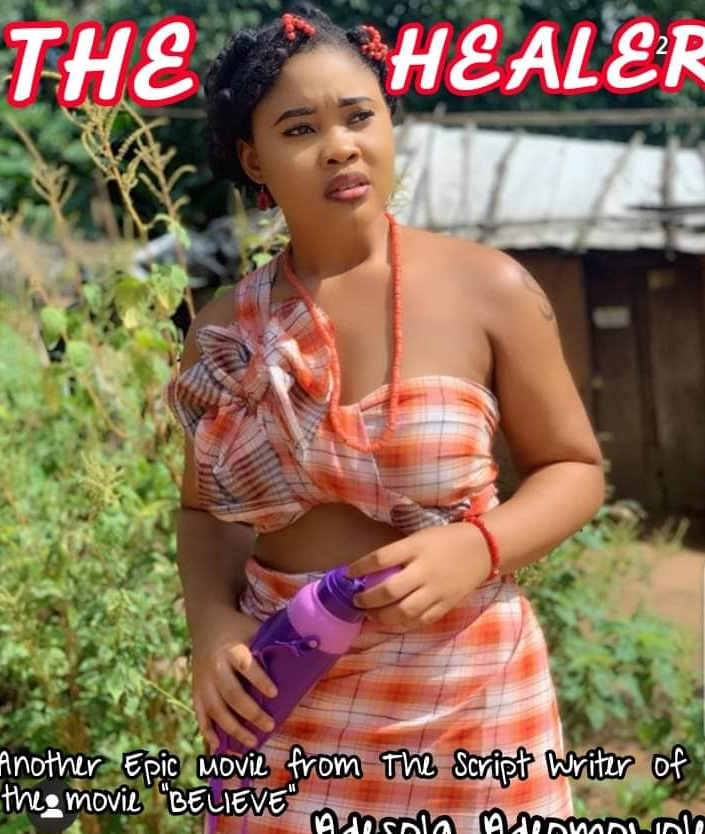 #THE_HEALER♥️
[kill me????heal my heart]
© adesola adeomowole.m.
Settings;Nigerian Epic drama????
Chapter 37????♥️????
now,enjoy..
Charles stared at chidinma's retreating figure like a lost sheep.
"when last did I stare at a woman like this? he said to himself,his eyes won't just give up.
Instead of seeing a maidservant in a piece of simple clothing,he saw a beautiful model on a night walk. her perfect curves were beyond perfection,her steady footsteps,her elegance, her lifted high chin bone,the sexy rhymth of her hips,everything drives him crazy.
"my prince…"the body guard by his right clears his throat.
Charles darted his attention.
"You…..you are still waiting outside,the girl is gone already".
"you really don't know when to talk and when not to disturb,I will fire you later"
"Ethan find out about that maidservant later"
"bring in the car too
Charles walked in full spirited.
the maids bowed in a roll to welcome him, they rose as he walked into the prince empire straight away to his suite.
"the other maid servant told me she's dead right?…does it means she survived the snake bite…and when she survived,why didn't she report back to me"
"I still don't get it,that girl doesn't look like someone who escape death. (sips in wine from his glass)
"maybe she lied to me"
"impossible how can she lie to me "a prince" did she wants to get herself into trouble for defamation
"some ladies are always jealous of each other maybe she doesn't want her friend to meet me the crown prince…how can this be"
Ethan rushed in.
"shoot
"queen mother wants to meet you she's worried sick"
"I know she will be,it's usual for me to see her each time am back from work"
Charles went out to the throne room where queen ivory and king jewel received him warmly.
"I was so tired,didn't get to greet you on time"
he said.
"I understand,you can save your energy for the next prince task"
"prince task????
"yeah. between you and tochi"
"is that necessary at all"
they both walked out.
"what task is father talking about??
"I don't know what it is now but what ever it is prepare yourself.good night chidi(my pillar)"
queen ivory said. Charles gasped and walked towards the direction of his suite.
"tell Ethan to find out if that maid servant once had a snake attack,I want to know who's lying between the two girls".
"yes my prince"
the other guard walked out. another came in and whispered some words in his ears.
Charles nodded in furry.
????????????????????????????????????????????????????????????????
Chidinma reduced her fast step into a slow pace,she was too shocked at what happened back then at the gate.
"first it's that proud emperor's daughter, now it's charles, do I know them from anywhere, why will he look me like that and why did he help me my head is spinning already,I don't want to think too much anyways".
she dragged the heavily loaded shopping bags to the maids room,before she could open the door Hana appeared and opened it from the inside. her normal face turned into something else on seeing those shopping bags with chidinma. She cleared her throat as chidinma passed her side…
"when did chidinma start working here that she started staying out late,that girl is really shameless" Hana walked in.somehow she wants to see for herself.
"I thought you wouldn't come back tonight" olive said.she removed her duvet.
"so how was it?
"more than I expected…
"really?
"yes ……he asked me out
"oh my godddd, what did you say??
"you wish! I want to go and have my bath".
Chidinma walked out,she came in minutes later wrapped in a neat boring wrapper.
"tell me now…..wait are you sleeping in that? is your night robe not dry already,you can wear mine I have two.
"I actually want to wear something new to celebrate…hmm what am I even thinking to say"chidinma opened the first back and brought out two night robes of colours "pink" and "purple" olive eyes popped out on seeing the tags,the price were written in words so chidinma doesn't know how expensive it is..
"wait let me see very well" she said Chidinma left it. she checked the price well.
jeeeeezzz this will pay my family house rent, didn't chidinma say obim is poor.
"hmm what happened to it"Chidinma asked
"I love their scents"
"they are all pretty clothes"
olive checked the tags on all the clothes,she was one smart lady. in my opinion I don't think this obim guy is poor,he might have reasons for keeping low profile" olive said in her head.
"hmm chidinma is really lucky….didn't she say her boyfriend looks like prince drema???
Chidinma clears her throat."you can have one of you want,it seems you like those two night robe".
"(jolts out of her thoughts) Dika will be jealous if you give me and you do not give her,there's only two night robes,it's better I don't take any in other to be a considerate friend" olive replied her quickly. her eyes couldn't get over the tag.
"you can take something else then"
"sure,it's been so long I bought myself new things,am jealous of you i think I would get a boyfriend soon" olive chuckled.the two clothes she selected were pretty,it was the black gown drema specially selected and a brownie gown
those two were the most expensive.
"I think I like this two but they are…..
"you can take them if you want,I actually don't like them,it's kinda exposed"
"exposed?? it's not exposed,that's the style in it you don't know anything. I like this black gown so much but it looks special,it's like obim selected it specially so I won't take it"
"anyone you like…
olive picked the one she liked and helped Chidinma to arrange the remaining in her cupboard.
olive opened the last bag and saw a pack of sanitary pad..she clears her throat and arranged it in chidinma's cupboard.
She carried the box next.
"what's inside??
"its an iPad!!!
"iPad?? what's that for? Chidinma rolled to the other side.
"I will teach you how to use it"
"here…we can watch movies? surf for news..
Olive saw the drugs.
"who is sick??
"I actually have two sickness lately number one is headache" Chidinma said.
"the drug he got is correct,it's for headache and stress"olive passed the drugs.
"what's the second illness? olive added.
"my heart is always beating so fast as if pumping out if me. am I dying? chidinma said.
"you…your heart is beating faster"
"yes I don't know why,but recently every time I get close to obim it moves faster than normal it must be the symptoms of a disease but what is the disease" Chidinma asked.
"I think I know the disease…."olive chuckled.she took chidinma's left hand and placed it in her chest.
"close your eyes and think of obim"
"why? does my sickness have something to do with him.ok done" chidinma stated.
"can you feel it,it's beating rapidly,this is love sickness"olive laughed.
"hunnn you're crazy,good night"
Chidinma rolled to her side, olive fell to her side.
"so I was wondering why,I mean why are you so chaste you are very pretty and a lot of guys are after you or are you a ghost"
"I'm not a ghost but you see olive,there are some things you don't have to think about when you're poor.good night".
"soo are you a Virgin"…
"whaaat no am not"chidinma replied.
"that's a lie..
"fine I won to you,can we sleep now.
"no one last question"
"tell me".
"Your boyfriend,Obim does he have a star dot on his neck and does he have a tattoo signature on his left arm"olive asked.she badly wants to confirm if obim is same person has prince drema.
Chidinma sighed."star dot tattoo signature on obim".
"I don't know,each time am with him I hardly check him out all I know his that he has an amazing heights,an handsome face very similar to prince drema. is there any problem? Chidinma asked.
"ohh nothing am sorry if my questions are too much" olive said.
"okay goodnight,if there's anything you can ask me"…
They were about sleeping when madam crystal walked in.
"ohh you too havent slept,there are some works left come over"she said.
"whaaaaatttt"
Chidinma and olive shouted.
they followed her out to the garden where olive picked litters,Chidinma did other things..
which include delivery.
she picked her delivery basket and set to leave the prince empire.
she walked down,she was lost in her thought she didn't know when she arrived.
"hey watch….." prince drema who was almost close shouted.
waaaaaaaatttt.
her hand went over his shoulder as they both fell together…
she fell heavily on drema,it was so close her breasts pressed hardly against his chest.
"God am dead".
She looked in his face.he looked so much like obim. she collected her face and looked to the other side angrily.
why do I……
"his dark eye"
"pointed nose"
cute full pink lips
nice set of teeth
pretty skin
how can he look so much…..
"miss" drema said calmly.
"mmmm….he speaks like obim,why is my heart beating too fast"
"won't you at least stand up?? he asked.
"ohhh!! my!!! am sorry!!!!
????????????