The Healer. Chapter 4
7 min read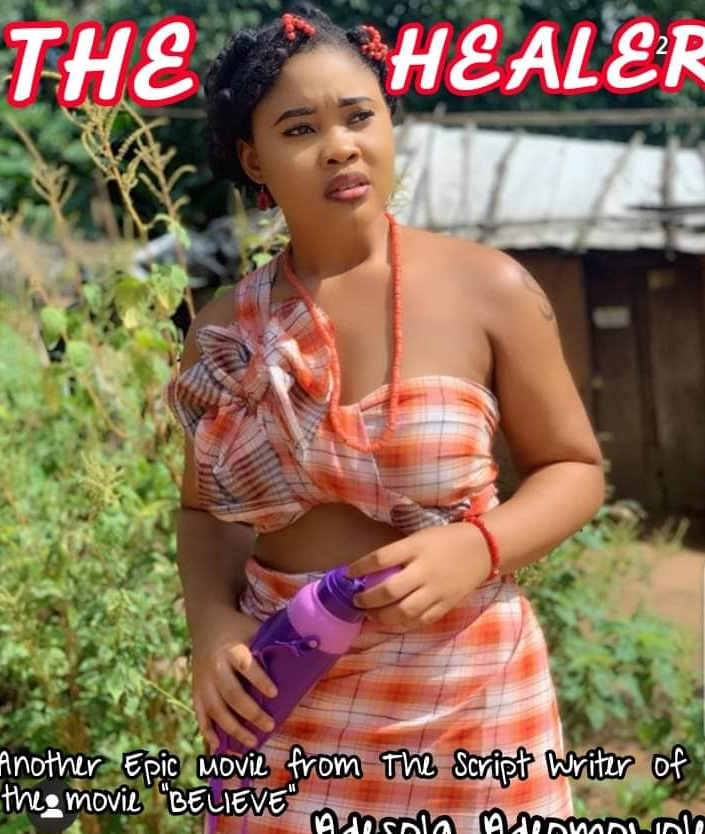 #THE_HEALER♥️
[kill me????heal my heart]
© adesola adeomowole.m.
Settings;Nigerian Epic drama????
Chapter 4????♥️????
now,enjoy..
Night????????????????????????????????
Chidinma's house ????
Chidinma sat on the mat with her younger brother nonso,they both counted and tied the groundnut they will be selling the next day.
just then her father came back from work…he wore a long pitiful,worried face.
his wife stood up to him..
"nnayi(my dear husband) why the long face,what happened"his wife said.
"well there is no sake today and madam Tamara finally succeeded in locking my workshop.
Chidinma stood up on hearing this
"why will she lock it….infact that woman wants me to enter one trouser with her"
she said abd tried rushing out but her father dragged her back.
"it's okay mma,leave her she said she will open it when her son gets well.i don't blame her I blame poverty"
her dad said abd walked inside while her mother sat back on the chair and continue peeling groundnut
Chidinma sat back on the mat,
somehow she felt she is the cause
"father am sorry,I was the one that dealt with madam Tamara's son. He was trying to rape nmachi…I can't stand seeing him direspect a woman in that manner".
"why did you interfere"her mother said.
her father's face widened.
"seriously you beat him up…how did you beat a man up so badly"
"hmmi will tell you…I took his hand like this" she said abd took nonso hand to demonstrate
her mother cleared her throat.
"you're using your brothers hand to do experiment right??.
nonso chuckled.
"you did well my daughter"her father commended.
"thanks"
she smiled and served her father's food, she even sight hanah coming from afar
"mma your friend"
"I know"
she replied and passed the back to meet Hana they chatted as they walked down.
"Chidinma the royal party is tomorrow oo"Hana said.
"Soo should I fry stone"
hana grumbled"we should be there".
"as for me am not attending oo,you know me now I can't stand one spoilt brat commanding me…I have pass that level"Chidinma said.
"but I really want to go,the gists I heard from Ozioma really want me to get a glimpse of what the princes looked like..
you know I told you I had a dream I was the queen"hanah said.
"this could be my opportunity of stealing one of the princes heart…"hana said in fantasy
"sorry to say but Hana you're sounding like those cheap girls"Chidinma wanted to tell her but she just kept quiet.
"or am I not beautiful enough?? Hana said.
"what you're gorgeous,you're what every man will dream off"Chidinma told her instead.
"hmmm I know am beautiful now"hana said.
"but how will you pass through the fort gate we are actually on the lowest rank in all kingdoms we don't even have the right to see the king face to face not to talk of seeing the princes and attending the party…..my thoughts tho, am not discouraging you actually" Chidinma said.
"I will go,I already make friends with the security guiding the fort gate,he will allow me into the estate…
infact let me go and see him this night" Hana said
"you will follow me right?"
"no I won't,I was actually helping my mother before you came"Chidinma said.
"escort me now at least you already said you won't follow me to party tomorrow,just this last one this night follow me"Hana said.
"fine I will follow you" Chidinma said.
they both headed to the fort gate.
************†
Royal palace????????????????????????????
queen Chiamaka was seen in the kitchen monitoring the maids in charge of Drema health. She has been so cautious and watchful she doesn't trust any of her co wives not even her personal maids..
she left the kitchen and wanted to take her phone from her room..
gosh how can she forget to call CeCe.
"my queen your attention is needed in the throne room"a guard said.
"okay"she replied and branched there.
queen ivory and the other queen were already seated, she took her seat quietly beside the queen throne since she's the youngest wives.
what can be so important to discuss.
prince Charles and prince Tochi walked into the throne room…
lastly the king came in and sat graciously
"where's prince Drema??" queen iko(tochi's mother) asked.
"and does this gathering looks like the one meant for the blind*queen ivory replied.
the king cleared his throat.
they all kept silent.
"I keep getting old each passing day and I feel like it's time I make the heir known?the king said and paused.
"hmm who your highness"queen iko said.
"what kind of question is that,Charles is the first son and the rightful heir"queen ivory said.
"never,the rightful heir here is my son Tochi!!
queen iko argued.
"have you gone mad!!
"you're the one who I mad,selfish,greedy, self centered"
queen Chiamaka watched them argue, she smiled.she doesn't care who the heir is….
her son is already made..
money and Fame is not Drema problem the only thing that pain her is that the king hated Drema and does not like seeing him,
Drema grew up without the love of a father and it really pained her.
"enough women!!!
he king said. queen ivory and queen iko kept quiet.
"all my sons have a right to the throne and all my investments,any of my sons with more valour,compassion,wisdom and affection will be the rightful heir…good night"
the king said and left.
Charles walked out almost immediately
Tochi followed.
******************
Chidinma and mma arrived at the fort gate where they met a lots of loaded securities.
Chidinma gasped.
waooow is this place for real???
there are no sands on the floor unlike the other parts of the kingdom.
is this heaven??
the street lights were sharp,
just like phosphorescent lights.
the maids were gowns, skirts unlike the dress wrapper she and Hana tied.
everything seemed news to her.
the flowers,
the tresss,
the road line…
even the air
Hana walked up to the security she knew, she greeted him and begged him to allow her and Chidinma enter….
"it's night already…I promise I will allow you in the party tomorrow"the security replied.
Chidinma stood at a distance watching them,
"please now"hana pleaded and looked in chidinma's direction, the security followed her eyes….he was a young guy,well built also.
"is that your sister???
"ohh yes yess allow us in…we won't take much time"
"ohkkk"
the security said..
Chidinma abd Hannah both moved into the estate..
Chidinma was more thrilled but she didn't show her surprise face,she really know how to control herself.
they counted the mansions in the estate..
it was more than 18,
everywhere was well set..
"is that the palace?? waoow it's nice and different from our type of house*Hana said
"mma you've not said anything"
"ohh it's pretty,can we leave now"Chidinma said…..
******************
Prince Charles moved to the top tower in the palace in a frustrated manner,how can the king said that thing…
what the king did there was trash!!
instead of declaring him he real heir he said trash!!!
he sighed and drank out of his water can in a rush,he threw the can angrily and looked into the sky then down.
it was like a movie.
Chidinma turned a face in a slow motion from where she stood with Hana,the tips of her local weaved hair fell on her shoulders,
her lips,her face caught prince Charles attention.
her feet were slipperless…
prince Charles couldn't blink for some seconds,he kept on watching Chidinma.
Chidinma on the other hand kept on dragging Hana for them to leave
when Hana didn't answer her,she ran off.
Hana ran after her.
"sorry I kept you waiting,I got carried away" Hana said.
"it's fine"
they passed many more estates.
"but Chidinma I have no clothes to wear for the party tomorrow"Hana said.
"it's fine,I will make one for you"
"ahh thank you…
"but I need some satin attire"Chidinma said.
they already walked in the streets.
they came across Ozioma,she came out of her house with some stuff materials to trash.
"is that not the satin material"Hana whispered
"yes it is"Chidinma replied
they both rushed to Ozioma.
.
"Ozioma please don't throw those materials away it's useful"Chidinma said even though she's not the one that wants to use it.
"you want my trash. Ewwwww" Ozioma said in a saussy voice.
"yes I….she wants to add it to some materials so she can help me make cloth,you see I really want to attend the party too"Hana said.
"chaiiiii
"you really think the securities will allow you into the party seeing you wearing some trash made clothes" Ozioma said mockingly.
"well a wise man once told me that it's not about what you have,it's about what you make from what you have"Chidinma said.
Ozioma laughed at them mockingly.
"that sounds like something a poor person will say"
"you want my trash then get it out of the dustbin"Ozioma said abd threw the materials into the dustbin.She turned to leave.
Chidinma grabbed her from behind..
"what!!! leave me alone"Ozioma said.
"good before I leave you alone,deep your hand into the dustbin,give me the clothes you throw there respectfully and lastly apologize to me else……"
"else what!!! Ozioma said.
"maybe you should ask madam tamara what I did to her!! Chidinma said and locked her cloth tightly…
????????????????