The Healer. Chapter 42
8 min read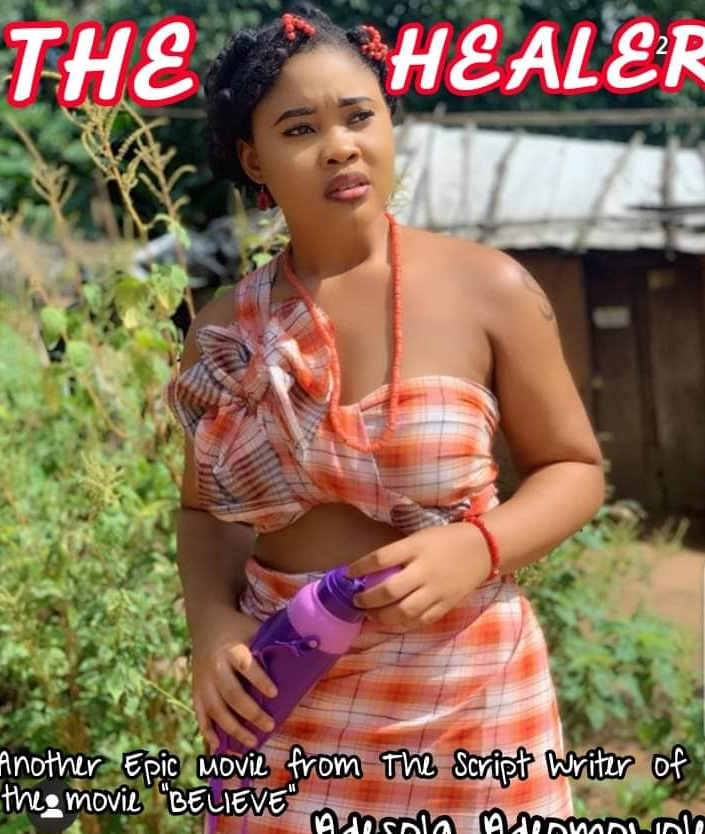 #THE_HEALER♥️
[kill me????heal my heart]
© adesola adeomowole.m.
Settings;Nigerian Epic drama????
(Season 2) Chapter 42????♥️????
now,enjoy..
A STOLEN MOMENT.
now,enjooooooooy.
Prince drema tried kissing Chidinma again but unfortunately chidinma opened her eyes. why is his face closer. she was shocked with goosebumps.
drema removed his face instantly.
"what were you doing to me,you almost kissed me…." Chidinma touched her lips,why is it wet she blinked her lashes,she's ready to pick a fight.
She stood up,drema watched her like a movie
"you removed my mask and took off my shoes did I send you? what type of nonsense is this?
"what type of prince are you!!!
"tell me now,what did you do to me??
she shouted.
drema still watched her like a movie
"am I talking to someone? Chidinma grabbed his white top.
she came back to her senses and quietly check him out,his amazing height and figure drove her crazy to remember obim.
He wore a black jeans and plain white top.. he wore flat slippers which was designed with pure gold chain,his hair was styled sexily then a black band was deeped in it,then his earrings were two little gold.
what am I thinking anyway,now that he already sees my face,he knows am a maid right…
he wouldn't want to take advantage of a maid right?? why am I even over reacting,my lips is always moist.
maybe I really jam talked.
Chidinma left his top.
"am sorry my prince..I will leave now"
she said and walked away,drema drew her back by her hand,the butterflies in her Tommy increased at this moment she wasn't thinking straight.
"am actually your O…..
just then Lila knocked on the door chidinma instantly took her hand and rushed to the door Lila dragged her hand out.
"come on let's go,Jackie is taking care of the guards outside"
Lila dragged dinma out of the room,I almost told her have confused her enough. Drema locked his suite door.
Lila instantly removed her mask with which she covered chidinma's face.
"we need to hurry. queen chiamaka mustn't find out what I did today" Lila said.
they both ran into the car and waited for Jackie who came before they drove away.
Jackie handed Chidinma her card and with the help of olive chidinma went inside the maids room unseen and so did Lila. Both of them heived a sigh of relief.
Chidinma was so tired,she removed the earrings and all other expensive things that can cause suspicion and retired to her bed.
"Bestie how was it?" Hana asked
Chidinma was too confused to answer anybody. the moment she woke and caught prince drema stares replayed in her memory and when he drew her hand.
"he wanted to tell me something,I wonder what it was???
"hey Chidinma" hana called. Chidinma already slept away.
"huumm she doesn't want to answer me,what type of proud girl is this.
"Chidinma!!! Hana called louder this time and tapped her.
Chidinma woke up forcefully." do you need anything?
"I want to sleep beside you…"said Hana.
" olive said that first…but..okay no problem" Chidinma shifted to the other side, those memories won't stop coming. Hana noticed her mood.
one thing Olive hated about Hana is that Hana knows Chidinma best,she can interpret chidinma's mood perfectly,she can tell if something is wrong with her. she seemed to have known all of chidinma's secret since childhood.
"talk with me..
"am fine"Chidinma said
"you don't look like you're fine"
Chidinma went to her cupboard and took the teddy bear obim bought for her. she removed the nylon and went back to bed with it. I don't know what he did to me in sleep,I hope you can forgive me.
Chidinma slept hugging the teddy, olive entered.
"Hana you're sleeping in my place
"what happened to your bed
"hmm am….I just wanted to stay close to the window because of fresh air..
"fresh air??? when there is fan,even the room heater is on..
"I mean I want natural fresh air"Hana said.
Olive looked at Chidinma who had long slept she walked away,she knew something was wrong with Hana this one she is getting close to Chidinma.
she went to the other bed.
"what's with them?" Dika asked.
"I don't trust Hana she's up to something" olive replied.
"what happened?.
"Prince drema is the same person as Obim,I pity Chidinma and she's already in love with him" olive said.
"whaaaaaaattt. Jesus Christ of Nazareth. holy Mary!!!
"hey don't shout,I know that's why Hana is getting close to her"
"since when do you know prince drema is obim?
"since last four months,I hope you can keep shut….
"that's deep. Can Chidinma agree to even marry someone like him,I pity prince drema he has gone through a lot already,I know that's why he didn't tell her his true self….
but Chidinma is somehow lucky ooo,am jealous" Dika laughed.
"hmm yes,but for now you need to shut up and don't tell anyone. We promise to always help each other right"olive said
"Yes,no matter who is more lucky,we can't be jealous. but this Hana is something else"Dika added.
"what pains me most is that,no matter what Chidinma won't still take her as an enemy.
Hana woke Chidinma again.
"what happen???
"nothing,are you sure you don't want to talk to me..
Olive and Dika look at each other and made an annoying cough.
"I don't think you're fine. what's this sign on your neck???" asked Hana.
"what sign?" Chidinma touched her neck.
"it's an hickey??
"hickey? what's an hickey??
"when someone kiss you too much,this sign shoes in the place"said Hana.
Chidinma touched the place again. He really kissed me,the prince took advantage of me what type of stupid sleep did I slept,I betrayed Obim.
"aaahh this mark is plenty there where you with a man back there on the party or is it the prince……
Chidinma didn't say anything,she covered her ears with the pillow.
_________
Next morning
Prince drema walked out of his penthouse,the maids lined out in a single row,he didn't answer nor look at any of them he responded only to nkem's greetings. and bethel walked up to him.
"You left the suite early
"did you sleep here
"no,I only came to check my mansion
"ok let's return to the palace.
Just then he remembered the whole neck kissing incident with Chidinma,he plugged in his white ear pod. I will only put her in more trouble if I tell her now,why is my love life so complicated??
love is the only exam I keep on failing.
"boss you haven't visited CT gold industry to know how it's doing" said bethel.
"I trust you to do that for me
"(smiling) it's really fine and your automobile company's are doing just great.
drema nodded.
"aah your live show yesterday has gotten lots of engagement,starlife wants to interview you
"can you stop talking about that please?
"(smiling) okay sir.
????????????????????????????????
Royal Palace????????????
Nora was on phone.
"how is the investigation going
"we need time
"find out who that girl is at all cost
"we will do so soon enough
"do so please without delay
"trust me we followed them to the royal palace,and my guys are watching the palace closely no one has left..
"whaaattt! that means that girl leaves here..
"yes,it's under our control..
"noo noo don't worry I know who the girl is. It's Chidinma! that bitch.
Nora ended the call,I really over underestimate that maid.
????????????????????????????????????????????????????????????????
That morning chidinma woke up and started her duties,she ignored everyone. she didn't even greet anybody.
Lila spoke with Jackie on phone then sat to scroll through drema's internet pictures she enjoyed watching his live show,drema's music is really good. just then she saw the pictures of drema hugging with a commoner.
what's my brother doing with a pauper and in such a dirty environment.
this girl sure looks like Chidinma,how is this possible.
Lila dropped her phone and called the maids landline. she requested for Chidinma.
Chidinma came in minutes later.
"what the hell you doing hunn,you are a commoner how dare you seduce my brother, do you know who and what he is….." Lila almost flared up but then something changed her mind when she looked at Chidinma.
Her innocent eyeballs and lashes that curled up beautifully,her maid cloths were neatly ironed to bring out her elegance,her sandals thoroughly cleaned.
this lady sure looks like an angel. Lila closer her mouth and didn't shout at her.
"you called me personally,did I do anything wrong or do you need anything?
Chidinma asked without blinking.
"I don't need anything"she replied calmly.If drema really loves this woman and am rude to her then it's a disrespect to my brother.
"then I guess my presence is irrelevant" Chidinma said.
"hmm do you have a twin? Lila asked.
"twins??? am the only female in my family..
"are you sure? you better think
"no" Chidinma nodded. It's only me and Nonso, my older brother is long dead,I didn't even had the chance to see what he looks like all I know is that his name is "Darren".
Lila gave Chidinma her phone.
"she looks like you,the commoner drema hugged"
Chidinma looked at the pictures stunned for minutes she collected the phone,to see better it was really her. she even saw her groundnut tray on the floor.
"what do you have to say? Lila asked.
the phone started shaking on chidinma's hand
"is that really you?" Lila asked.
Chidinma tears stream down,she dropped the phone and ran out of Lila's room.
"it's really him,why am I Soo stupid? I stupidly let him use me!!!
Chidinma said in tears,she wasn't looking well until she bumped into someone.
"sorry!!! she said and wanted to pass the other direction,the guy took her hand back. Her tears still stream down as she looked at the guy, she hasn't seen the face before but the guy sure looked expensive..
He held her hand and answered his call with the other hand.
"drema am already waiting for you at the…."
the guy answered his call. on hearing the name "drema" Chidinma hijacked her hand, the guy collected her back.
"hey why are you crying!!.. he brought out an handkerchief and wiped her tears.
"it's really him,I stupidly let him use me" Chidinma said and cried the more. She has promised not to tell anyone but she doesn't even know why she is telling this guy she is just meeting for the first time..
????????????????????