The Healer. Chapter 43
6 min read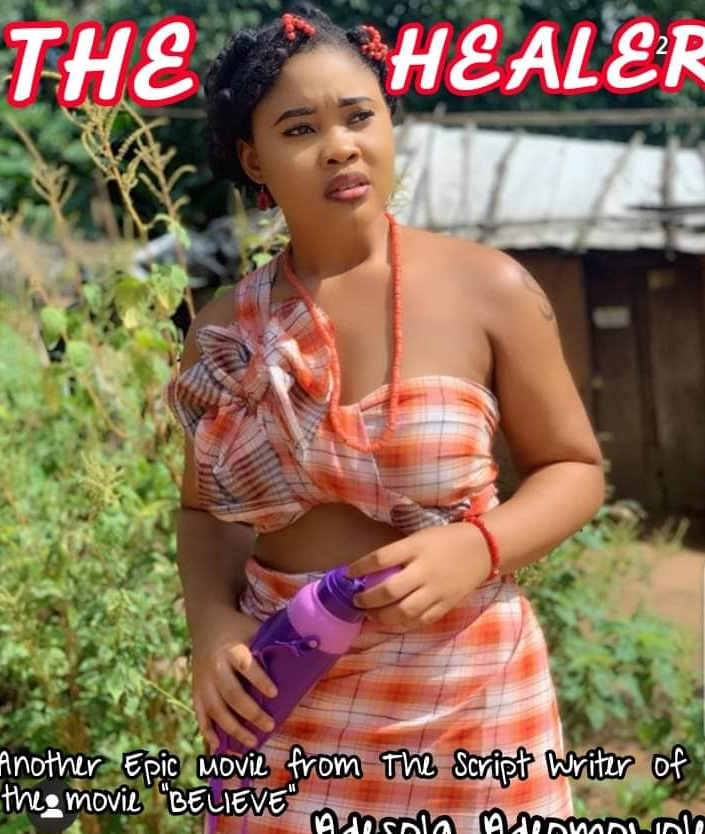 #THE_HEALER♥️
[kill me????heal my heart]
© adesola adeomowole.m.
Settings;Nigerian Epic drama????
(Season 2) Chapter 43????♥️????
now,enjoy….STOLEN MOMENTS.
Chidinma collected her hand carefully and walked out,she wondered why she told him her predicament.
"why am I getting emotional this days,it's okay forget about it"Chidinma wiped her face with both hands and Chris smiled.
"I wonder what's wrong with her"
Chris said.He entered drema's suite and walked to the glass wall and look out. he was surprised to see Chidinma
she stood there quietly behind the garden and watch the bluish pool…it was so dim he couldn't see her face clearly but he knew it was her,the crying girl
He ran downstairs and walked to where chidinma stood the lights were so dim and romantic.
Chidinma saw Chris,she looked away.
"he is prince drema's friend who knows if they are both the same"; she said within herself.
Chris was really shy he didn't know what to say so he just stood beside her.
"good evening sir
"ohh someone is here,I don't know I just came to look at the waters"Chris replied.
"I better go inside" chidinma said
"no you can still stay if you want
"ok.
she looked at Chris face helplessly and at every stares she took,she felt pain more and more.
"hey,I think you cry a lot
"it's nothing sir,the water is so calm.
"it's really. You're beautiful can you stop wasting those precious tears
she kept cleaning her face chrid wondered what was wrong with her.
the tears got embarrassing so she ran away. Chris sighed and returned to the prince empire where he waited for drema.
**********
Prince drema arrived after the long day,it was already evening.visiting his numerous companies really ate up his time plus the shoots he had today,he still had a lot to complete. If not for Chris he wouldn't have come to the palace tonight.
he walked up straight to his suite,
it was only him he didn't take any guard along.
"rema you kept me waiting seriously" Chris said,a smirk on his lips.
"really,when did you arrived?
"a while ago.
"the palace is somewhat cool,I saw a maid ran out crying an hour ago" he added.
"a girl??? rema emphasize
"I thought you've stopped that bad attitude of flirting with girls"rema added.
"me???? well I tried to calm her down but she ran away. guess what???" Chris clicked his tongue.
"whaaattt! rema turned to him.
"she's pretty,I think she's gorgeous" Chris said.
rema shook his head and locked the door behind him,just then he looked at the mask in his hand and remembered Chidinma, the look on his face was damn pure. The memory of kissing Chidinma and him wanting to tell her his real identity didn't want to leave his mind.
it occupied him all through the day.
Drema suddenly wanted to see her again so he dialed the landline and ordered wine and grilled fish sauce for Chris. He was too tired to hear the voice of the one who picked the landline but he wished it was Chidinma. this was the only way he could see her here.
He heard a knock on the door,he opened up and it was Dika. Drema was disappointed he really want to see chidinma's face again.
Dika bowed and placed the order on the dinning.
Dika left.
"Are you alright?" Chris asked.
"I think so"rema replied he sat on the dinning opposite Chris.
Chris poured the fruity wine into the two glasses…
"I brought the contract files with me"Chris took a sip of his wine.
"good for you"rema dropped the glass back and took his car key.
"wait for me,I need to see someone it's really urgent bye" he ran out.
Chris dropped his glass.
"I wonder what's so important for you to abadon a contract file that worth millions".
????????????????????????????????????????????????????????????????
Chidinma ignored everyone. For the rest of the day,it was only her and her maid duties. Now she just understand the reason why Nora hates her so so much.
As the night approach,the maids dismissed. It was in that moment crystal ordered Chidinma and two other maids to serve Nora, not only Nora, Nora and her royality friends.
"don't this girls have house!
"they are really shameless,hunnn!! two of the maids said.
"especially that nora or whatever she calls her name,worst still prince drema doesn't likes her" another maid said.
"it's just a matter of time,prince drema will not accept that engagement"
"I really can't wait" another maid said.
they kept quiet as soon as they approach the suites where Nora and her royality friends were. They walked in.
Gina took Nora's empty glass until Nora spoke
"you all can leave except her" Nora pointed to Chidinma.
chidinma widened her eyes,this is really a lot of work she held her anger in and served them while chidinma served princess Laura, the other princess Sheila intentionally spilled her water on Chidinma.
At this moment,chidinma couldn't take it anymore..
"ohh such a pretty maid" Sheila said.
another of Nora's friend poured the cold wine on her from her head. before she could think of anything,different things landed on her body
"the prettier the better" she heard Nora.
"indeed" Laura added.
"This is just a warning,chidinma
I hope after this,you will do what's right by staying away" Nora said. Chidinma walked out.
Nora sat back.
I can't believe this,drema really amazes me.
????????????????????????????????????????????????????????????????
Chidinma returned to the maids building to wash herself up.she still refused to talk to anyone. she wore the maid night ware and slept away.
OMG why am I so stupid.
but why did he lie to me,I don't understand. she hugged the teddy bear.
Dika tapped her.
"what's wrong Chidinma,you look so dull.
"Obim is prince drema
"whaaaat!! Dika acted surprised,she was expecting this already. She felt like smiling but chidinma's expression wasn't smiling.
"what the guy you said you love
"yes,he is really prince drema
"how is that possible??
"this means you don't love two guys at the same time,omg am happy" olive said,in a low voice.
"this means you're indeed in love with drema jewel"
"no wonder you always say obim and prince drema look alike sometimes you get confused
"is that why you're dull.
there is nothing to feel bad about am sure drema likes you too,he did that for a reason.
Hana walked in,anger and jealousy surging through her body system. "that's impossible stop pouring kerosene to fire, olive do you need glasses?..
Chidinma looked at Hana.
"can you all stop talking about this? liking the poor obim was enough for me but him being drema jewel is like a dream!
"Yes a dream,a big dream because someone like him can never love you,he obviously wanted to use you" Hana said.
Olive knew it was jealousy,how can Hana speak in this way.
"Chidinma don't mind Hana,that's impossible you need to ask him yourself why he kept low profile", olive said.
"humm I pity you chidinma. Have you forgotten the house you came from? you know how much your mom hates trouble. You better stay away from him so you don't fall more and more in love with him", Hana said.
"Hana is correct…
"I don't agree,Chidinma you have to meet drema and hear him out"
"tell him what,do you want Chidinma to get more hurt"said Hana.
Chidinma put pillows to cover her ears.
"everyone leave me alone,thanks for your concern. goodnight".
Hana slept beside chidinma's bed before olive could come.
"you slept in my place today again.
"first come,first serve! Hana said.
Chidinma stood up with her pillow and teddy.
"olive come and stay,it will contain three" she said.Olive smiled.
they slept in a row with olive in the middle.
Hana clenched her fists tightly as she watched chidinma carefully. No wonder the pure glazed flame Nina attacked her with didn't work.
Prince drema is actually a god of war..
this sounds interesting….
"everything will be alright"olive whispered.
"he made mistakes,but why can't I stop thinking about him".
Hana clenched at her fists at chidinma's statement."I think the best idea is to breakup with him".
????????????????????????