The Healer. Chapter 44
7 min read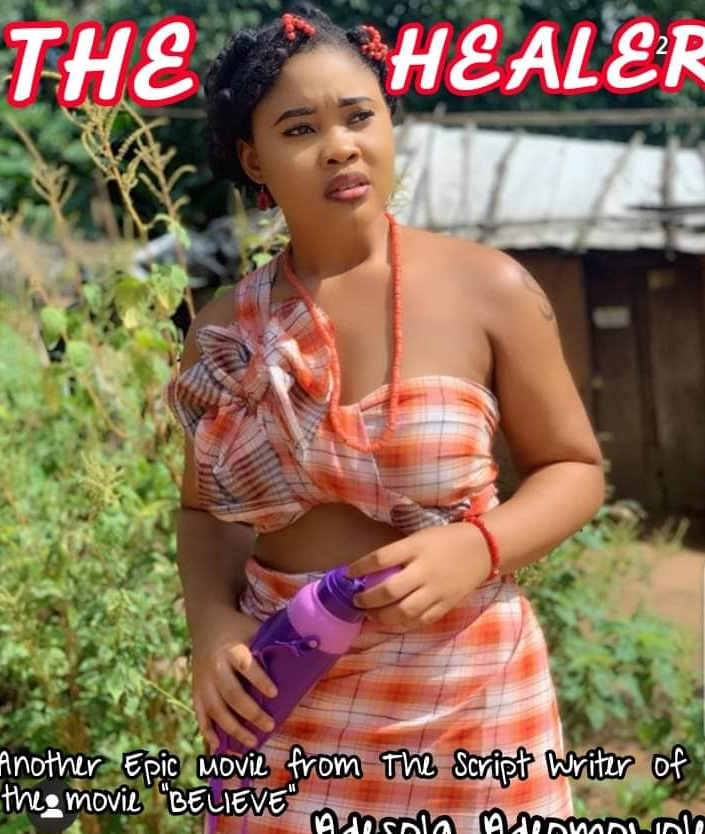 #THE_HEALER♥️
[kill me????heal my heart]
© adesola adeomowole.m.
Settings;Nigerian Epic drama????
(Season2) Chapter 44????♥️????
now,enjoy..
Chidinma was the first to open her eyes the next morning. Her eyes hit on the window. It's dawn outside the silence of the early morning was eerie.
"same duty post this morning,let's get ready and go to the mines"olive rolled into her. Chidinma nodded.
they both get ready,some other maids were up.
before Hana and the rest woke,they already left for the mine.Somehow, olive saw it as an opportunity to speak to chidinma.
after a while,she hesitate.
"it's very early,it will be uncultured to bring last night topic up"; she said within herself.
they worked quietly in the mines,extracting minerals and all sort of valuable resource the mine attendants were also on their guard.
"why are those people wearing different uniform from ours; asked Chidinma
"cos they are slaves,they work every day and night orders from the king are taken strictly by them…
"that woman looks old,how long has she been a slave?
"it must have been long"
"no wonder my mom hates royalities,you can imagine that old woman working"
Chidinma shook her head.
"what will it cost king jewel to set them free,it doesn't matter if they are not is people. Am begining to dislike royals"
"Prince drema is not like them. He makes sure big foods comes to them most of the days. He comes here frequently and command the guards to pack foods in big silver bowls he treats them well. Prince drema is never in support of his father,drema is a good guy,he has never maltreat a slave,he has never made a slave labour! prince drema saved me twice or have you forgotten am an orphan??
I have a feeling he will set them free if he becomes king in the future" olive said the truth
"well….."
Chidinma was about talking when a low born maid servant came to inform her that queen chiamaka called.
she left olive in the mine and went to answer the queen.
"yes my queen
"I will send you on an errand
"okay my queen
"I hope I can trust you
"yes my queen"
"ok. I need you to get my jewel set for the royal feast next tomorrow.
my friend in Vietnam is designing it,she will be sending it down but she hasn't given me any exact time,it might be tomorrow or next tomorrow"
"ok ma'am.
"so you and the driver will go to the penthouse, she will send it through her servant once it's ready
"yes my queen
"you won't come back without it,I don't want to hear stories that it got lost
"ok ma'am.
"this should be enough money to keep you for the two days,here is the address give it to the driver
"okay ma'am.
Chidinma bowed and left to the maids quarter she bath again and started changing.
"where are you going?"Hana asked
"going to get queen chiamaka jewel set" she replied,another maid peeped the address.
"drema's penthouse! I was the one who went last month. gosh,drema has a luxurious taste his penthouse is far beautiful than the palace" Gina said.
"I was unlucky I didn't get to see drema throughout that two days,who knows you might be lucky" Gina added.
"if you're lucky he comes around,seduce him and get pregnant for him so that you can he his baby mama"Sarah said
"Chidinma even if drema shows up just ignore him or better still break up with him"Hana said
"yes Hana" Chidinma replied.
Dika widened her eyes.
minutes later she left with the driver.
????????????????????????????????????????????????????????????????
Chidinma and the driver arrived at drema's penthouse.
the uniqueness of the place is what everyone will admire but not chidinma. in fact she pretended as if she didn't see the beauty of the place.
"when will the woman send the queens jewel and how long will I stay here?"Chidinma asked instead.
"within two days,the order should arrive. Just that Rhoda today might be tomorrow hope you have something to sustain you?
"yes"
Chidinma raised the money given to her.
"okay,let's go in then" The driver said and dragged the bag in.
As the driver sat in the living room,Chidinma walked around the penthouse it was so beautiful,the pool had two colours the white part and blue part,she wondered how come there was a stair inside the pool. This stairs demarcated the blue side from the white side.
it was indeed awesome,
the base of the pool was tiled gold.
she checked every other place,the rooms everything.
"hmm miss,you can take the room
I will take the couch here" said the driver.
"no need.My house is not far,I will come back tomorrow morning" Chidinma said. It was just a coverage lie,she has never been comfortable staying alone with the opposite sex.
"okay".
"yes,good night"
Chidinma walked out and took a taxi. She was stunned when she arrived. her house wasn't the same wretched house she left. Aaah it even have a dream or am I dreaming!
she paid the taxi and knocked on the gate.
no reply.
"am I really dreaming or what???
she knocked again,it was opened by her junior brother,nonso.
Its been 6months I left home,how come nonso is taller than me or am I dreaming.
"welcome!! nonso beamed and hugged chidinma.both siblings were happy.
"welcome"
"how is mother??
"she should still be in shop or her friends place
"shop????
"don't you know? didn't Hana deliver any letter to you,have sent several letters to her to deliver"nonso said.
"I didn't receive any letter"
Chidinma shook her head. Nonso was shocked.
"what type of friend do you have? have sent you to 10 letters for her to deliver,anytime I call the palace landline to speak to you she always says you're not around or are you always around?" nonso asked,fluently. not speaking the normal pidgin,his English was so sounding.
"at last my effort didn't waste to work and send you to school"Chidinma said within herself.
"am always around. Hana didn't tell me anything"
"I think you should be careful of her,then" nonso said thoughtfully.
both siblings went in.
Chidinma started calculating. 100k per months eight months will be 800 thousands..
my mom really spent those money wisely.
"thank you very much,I promise I won't disappoint you"nonso said as they both sat facing the tv.
Chidinma nodded.Her mind stupidly think of where she and drema usually meet on Thursday night,it's not really far from her house.
"is today Thursday?
"yeah"..
chidinma collected her face immediately who knows if he is waiting for me.
should I go???
no no I don't think I should go..
aaah is better I go and break up with him once and for all or what should I do?
think think think……
am really thinking of him this days.
and as for Hana,why didn't she deliver those letters to me??
is she planning on hiding my family from me.
I can't believe that girl.
"are you going somewhere!
"yes,I will come back
nonso also stood up.
"alright I will follow you,it's night already this area is not safe"
"hunn,you want to protect me??
"yes,am a big boy now oo"…
they both heard the gate sounds.
"mama is back from shop
"I can't believe Hana. what does mother sells now
"eggs, wholesale.
"welcome mother!
"ohh my daughter!!! Mrs uyah dropped her bag and ran into the soft embrace of her daughter.
"why didn't you reply the letters,I always get worried every months..
"am sorry it's work,no time.
"that's a lie,Hana didn't deliver any letters to her" nonso said.
"oginiiiiii(whaaaaaatt)
"I…..it's fine. I came to spend the night with you.
????????????????????????????????????????????????????
meanwhile prince drema was patiently waiting for Chidinma.
_____________
Chidinma on the other hand tossed on her bed she really can't stop herself from thinking of him.she checked the time.
"I know he is still waiting!
her iPad was beeping non stop. she doesn't know how to answer a call not to talk of replying texts.She could only stare at the screen each time it beeped.
she got up to wash her face then changed. she picked her purse and walked towards the direction of the back door.
"by this time,who are you going to see???.
she heard her mother's voice from behind..
"hmmmm…I….
her mother's eyes widened.
"it's so late,common you can tell me anything..
she requested.
"hmmm… it's…."
she suddenly paused. she knows she dare not mention the word PRINCE in her ears.
"ummmm……."
????????????????????