The Healer. Chapter 46
7 min read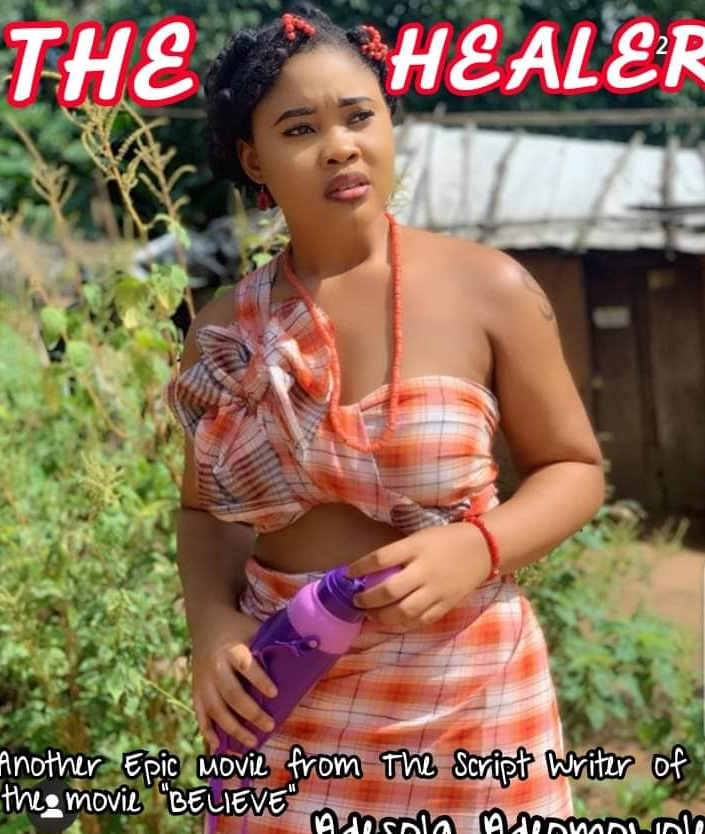 #THE_HEALER♥️
[kill me????heal my heart]
© adesola adeomowole.m.
Settings;Nigerian Epic drama????
(season 2) Chapter 46????♥️????
now,enjoy..
A stunned silence was observed as everyone stood speechless watching rema walk out.
this is just too much
the third prince looked fierce just now
have never seen this side of him
he walked out on king Jewel….
murmurs could be heard from the maids angle
"guards get rema down,he must not pass the boarders"queen ivory pointed out with flares in her eyes.
nkem kept quiet.
the guards returned almost immediately with hands crossed.
"my queen,we couldn't.. catch up with him,his car is locked"the guards retorted.
the king walked out of the royal dinning.
Charles rushed up to the upper floor where he could get a perfect and wider view of the palace building although it was far but he could see rema's side view through his car half tinted windows,
his left hand where he wore the simple bracelet was on the steering,he already pull out his hair band so his hair fell on his eyes.
Charles clenched his fist tightly,his hands itched poisonously. He wants to see rema unhappy all day,all nights,all of the time…but here he was,looking all ethereal.
"why are you watching him from here? we are brothers,you should go to console him for the way father spoke to him,it was kind of harsh" said tochi.
"am also a victim okay"Charles blurted out.
"did you really steal his contract file??
"wait are you also calling me a thief!
"it's just a question
Charles collected his face,he took his lower lips in."he must be really sad after how father treated him harshly and even called him bastard in front of those maids".he said in a less concerned tone.
tochi shook his head."no rema is not like that, I doubt it if he will feel sad,in fact this type of things only boost is morale. I don't think he have any fear".
"I will go and comfort him"tochi said and started walking away with hands in his pocket
"are you not following me?
"why should I follow you??
"because we are brothers,and am sure you stole his contract file..
"yeah,I stole it don't tell me you want a cut
"that's why you can't be king after father,you have no compassion!
tochi shook his head and walked away.
After a while,Stanley rushed downstairs.
rema's car was still locked.
he noticed he wasn't with his royal bracelet, Stanley breathed and knocked on the glass window.
after what seemed like eternity,
rema whyned down the glass door.
"drema
"Stanley I want to be alone,no one must know about my whereabouts"he whispered in a singing voice and drove away. Stanley watch the car. I pity him,he has never known what it means to be loved.
rema reversed his car back to where Stanley stood.
"yes,your highness…am sorry rema
rema nodded and plugged in his ear pud.
"don't forget to feed my friends in the mines" he said,ready to drive away
"I can't get access to the royal kitchen anymore,Charles won't let any good food reach the slaves".said Stanley
Rema took his lips in."he is really childish,anyways I left some cash in my drawers,if the money doesn't last you can deduct from my credit card"
"okay"
with that,rema drove out…
"this is the last time I will ever set my feet here" he mumbled and drove out slowly..
two security cars followed his cat strictly on sir Lucien order.
????????????????????????????????????????????????
Hours later,the securities queen chiamaka sent to trail rema returned.
"my queen he is safe"
"he didn't pick my calls
"are you sure he is safe…
"yes,he is in one of his penthouse.
queen chiamaka nodded and picked her phone.
???? Rema please don't get angry,you know that's how your father behaves right from time I beg you don't travel out,I will resolve it.
she sent but no reply.
the message was marked seen but no reply. this only got queen chiamaka worried.
Nora walked in.
"he didn't reply,mother".
"how about,I dress and go to see him. You have the address right?.
"good idea"said queen chiamaka.
she selected the outfits for Nora. The gown was awesome.
she placed a diamond anklet on Nora's leg them she placed a diamond laid waist bead accross her waist coupled with the gold one she wore already.
Nora turned her back to the mirror.
satisfied with what she saw,she smiled.
Hana!! Bridget!!!
two of them rushed out
"yes my queen
"wear your uniform and go with her..
Nora smiled as an idea popped into her head, she wanted chidinma to be among the maids that will follow her so she will have more chance to punish her.
"(smiling) mother I want to change this maid with chidinma"Nora said.
"ohh that one,I sent her message to get my jewel from madam Claudia,she is not around"
"waaaaaatttttt!!!
"is anything wrong!!
"no my queen,I mean madam Claudia always send your jewel to drema's penthouse that means the maid girl is in drema's mansion….
"yes,I sent her with Evan
"okay ma'am.
"Hana go to the 8th building and pick 4more maids..
"okay my queen.
queen chiamaka walked out. Hana and Bridget ran out and they wore yellow check gown with flat shoes and their hats,they followed Nora out of the compound.
On seeing Nora,four of the 6 door body guards followed her.
"isn't it much? the maid closest to Nora asked
"that's drema's mother for you
Nora sat back in the car with her driver and the second car was where her guards sat.
????????????????????????????????
soon they arrived.
Nora was waoowed,although she wasn't too surprised but this was more than what she expected…
the sight in her presence was dazzling,the view was like a wonderland.
The maids couldn't hide their surprise as well. No wonder people exaggerate about his wealth.
the maids stayed in the compound. Hana suddenly wished she was on chidinma's shoes she knows rema really loves chidinma..
it is chidinma he loves,Nora is just a liability.
"is rema in?? Nora asked the door guards.
"yes"they affirmed.
Nora walked like the royalty she is,the door slammed opened automatically. She walked into the slivery built living room.
everywhere in the living room was shining..
the was a large flat bluish water screen..
it was so pretty for an aquarium.
little goldfish and other little fishes swam freely in the water screen.
everywhere was amazing.
she jolts out of her amazement the moments she heard footsteps of him coming from the stairs.
He was dressed simply in a yellow t shirt,all over a dark jeans,his belt had on little diamond stones. He didn't notice Nora until Nora called his name.
"baby I came to see you" she said and stared at him with lots of affections.
"I'm listening"he gestured,he didn't look in her direction,he twitched the ring on his index finger.
"hmmm about the king…he doesn't mean all what he said to you,can you come back and continue living in the palace"..
"at some points you should stay out of my affairs. The palace is one thing that join you and together right? now that am not there I hope you can stop trailing me like you own me and besides you broke up with me long time ago right! if that's all you can leave"
"rema stop moving away from me,I said those things cos I was innocent"Nora said.
"I that all???
"(happily) yes,thank you for giving me another chance"
"guards,take the stranger out of my mansion.
"whaaattt we are engaged!!!
"by who? where's the engagement letter? asked rema.
"on no condition must you come here without evidence that we are engaged"he added. Nora felt her whole system was on flame,the image of chidinma in her memory only makes the flames increased..
"rema,is it because of that poor tramp you are treating me this way,because without her you have no choice than to take me back".
Rema walked out on her,he went his way.
"baby we need to talk…"
Nora tried following him,the guards blocked her way…
"baby!!!!
"my lady you can't go any further"
she jerked her body from the guards,they are really treating her like a stranger.
"this way please" the guards held her again.
"it's because of her right?? that useless Chidinma!!!
the maids held Nora cry.
"I swear I will kill her,I will make life difficult for her,mark my words"Nora added.
"Just pray chidinma doesn't make your own life difficult first"drema replied. he was finally out of sight.
"this way please!! the guards said.
the guards sending her out made her really mad.
????????????????????????????????????