The Healer. Chapter 48
9 min read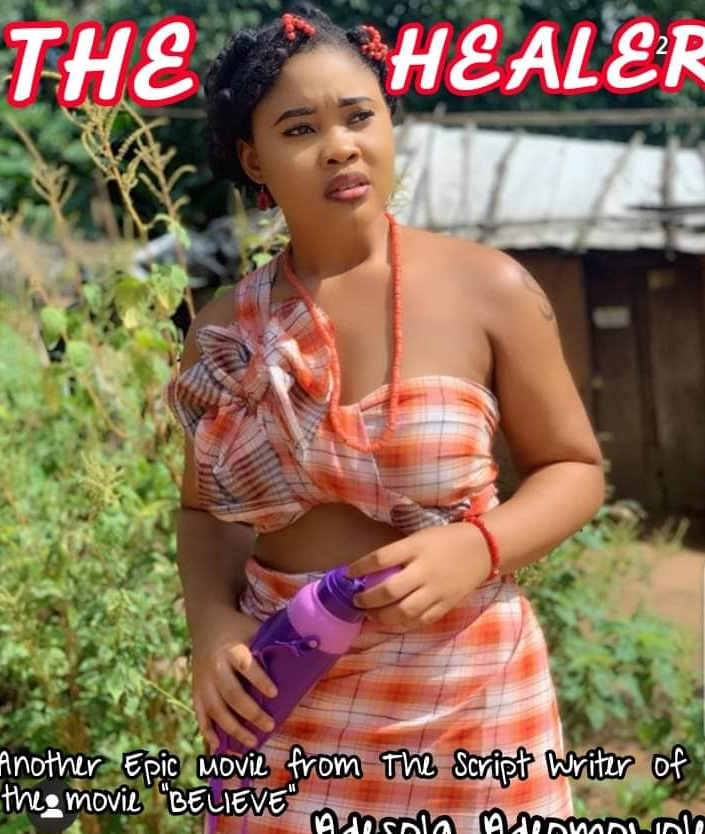 #THE_HEALER♥️
[kill me????heal my heart]
© adesola adeomowole.m.
Settings;Nigerian Epic drama????
(season2) Chapter 48????♥️????
now,enjoy..
Nora arrived at the palace,the maids were careful not to make any mistake that will upset her.
"Nora are you alright
"how can I be alright when that useless girl has finally charmed rema?
"we will talk later"
Nora ended the call. It would have been better if chidinma is someone she can deal with, she is really tough and has attitude.
it can be any other girl but why her???
why chidinma??
I guess I will have to use someone greater and higher than me to punish her.
She was angry all through the nights,rema was right she doesn't have any engagement prove. she sighed and walked out of her suite to see queeen chiamaka. she overhead voices as she passed the throne room.
sounds like the priests voice.
they might be solving some kingdom issues. she sighed but suddenly stopped as she heard king Jewel's voice.
"why are they not compatible??
"my two sons are actually qualified!!
"I didn't say they are not competent,your highness.but…….
"but whaaaaattt….
"I adjourned this competition".
Nora walked away before she will be caught for eavesdropping. What if rema is the competent one?? she suddenly hated Chidinma
"so soon,you're back"
queen chiamaka said. Nora bowed and entered her suite
"yes mother,rema has a lot to do so I couldn't stay for long"she lied.
"okay,he was just angry. I was scared he will travel out"said the queen.
Nora gave a small smile
"mother I thought you sent that Chidinma girl to get your gold,isn't she back??
"aah madam Claudia has a bad timing,she will deliver it tomorrow; the queen said
"but I saw the girl you sent message"
"you mean you saw chidinma
"yes,I saw her sneaking out with the driver you sent with her their romance in the garden was so much that they almost tore each other's cloths off,I forget to tell you"Nora lied.
the queen was surprised.She really like chidinma,her beauty and everything and besides she likes the way she is tall and clean she has never treated her like a maid.
Nora saw how surprised queen chiamaka looked.
"are you surprised,mother?
"Am really disappointed in her. I like that girl so much and sometimes I wish I was her mother, I never knew she is a slut. she is free to continue her romance with the driver,he is her level" queen chiamaka said.
Nora smiled.
" those girls that have innocent looks are really the badest.
queen chiamaka took her phone.
"hello emily
"yes my queen
"make sure Chidinma sleeps in the maids room,don't let her see my son.
"okay ma.
"monitor her activities and report to me
"yes my queen
????????????????????????????????????????????????????????????
Chidinma walked out of rema's shower while already wearing the pretty towel jacket…she tied her hair well then closed the curtains.
rema walked in while doing some things on his phone.
"are you done bathing"
she nodded.
"did you wash your hair??
she nodded and follower him.
rema picked a kit and opened the door to the shower,Chidinma entered. It was a water floor so rema carried her and made her sit in the glassy bench.
he removed the bet she wore and used his fingers to brush her hair backwards,she smiled and held his other hand.
"I thought you will be mad if you find out my identity"he said and applied some liquid stuff in her hair.
chidinma nodded.
"I even wanted to break up for real"Chidinma smiled,she lifted her eye up to look at his face but couldn't.
"break up"rema said in a childish tone.
"yes" Chidinma chuckled.
"whaaaaat
"youre too high to be my boyfriend…I actually don't want a rich boyfriend,I want an ordinary man,someone I can control…money is not really everything" she said.
"heeeiiiiiishhh" rema said and rubbed the soap on dinma cheek
"so what am I to you now
"my bear
rema started laughing
"can you pity me at least"he said and lean into her then kiss her deeply.chidinma enjoyed the way he stared at her,she likes how he desire everything about her.
drema unlocked and cheese dinma wiped where he cleaned.
"you wiped my kiss
"yes, punishment for ignoring me. You knew I. Chidinma as prince drema yet you don't talk to me"
"i ignored you?what am I doing now…hin" he said and scratch her hair.
"its true,you really snubbed me when you're prince drema,it's only when you're obim you care for me"
"am sorry love" rema said and took the hand shower.He applied water on her hair. Chidinma smiled.That felt so sweet. I can't believe obim is washing my hair,let me look at how he is doing it.
Chidinma smiled and turned her face to look at him she didn't know rema wanted to spray conditioner.
"honey wait–" he tried covering her eyes but it was too late. It already entered her eyes.
"my eyes"she hits his chest
"you're are stubborn….why were you trying to look at me"he asked as he used his hand to wipe her eyes.
"what did you spray,this thing is hurting my eyes"Chidinma said and held drema's top,she used it to wipe her face.
"my eyes!!!!.
rema picked the hand shower.
Chidinma was so scared.she held rema so tight and carefully brushed both hands into his waist. rema moved her face up and poured water then used his hand to wash it off.
"is it okay?
"a little"
rema applied more water.
"what about now
"no" Chidinma nodded and held him more tight, she was really enjoying the water.
rema chuckled and brush his fingers into her wet hair then he scrubbed her hair behind continuously.
she felt sweet….he was just so sweet and caring for a rich guy.
"sorry sweetheart just wait a Little while it will stop"he said.
Chidinma nodded and turned her face,she hugged him to herself as he scrubbed her hair
"see the person who wanted to break up for real,do you know how much I bought this too" he mouthed to himself and carefully moved her hair behind her ear,he raised her face up then blew air into her eyes.
rema wiped her face down and brushed his wet fingers through her lips.
Chidinma held him tight and bite his tommy from the top romantically.
she felt him dig his fingers into her her ear, she opened her eyes slowly to meet the beauty of the shower room, everywhere was worth it.
"I will apply more water"rema said and tried walking to take the warm water hand shower, Chidinma held him tight.
"don't leave me alone
Am I insane
"I won't,I just want to take this" he said.chidibma watch him handle the shower equipment fast.
rema smiled when he noticed how Chidinma was holding him,he likes how she was so free with him.
"definitely she doesn't see me as a wealthy celebrity,she sees me as the ordinary obim and that's what I want"
"i will pour you water so you wash your face again"he said. Chidinma nodded. Her hair was quiet lengthy and curly,the lenght amazes drema perhaps she hasn't cut it since birth.
rema lifted the shower and poured water to her face.
she was so wet.
drema took his lips on sexily and his red eye lens dropped. he doesn't have eye issues anymore he just got use to wearing that. eversince chidinma cured his blindness,he hasn't showed anyone his real eye colour.
maybe because only Chidinma deserve to see it.
rema stared at chidinma in another way,he has never looked at a girl in such manner…she was so tempting and no girl has ever made him loose control of his desires.
the water drip down chidinma's hair to her face into her chest,the towel jacket was so soaked already,thus becoming so loose.
she was really attractive and rema is not a saint he might commit a sin with her,cos no girl has ever moved him to this extent..
rema smiled,he force himself to stop looking at her attractive body but his eyes won't give up.
he looked away.
gosh!! he closed his eyes.
"you're washing my hair and you're closing yiur eyes how will you see what you're washing, are you suddenly becoming lazy of your duties or what??" chidinma stated.
"who said am getting lazy" rema said and poured the water fully.
Chidinma removed her hand then she let the water drip on its own.
rema can't hold it anymore,she tempts him in every seconds. He moved closer to her and held her up by her waist.
"done" he said abd tried kissing her
"not yet"Chidinma placed a finger on his lips.
she used her other hand to tie her loose towel well.
rema nodded and kissed the back of her palm he followed her around like a fool around the shower room,she jumped and tried taking another towel to dry her wet hair,rema hugged her and kissed her neck upwards.
she wiped where he kissed.
"you wiped my kiss again.
"yes— Chidinma looked at him.
"okay"rema cooled and Pat her hair dry with another towel.
Chidinma carefully remove the jacket,since it was wet. she was now left in her inner towel. It was so short down to her hip.
drema looked away immediately. Chidinma laughed at his face in the mirror. she feels so crazy and sweet she just feel different each time obim touches her or stare at her like that.
she is really getting stupid….she never expected she could feel this way for a guy. she remembered how she use to beat up boys.
I guess this is how love should be.
"here" rema handed her another white jacket, it was so long and not exposed…
"you have girls stuffs in your house,that means you use to bring girls here? Chidinma said.
rema chuckled. "are you jealous?
"what??? am not wearing,you said you love me yet you have other girls stuffs….."
"I ordered them an hour ago"rema chuckled. she looked so cute when jealous.
"I don't want it"Chidinma collected her face and faced the mirror.
"should I order some other types??
"I don't want…
"what do you want
"your shirt" she said.
rema smiled,he came back with one of his favorite sweatshirt brand.
"thank you" Chidinma collected it and wanted to remove her towel,drema cleared his throat and looked away,he turned when she was done.
"you can't change in front of anyone apart from me"rema said.
"hunn jealous" Chidinma said.
soon they were done. rema carried her up into his arms. he took her to the bedroom,she wrapped her legs around him and kissed his neck,she played with his adam apple.
everywhere in his skin was glittering…I should have known he is not poor…
how can a poor person have a spotless skin.
"obim you can't carry any other girls like this apart from me"chidinma said.. rema dropped her on the bed and pecked her lips..
she suddenly remembered her mother's words.
*************
"from this place down is beyond play for any person,don't let any stupid boy touch here, until you're married that's when I will remove my waist bead"…
Chidinma was just 10 then.
"okay Mama,I promise,you will always see your chain on me"
****************..
chidinma was brought back to present by dremas kiss.he withdrew and covered her well.then he dimmed the lights.
chidinma nodded,she was surprised drema won't share the bed with her.
"if you need anything,press that button I will come"drema said and locked the door.
Chidinma rolled to the other end of the bed.
minutes later she pressed the button.
drema heard it in his room and rushed to her room immediately, Chidinma quickly pretended to be sleeping.
drema sighed and returned.
chidinma laugh to herself and pressed it again.
drema rushed to her room again.
she faked sleep. he returned.
Chidinma laugh to herself and pressed it again, drema rushed to her room again.
"am I hearing things now!
he left but unknown to change dinma he was hiding at the door.
just as she was about pressing it again, drema opened the door,their eyes locked.
"you need flogging"drema said…
"I….I…"chidinma starmmered.
"it's mistake, sorry I really love you am scared you will leave me alone"Chidinma rushed and hugged him.
drema watched her,eyes with love, not knowing what to say.
????????????????????????