The Healer. Chapter 5
10 min read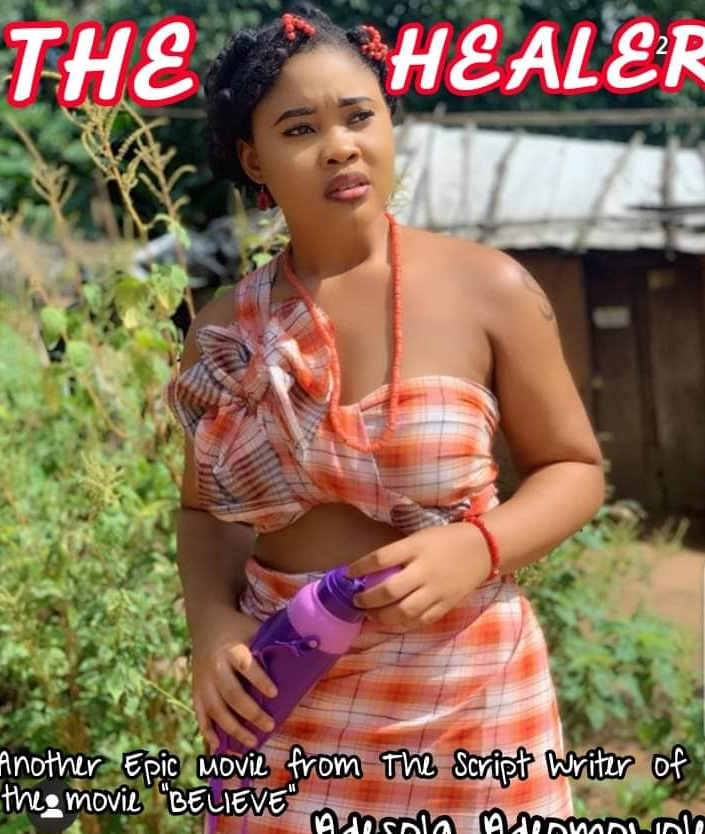 #THE_HEALER♥️
[kill me????heal my heart]
© adesola adeomowole.m.
Settings;Nigerian Epic drama????
Chapter 5????♥️????
now,enjoy..
"leave me alone,I will pick the materials" ozioma rolled her eyes
"better"Chidinma said and left her cloth
she stood still and shook her head.
"you this Chidinma girl who do you think you are?you are even controlling me over my own thing….my own material…imagine"ozi said
Chidinma wanted to lock her cloth again until hanah drag her back directly.
"mma,leave her it's her cloth"hanah said.
"leave what!
"if I catch …..ozioma you know me ooo"
Chidinma said and break free from hanah, ozioma didn't move and that angered her
she tried pushing the big dust bin which was almost filled up but it was too heavy for her.
"hanah warm dinma oo if she pour my dustbin"
ozioma said.
"dinma do you need help" hanah rushed towards Chidinma and both of them successfully pushed the dustbin down making ozioma compound got littered.Hanah packed the materials in smile
"Chidinma I will report you to chief
"well I don't care,u can as well tell the priest.
Chidinma and hanah rushed out.
???????????????????????????? Next morning.
Nora lay naked on her bed with a delivery bed sheet which covered her body.Her thick black hair fell freely.A man came out of the bedroom and lay beside her.
Nora rose up abd sat on him,the guy feathered his lips on her neck,she moaned gently into the kiss as she raised her butt up to finger herself.
her expression soon change
"what's wrong?
"Mike I really want to be in your arms till night but I need to go"
"go to where??
"come on I need to go and see Drema" she said and stood away from the bed.
"I thought you were gonna break up with Drema???Mike said.
"I love him okay,he treats me like an egg he always pamper me so much and even begs me even when am at fault….all that can you do them??. .
that's the difference between you and Dre, instead of breaking up with him,we need to reduce the rate we are seeing each other" she said.
Mike fell to the pillow,watching Nora dreamingly she is the perfect girlfriend.
Nora walked out of the shower and wrapped the towel jacket round her body,her figure was amazing her hair was short and her skin colour was just great
she sat down and applied her face cream
Mike slowly kissed her neck from behind.
"I really want to be alone please"she said.
*fine,I will leave but when I will seeing again"
"I will text you"she said abd dropped her face cream.
Mike dressed up,picked his car key and left.
.
shortly after he left,a knock was heard on the door.
"who the hell is that??
"your slim tea is ready ma'am?.
a maid in a check dress came in and bowed to drop the tea tray,it slipped mistakenly,a splash drop on the green ball gown Nora had selected for the royal ball party.
"am really sorry ma!! the maid apologize
"aaarrghh must today be bad??
"am really sorry ma I can clean it right away if you may". she said
.
she tried to take the gown.
Nora shouted at her.
"so am expected to wait till it's cleaned,why are you commoners so stupid,what makes you think that it will be okay if you clean it… don't you get it your hands even makes it dirtier" she said.
just then Emma, Nora's friend and two others walked in.
"babes!!
"hi…"
"you can imagine this ugly swine ruined my dress…she ruined it"Nora said
"but it's just a little stain"Helena said.
"arrghhh!! Nora flinged the gown.
she took her phone and ordered another one.
"bae I saw Mike's car driving out…or is that not Drema's manager"Helen said.
"Soo what are you insinuating?? Mike is Drema's manager,he might have come to deliver important message to Nora"Emma said.
"ohhh I totally forgot Drema's condition"
"aiishhhh"
???????????????????????????????????????? Royal palace
the palace was as busy as a bee,more crowds kept trooping in
the crowd was ever increasing
so many dignitaries and crlebrities were spotted,every sight was colourful and incredible..
different models of cars were seen moving in and out..
A cool music played in the background.
everyone was in his or her best.
everyone was happy moving about but for prince Drema he wasn't sureif he's happy with the banquet.
the door to his room open,he sensed the person's colongne it turned out to be prince Tochi-his step brother
"Dre"Tochi beamed but Drema didn't even turn
Tochi walked over and stood beside where he stood beside the window.
"Dre"he called again and placed his hand on his shoulder.
"I also which you don't have partial blindness"
that statement made Drema turn
"are you taunting me? I know you meant the opposite… and as you can see am busy before you came in so please leave me alone" Drema said..Tochi smirked
Drema ruffled his hair,Tochi hugged him forcefully before leaving.
Drema felt not so him.
Eversince he arrive here,his father didn't even check on him neither was he called alongside with his brothers whenever they want to have meetings.
now today is the welcome royal banquet but he wasn't among the sons his father will be celebrating….the whole world believed the king had two sons; Charles abd Tochi.
Obviously his father is ashamed of him.
"not like am interested in the throne,but whatever father is doing is really not fair not like I made myself this way"…
He was silent in thought.
A maid in white uniform came in with a glass of milk,she was clean.
"good morning my prince"she said courtly
"who are you and what do you want??
"I….I….I…am…your..I brought you…
she stammered,
jeeeez she felt a rush of adrenaline being so close to prince Drema
"leave!!! Drema said.
she bowed and rushed out.Nora came right in time.
"sorry I came late…are you not coming downstairs for the banquet"Nora asked as she drew nearer to kiss Drema.
Drema moved his face away.
"nora, when did you start using red choice perfume,it smells like a man scent"he said.
"whaaaaaattt!! are you trying to say am smelling like a man…Drema are you serious"..
"ohh sorry maybe it's my nose..I'm sorry I didn't mean to say you slept with a man. My Nora will never do that. I'm sorry"he said.
"Drema!!! I am leaving! I'm done already! you think I am the problem in this relationship right the problem is not me…
you're the problem. I just wish you weren't blind! how many ladies can love you the way I did…you know what you make me cry,
I'm done"
"baby wait! am sorry,I didn't mean to..
"please don't leave!!
Nora left and slam the door angrily.
"must today be this bad!
Drema tried to find his way out but instead the door opened into Mr Kelvin,his manager.and Bethel his assistant
"drema! bethel said and took his hand.
"come-on you might fall don't injure yourself"
Mr Kelvin helped him back in.
"tell me"Drema said.
"you have a shoot in the next 1hour"
"pass"dre said.
"startimes,gotv and DStv wants to interview you"
"pass pass pass".
"your unveiling is today"
"okay,where is the location"
"I sent it to your mail"
bethel moved over to Drema,she's a female and Drema's assistant for close to 2years now
"Drema,what's wrong…who hurt you?..
"when you were coming you met Nora..didn't you??
"yes,I did".
"can you help me beg her to give me one more last chance,please do it for me I don't want to be alone"Drema said,his love was so pure.
"okay"bethel said.
"Soo we should go for your shoot"
"ohh yes"
nkem came in immediately.
"sorry please I want to speak with the prince alone*he pleaded
"sure"they excused them.
"tell me"Dre said.
"my prince I brought you these contact lens,it will really help minimize your eyes blurriness although you will need to strain your eyes to see just a little…
and this lens can only be used twice a week" nkem said.
Drema nodded and nkem fixed the lens for him
"how is it?
"hmm better but my sight is very weak,I still need to strain my eyes before I can see..
the sight isn't just clear enough…I appreciate it anyways"Drema said.
Mr Kelvin and bethel took Drema out.
they passed the back so no one will recognize Drema.
????????????????????????????????????????????
Chidinma dressed Hanah up in the gown she used needle to sew.
"shey you learn tailor,the cloth fine die" hanah said.
"am glad you love it…dance well at the party oo"dinma said as she helped her with the local make-up too.
"done"…
"awwww,chaiiii them go no say I don arrive" hanah said.
"I will leave now"Chidinma said and ran home, she carried her tray and went in with it. Her mother counted groundnut worth of #5,000 on her head.
"don't sell credit ooo mma"
"hmm yes, bye"she replied and rushed out.
????????????????????????????????????
the car Drema was in suddenly stopped.
"Mr Kelvin forgot some files"bethel announced
the last car quickly rushed to the palace.
Drema stepped out of the car
bethel quickly rushed to him.
"sir this environment is strange,you need to get back to the car"she said lovingly.
"no need"Drema replied and adjusted his face mask. He strained his eyes like nkem told him, the sight was weak but he could still see unclearly.
he took a step forward.
bethel followed him.
"you don't need to follow me,am okay..I have on lenses"
"but the sight the lense will give you isn't clear enough,don't fall inside gutter oo"
Drema smiled and moved forward.
bethel wasn't still sure of the enviroment. Drema kept on walking.
the phone in his pocket rang,
he picked the phone and tried to look if he will see but his sight got weaker
Chidinma on the other hand was coming in prince Drema's direction,she thought she heard someone calling groundnut so she turned while still walking..
she jammed prince Drema,her tray fell..
all the bottled groundnut broke, the ones tied in nylon rolled into dirty water.
"waaaatttt!!!!
"you have poured my groundnut away!! Chidinma shouted and lick Drema's neat top.
"heyyy do you want to infect me!!! Drema said in a clear Britain ascent.
"you better speak wetin I hear(you better speak the language I understand)" she said and bend to pick the nylon groundnut..
she was surprised Drema didn't bend to pick with her. Drema on the other hand was still struggling with his sight.
"pick my groundnut!! pick my groundnut!! Chidinma shouted.
Drema bent uncomfortably,his sight got weak already luckily his hand touched a groundnut nylon the moment he bent.
he picked it abd threw it away immediately. Chidinma got surprised.
"you poured my groundnut away and still throw it away!! are you maaaaaddd!!
"hey you know what,am not allowed to touch anything that touch the ground,just tell me your account number let me transfer the fucking money" prince Drema said.
"pick my groundnut! else…..
"it seems like you don't know who i am how dare you talk to me in a command tone" Drema said.
"eeeehh what? who are you?? are you the prince or the king!!
"I think am richer than them"Drema said.
"you must pick my groundnut ooo"
Chidinma said and tried touching Drema again, Drema removed his face cap.
Chidinma doesn't know he is the prince..
"idiot pick my groundnut you're showing me your face so I can see the expensive earring you're wearing…who knows if you stole it or you even borrowed it"Chidinma said.
prince Drema's pride was hurt…he suddenly wished Chidinma knows he is the prince or even a celebrity.
"pick my groundnut and pay for the damages!
"okay,calm down commoner! I don't have cash on me,maybe you should take my phone" he said.
"give me my money ooo….
"I said I don't have cash on me! Drema said and strained his eyes to see Chidinma face, he was surprised his sight didn't get weak.
is sight got clearer!
is this a miracle or what????
it suddenly got weak back to the way it was..
"give me money oooo!!! Chidinma shouted.
Drema's. phone rang.
he picked the car,it was bethel.
"sir where are you Mr Kelvin arrived already"
"okay okay,just walk down please come with some cash"he hung up.
Drema strained his eyes again..
no no no it didn't work but it got clear few minutes ago..
bethel arrived to the scene.
"excuse me what is happening here? bethel inquired,she already held Dre hand.
"this guy,is he your brother,he poured my groundnut away,I won't let him go until he pay" Chidinma said.
"hold on how much is your groundnut…" bethel asked.
"#60,000" Chidinma said
"what #60,000 that's too much for ordinary groundnut??.
"aunty I actually sell two types of groundnut.. the first one is for important people like the king, musicians,the princes…
yes even the youngest prince likes my groundnut" Chidinma said
"you mean the youngest prince,prince Drema likes your groundnut"bethel asked.
"yes he likes it oo and we are tight friends" Chidinma said.
"but you're standing with the youn—-
"pay her the money,am getting sick already" Drema said. Bethel shook her head and paid Chidinma the #60,000.
Chidinma collected the money,
"umm complete"
"if you pour my groundnut away tomorrow again,it's 100k"Chidinma said.
"God forbid,you won't meet him again tomorrow*bethel said in defense as she moved Drema into the black car.
Chidinma laughed to herself,picked her tray and ran home.
????????????????????