The Healer. Chapter 50
8 min read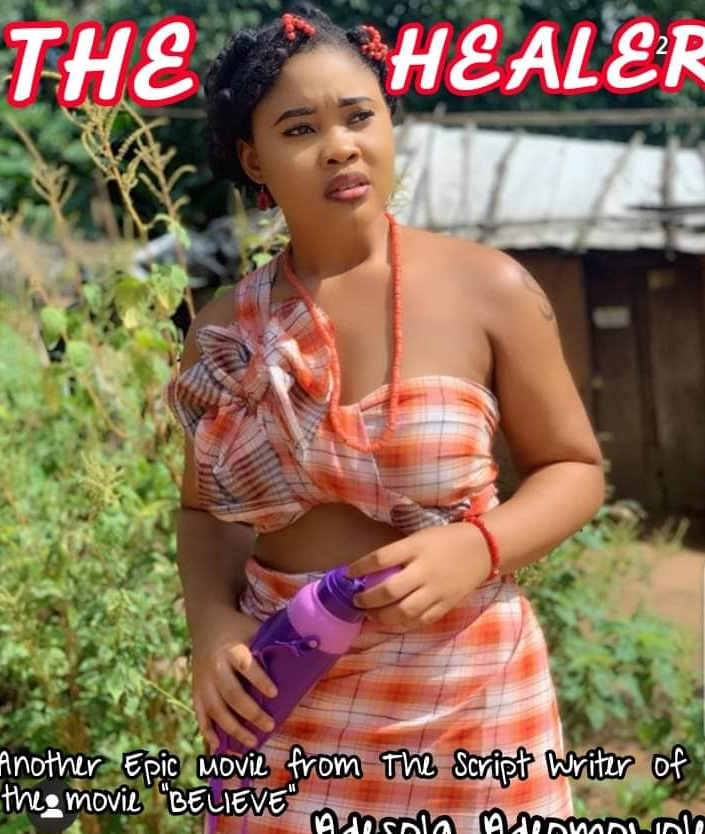 #THE_HEALER♥️
[kill me????heal my heart]
© adesola adeomowole.m.
Settings;Nigerian Epic drama????
(Season2) chapter 50????♥️????
now,enjoy..
Nora walked about in her room,the royal feast is in two days time,she looked worried as ever.
" Your chances of getting shamed is really high and rema wanted to hit me because of that maid. fine the only way you can help yourself is with her gone" Nora's assistant said.
Nora placed a call.
" hello
" how may I help you
" I was the one Loretta told you about you will receive your pay directly from me just make sure to kill that girl
" the girl in the picture"
" yes,her name is chidinma,she is a maid in the Jewel's house as well
" count it done but that's if she leaves the house,you know how rema's house looks like securities are so tight
" okay but if she is with drema jewel stay clear don't make mistake and hurt him in place of chidinma,I won't take it lightly
" ok no harm will come to the pretty boy all we have to do is deal with chidinma
" yes,that's it..
she dropped the call,her assistant patted her back.
" are you sure that will work??
" hopefully,Nora stop that face. How can a common maid make you feel like this?
"lets wait for the good news
"okay.
**************hours later
madam Claudia could not reach queen chiamaka so she sent her a text message.
???? my dear friend,I delivered the gold to your son drema instead of the maid,I wonder why he came to take it because the maid picked the call,she was supposed to come instead but she didn't…unless of course you know what am thinking" she sent.
meanwhile queen chiamaka was busy washing fashion show with Lila and Stephanie when the message tune beeped.
"Lila that's my message tune,get me my phone in the bedroom"
"of course mum"
before she sluggishly stood up,Steph already picked up the phone in the bedroom,she wanted to walk towards queen Chiamaka. just then the phone blinked on,she saw the text message.
what's your own if rema comes to collect the gold" Steph said to herself and shook her head.
???? I know my friend,I sent them together, thank you for your concern"
she sent the message and deleted everything then she walked out and gave queen chiamaka the phone.
" here mum "
" thanks"
queen chiamaka looked at her phone she saw no text so she continue watching the tv.
????????????????????????????????????????????????????????????????
chidinma was seated on the couch taking in the lush appearance of the living room,her eyes darted from the large flat screen for once the movie were on full display.
the inner part of the house smelled more riches,it's more beautiful than the outer part..
the shining features were beautifully arranged and the settings were just too great.
" you haven't drank or eaten anything,is it because of what I said earlier?? I already said am sorry I wasn't in my right senses" Emily apologize for the uptenth time.
Chidinma nodded.
" have really forgiven you,am serious I just don't feel like eating or drinking"
" okay let me drink the juice,see" she drank out of the juice.
" thank you for forgiving me,I will go back now"
" I will follow you"
the already bored dinma followed her. they started talking like before again.
she followed her to the kitchen. The kitchen seems to be the most luxurious ever,when she thought she has seen it all in royal Palace.
" is that a new maid???
Chidinma heard of the maids as she stood beside Emily. she doesn't really like cooking so she watched every of Emily's moves and helped her with the little errands such as bringing ingredients from the deep freezer, cutting the onions,cutting the carrot, chopping the pumpkins and all that.
Emily tasted the grilled oyster sauce,her expression changed.
" is there a problem
" yes,I decanted so much salt in it
Chidinma collected the spoon and tasted it,she spilled it out immediately.
she took a plate and collected the meats in the sauce inside another pot and handed Emily the sauce pot.
" pour it away,I will make another one
Emily took the pot and went away,dinma started afresh. Emily was amazed,she was really learning. she took another onions and copied chidinma's style of cutting the onions.
minutes later Chidinma stirred the steaming sauce,the aroma was starting to come out she covered the pot.
" looks like it will be delicious..
" all thanks to my mum.
" all of you can go and rest,I will do all the works" Chidinma said.
"are you sure??
"seems the new maid is responsible???
dinma nodded.
just then rema's red car pulled in..
the guards rushed to his direction to open the door from him,he whyned down the glass and stop them from coming.
he spends some minutes receiving calls in the car before he finally walked out.
he catwalked down to the door,it opened automatically,he held the gold box in his other hand and replied a text quickly.
he noticed the awkward silence in the living room and hopped upstairs faster to the room he left Chidinma,no one was there..
he checked his room…
he checked all the rooms….
he dropped the gold case and finally saw her in the kitchen washing plates,she even tied and apron.
" doesn't she know there are limits to maids and girlfriend??
rema watched her singing as she wash the plates,she even danced.
she stopped and jumped up to take a napkin she jumped again,this time she got it and opened the pot. rema walked closer and leaned into her,he then covered the pot back.
" are you okay, chidinma
" yes,am fine.When did you get back???
" not quiet long" he pecked her cheeks..
"okay,welcome"
she wanted to continue washing the plates,rema held her hand and rinse it in the sink.
" you can do that in my absence but not in my presence" he held her up from her waist and dropped her on the counter. They looked into each other's eyes. rema chuckled and darted his eyes to other parts of her body,he instantly knew she hasn't eaten.
chidinma placed both hands on his shoulders and moved him in between her legs were she already patted.
Rema deeped kiss her,the feeling was strong it wasn't really an ordinary kiss.
" the food is burning"
Chidinma broke the kiss and stood up immediately.rema followed her. she turned off the gas and scooped some food in a glassy plate.
" come on,I will feed you
they went to the counter again,Chidinma sat, rema came in between her legs.
she smiled and fed him like a baby,she suddenly got full seeing rema eat from her hand like that
she dropped the plate in the sink both of them walked out. Rema got a call and excused himself to the other end of the room he came back and removed his palm which was designed with pure gold chain… he wore the bed foam slippers and sat beside Chidinma on the bed.
Another call again.
He excused himself and walked out to receive the particular call. he dropped the call and came back to chidinma who was lying on the bed.
He moved her hair and tried kissing her lips, Chidinma moved away gently and covered her face with the pillow.
"talk about it?" rema said.
Chidinma removed her pillow.
" are you really engaged to Nora,someone said you will dump me and go for the next sexy girl"
" whoever said that" rema cooled.
Chidinma quickly collected her face and turned to the other side.
" am not engaged with anybody,I don't have any business with the royal families,Nora is my ex— don't mind what people say,okay??
" what about me,who am I???
"how should I prove that I love you chidinma, am not playing with you I really love you…
Chidinma turned away totally with her hands crossed..
" (scoffs) but why,am not up to your standards so why do you love me,why will you love me? I was really okay when you were obim…but now,
" I love you and that's all that matter,I can never take you for granted and am not after your body if I want to take advantage of you I would have done that since ……
Chidinma smiled and kissed him
" am sorry,I was just confused
rema deepened the kiss and gave her several love bites on her neck.
" I love you
" I love you too
" I need to go and return this gold to your mum today else she will fire me..
" can you stop that maid work? I will work something out for you…
" I will quit after this month,I promise
" quit now,like now…
" if I quit now,everyone will suspect. Month end is better. I should get going,the driver is waiting outside" Chidinma rushed words, rema drew her back. He doesn't want her to go back there.
"I will quit after this month" Chidinma added truthfully.
"okay"
"lets go,I will work you out to the car"
rema cooled. dinma stole a glance at him, he looked so cool and awesome in the white t shirt and jean trouser he wore. His hair was rich and full in black frontal curls…his dark eyes which was heavily fringed with black lashes stood out proudly against his fair skin, his skin was unmarred…
His perfectly built body is very obvious,his amazing heights and figure made Chidinma felt like hugging him again and she did. she couldn't help but admire the perfection of his looks….
she wondered why everything about him is just so expensive.
rema collected his hand from her and opened the door for her.chidinma waved and the driver drove.
????????????????????????????????????????????????????..
minutes later,Chidinma arrived. she walked into the palace compound and headed to the queen empire. She met Lila and a lady which she has never seen before.
" hy" Lila said.
" hmm,I seek the queen" she replied
" she's in her bedroom" the other girl said.
" you're the maid who went to get the gold??? Stephanie added. she looked chidinma from head to toe.
"ohh yes,hope no problem"
" nothing you can go"
Steph added. Chidinma entered the queens bedroom and dropped the gold box carefully as she turned and tried walking away, the queen called her back.
" Chidinma come back here ..
" yes my queen…
the queen looked at her from head to toe
" I don't even know who is lying between Emily and Nora???….who knows if Emily is telling the truth and Nora is lying??
" cos this girl is really pretty and rema likes pretty things could they have been together… did she spend time with rema her looks her killing she can just seduce any man.."..
the queen thought.It took up to 5minutes before she spoke
" you were with rema at his penthouse right? she asked.
Chidinma was confused,thoughts ran her head
" is the queen aware of my relationship with Obim??
"did madam Claudia tell her,rema took the gold for me am really scared??.
" is this a trick question??? or should I tell her I stayed with the driver???
" speak up Chidinma did you stay with my son up till now???" the queen asked,she wanted to get what she thinks in her mind straight.
"well mother,I was with…..
????????????????????