The Healer. Chapter 51
7 min read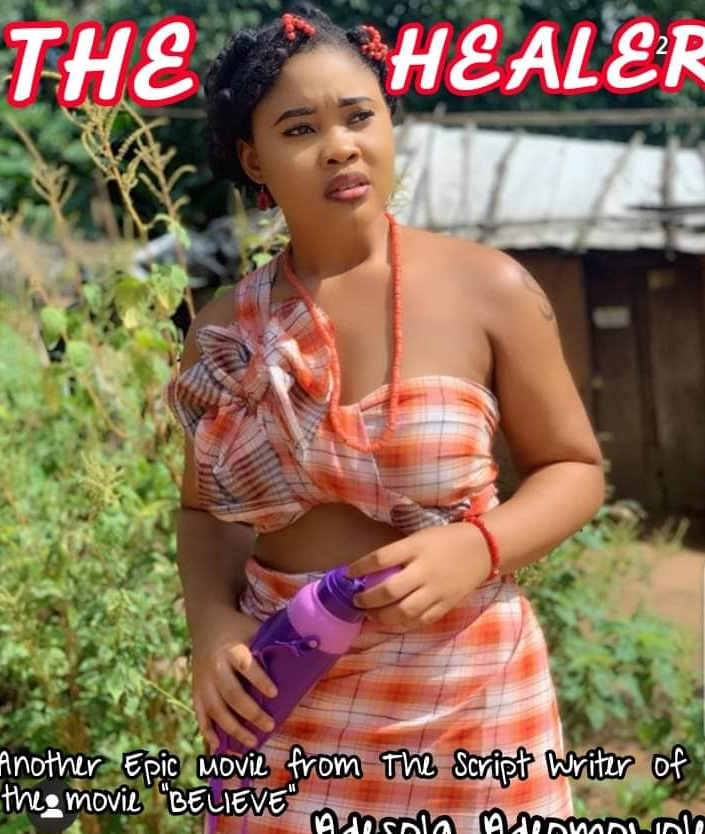 #THE_HEALER♥️
[kill me????heal my heart]
© adesola adeomowole.m.
Settings;Nigerian Epic drama????
(Season2) Chapter 51????♥️????
now,enjoy..
" well mother,…
Just then Chidinma heard someone cleared the throat at the door,she turned and the person gave her signals to say the truth.
" my queen I stayed in the place you asked me to stay,I shared the room with Emily,I didn't see your son not anybody throughout my stay"
the queen glanced at Chidinma from head to toe again.
" then where could my rema be,has he traveled out? ok you can go in now"
Chidinma bowed and walked into the maids room she doesn't know the person who cleared the throat and she wondered why the person will take her side.
" welcome chidinma" olive said.
" how was it— dika asked
Chidinma smiled.
" it was the best two days of my life"
" yaaahhh come on gist us"
" there's nothing to gist about" chidinma covered her face with the pillow,those moments with Obim refuse to leave her memory.
" heeeiisshh come on,why are you becoming petty!! tell us now!!!
olive strived to remove the pillow.
Dika rushed to lock the door.she collected the pillows from both olive and dinma
" Hana lied to prince Charles that you're dead"
" whaaaaatttt????
" if Hana could do this,only God knows how long she wants you dead"
" yes,she doesn't mean well for you, avoid her"
" whaaaattt!! my little brother told me the same,I wonder why she did that to me. She has been spending all the pocket money my mother sent to me,imagine but why will she do all that??
" jealousy", olive said.
"no wonder she wanted me to break up with Obim so badly,she already knew he is the prince long time. I was such a fool" Chidinma sighed.
" don't tell me you two broke up"
Dika widened her eyes,she was ready to swallow someone.
"am I mad??
"we are still together. I can he loves me. my mother's method really worked for me"
"which method is that??
" if a guy loved you deeply,you will know in his eyeballs,the feelings will flow naturally and besides he never takes you for granted" Chidinma paused.
" now am relieved,just avoid hana"
olive said. Chidinma nodded.
"you saw Stephanie right?" Dika asked.
" who's that??
"the lady in queen chiamaka suite"
" you mean the lady who cleared her throat, who is she??"asked Chidinma
" she's rema's step siblings"
" she's really pretty", Chidinma took her moist lips in and wondered why the lady will take her side. maybe because she wants to clear rema's name
Just then,Hana knocked at the door.Olive opened it.
" Hy chidinma" said Hana
" Hy hana" replied Chidinma.she thought of a way to deal with this unworthy friend of hers before she will finally stop this maid work. Nina walked in last,she noticed the maids were busy talking about clothes,waist beads, chain and all that.
maybe because of the royal feast in the next two days.
chidinma's eyes was on hana all through,she really wants to question her but on the other hand,she had a perfect plan.
she cooled and took her towel. she entered her washroom and took her night bath,after which she got dressed in a red nightware, she covered her hair with the matching net. The soft material suite her skin beautifully,she was looking all natural, her hairy fontal line down to her teddy gave her an elegant look,her skin was unmarred. Her eyes was heavily fringed with satiny black lashes stood out proudly against her light brown skin..
her curves were obvious and dreamy.
" dinma can you please borrow me your shampoo" that was Hana.
************
stupid girl,you still have the gut to borrow my things after all you did behind my back. Chidinma shakes her head.
************
" sure you're my friend,if I don't borrow you who else should I borrow" Chidinma said and passed her the shampoo from her own bathroom.
dinma scoffed and took the lip gloss she kept in her rack.one would think it's a lip gloss but it's actually honey that she poured in the empty lip gloss pack, she looked on the mirror as she carefully applied it on her lips..
she prefer using natural ingredients to make her skin care products rather than using all those chemical stuffs.
" are you still there" Hana called.
she rolled her eyes up."do you need anything?
"ohh your shampoo,thanks for lending me,it scents nice" Hana said and passed the shampoo to her over the wall.
"youre wlvome" Chidinma said. she throw the shampoo away as soon as Hana left.
who knows if she poured something inside?
she washed her hand and checked the mirror again before leaving….
The landline rang not quiet long,it was rema's room so Chidinma pick up.
"hello.
" can I get coldstone thanks..
she dropped the call and ran into the kitchen she came back and knocked on rema's door
" good day",stephanie said
Chidinma recognized her.
" thank you for the other time
" so where you with rema all the while.
" hunnn
" place it in the table.
" ok.
" what's your name
" Chidinma
" call me Steph
chidinma nodded and walked out of the room to her room.
she layed on her bed and hugged the teddy as usual,like that she felt obim was with her. Just as she predicted Hana came to her bed.
"hmm how far" said Hana.
" about what??" Chidinma turned.
" you said you will break up,at least that's what is best" said Hana.
"break up?? when did I saw I want to break up"
"why will I break up with the person that deflowered me?" Chidinma lied,just to see her reaction.
" whaaaaaaatttt!!!!
Hana shouted so loud,everyone in the room turned to her. they looked away when they didn't hear anything. Somehow chidinma saw dark shades in Hana's eyes,the way she tightened her hand angrily was more prove.
" whaaaat??? how can you do something so stupid as that?? Hana almost yelled at Chidinma again.
" he's my boyfriend,not just any guy…he couldn't resist me so I let him do it to strengthen our bond and why are you angry? it's my virginity he took and not yours,let's mind our business" Chidinma said and turned to the other side,she hugged the bear passionately.
this particular thing made Hana Soo mad. the fact that rema isn't an ordinary person…
ohh no…
" you're not serious are you?
" the way he held me with so much love,I felt like I was in heaven should I tell you more about how he kissed me passionately or how he followed me around like he has never seen a girl in his life….
oh my god,when I felt him inside of me I felt like i was in a wonder land,everything was so real he never takes me for granted, he doesn't joke with me because he loves me..
should I tell you the places he took me too and the things he bought for me aaahhh you haven't seen anything…
He changed my phone for me to his brand of phone… Apart from him being an international model and a musician,he runs a lot of companies…
"ooh my god really??" olive whispered from behind..
" Jesus Christ of Nazareth,Chidinma you're very lucky,your boyfriend is too dreamy" Gina added.
Chidinma stood up with her teddy and purposely faced Hana.
" did I tell you he own a jewelry industry and a cosmetics industry???" Chidinma said,she opened her cupboard and brought out two large box, she carefully opened the first one.
" it's the truth oo,Chidinma is not lying" Gina said,within a twinkle of an eye all the maids gathered.
"waoooow!!
" turns out that chidinma's allerged boyfriend isn't poor,he only kept a low profile.
" oh my god she's so Lucky"
Chidinma nodded,Hana's face right now was filled with shades of fire.
Chidinma smiled satisfactory.
" yes am really lucky,if I come in my next life I will date a poor guy again who knows if it's another one that will pretend to be poor" Chidinma said. her fellow maids laughed.
" dinma are you not a funny girl??
she smiled.
" I don't want this cosmetics box,anyone that wants should take it" Chidinma said and picked the perfume, the girls fought for the remaining box.
Hana stood up angrily,Chidinma saw it she smiled and moved closer to Hana.
" everybody,I will buy free clothes and shoes for you all,royal feast is next tomorrow right? chidinma asked.
" ohh my god,thank you!
" thank you chi!!
" I love you,thank you".
" she's so generous"
" it's okay,you're welcome" Chidinma replied and purposely sprayed the perfume in Hana's eyes..
Hana screamed in pain.
" sorry,I don't know you're standing there" she said.
Hana rushed out,she fell because of the low sight,she stood up immediately.
"sorry,my dear friend. I will pay for your medical fee"
Chidinma followed her
????????????????????????