The Healer. Chapter 54
6 min read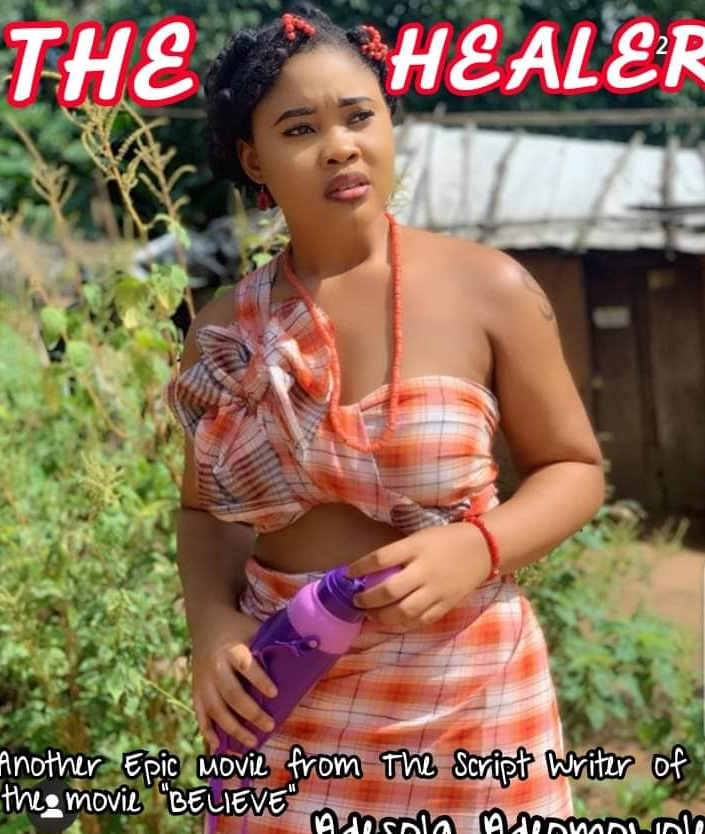 #THE_HEALER♥️
[kill me????heal my heart]
© adesola adeomowole.m.
Settings;Nigerian Epic drama????
(season 2) Chapter 54????♥️????
now,enjoy..
A loud laughter erupted. Olive couldn't just hold it,it's like she had guessed what Charles would say to Chidinma.
Dika joined in the laughter chidinma wasn't finding it funny at all.
" OMG! Olive laughed harder.
Chidinma suddenly felt like she have grown two heads.
" is it funny at all. I just told you what charles did to me and you made it a joke. I wonder why I told you guys" Chidinma frankly said.
olive laughed and threw her head on her laps, she waved it off and stood from their midst she went to the other bed.
Dika and olive laughed,falling on each other.
" I can't believe I have crazy friends. if you're done with your stupid laugh call me" she said removed dika's cardigan that she wore on her nightie. She had to wear it in order to cover the sight of her cleavages that showed.
" but wait did he actually say that,he is not romantic at all" olive laughed,chidinma scoffed and looked away.
____????
hours earlier.
" Chidinma prince charles summons you" the guard said.
" why? do I have any business with him cos I don't remember being part of his maid,it's not my own chidinma right?" dinma asked.
" you have just 1minute to get your ass in his room" mark said and cast a long lustful glares at chidinma. She looked so tempting,she was crazily well set..
her nightwear has a well embroidered v-neck that exposed the swell of her creamy looking breasts,her nipples stuck out hardly against the cloths material,mark was getting wet already..
there's no way he won't get this woman once Charles his done with her.
" you have just 1 minute" mark got himself, he walked away.
" you have to go" olive pushed chidinma out.
" am I his maid? I am the queens maid I can't serve any other person except her (scoffs) who is Charles anyways?"
" he said 1 minute….quickly go and don't put yourself in more troubles"
" am not going anywhere…do you know what time is??
Chidinma sighed and wanted to enter the room,olive blocked her entrance. You need to go,he summons you.
" do you expect me to go and see him like this?" said Chidinma.
"ohhh" olive unblocked the way.
Chidinma opened dika's cupboard,she wants to wear her cardigan since she's very fat, infact dika's cardigan will make her less attractive.
minutes later,she arrived.
she didn't have to knock mark was right at the door waiting for her. he opened the door for her to enter.
Chidinma entered with a clean mind.
the living room was spacious and furnished to a royal taste,it doesn't seem to move her.
just then she heard footsteps descending from the stairs,she knew who it was as soon as she saw the footwear.
oh God help your daughter.
she gaspes.
" my prince, FBI sent the clearances" said mark.
" you can leave" Charles said. he left.
Chidinma sighed again. " why is he staring at me that way?
she collected her face,her face wasn't smiling at all as Charles drew closer
"its midnight already,is there anything I can do for you" she said.charles took his moist lips in
isn't she excited I called for her.
" so am sure you must have been excited after hearing that I summon you" he said with ego.
" funny enough,am not excited. I am confused it's look like you are the only one excited here,why do you call a girl inside your room and even tell the guards to lock the door" Chidinma said. Charles stared at her,infact the more she talks the more he wants her..
he wants her badly a long time ago
in fact he would have gone deep down with her if Hana didn't lie to him that she's dead.
" well this billionaire prince just summons you to solve all your oroblems" Charles smiled.
" you want to solve my problems? do I look like I have problem?" Chidinma asked.
she doesn't like this guy,she could vividly remember the night she worked in the mines, how he treated the slaves the slaves… she knows about how he sex and draw pleasures from girls,she knows he can get everything he wants.
" baby girl! Aren't you excited?" Charles asked.
" I can't be yet,cause I don't know what's going on. is there ant signboard on my head that says I have problem?" she asked.
" well yes,hana told me. I wanted to know more about you and I felt there's nothing wrong if she tells me your problems" Charles said.
" and what did she says my problems are?"
dinma asked,her eyes lit up impatiently.
" I don't have any problem, I beg to take my leave" she said and made attempt to leave charles pulled her forcefully by her hand,he didn't know what got into him he has never been so gentle on girls..
normally he should have dragged her hair and make her cry or even strip her naked and have his way in between her legs but this girl brings some special aura to him.
" either you look like it or not am choosing you as my bride tomorrow"
"stella will take you out later in the day to get you nice clothes" Charles muttered.
Chidinma jerked her hands and ran out.
_____????
" you mean he said all that? olive sounded serious now. somehow she finds it unusual, Charles is never the gentle type cos every girl that enters his room comes out crying.
"hmm this is serious,three brother's likes the same girl…
" on a more serious note,Chidinma what are you going to do?" Dika said.
" what should I do?
"maybe you should explain to rema" Dika said
Chidinma nodded.
"rema is not in the country now"
"i thought you said is returning flight is 6pm"
" maybe you should fake sickness"
"i know what to do"
Chidinma sighed,they all went back to sleep.
*************
Next day❤️
.Prince Charles sat in the VIP section of crescent's bar,sipping a quiet expensive wine. four body guards guarded him. He was waiting patiently for Stella to bring dinma.
One of Rema's trusted guard was actually his spy..with him,he gets to know every moves of rema.
His spy had told him rema has a special bond for Chidinma,he had done so many things for her, that says a lot according to the spy.
*********
His plan to pull rema down to the mud failed several times.
Plotting evils against rema is just like giving him more morale,more strength,more power and even fames. Rema has been like that since childhood,nothing seems to affect and distract him except he wish to get distracted.
since he knows he can't take him down, taking everything he likes should hurt him,all he needs to do is aim for Chidinma..
Charles laughed out loud,imagining what Rema's life would be after that.People love rema than him
rema always gets the highest votes in everything,
in the world's heart he is close to perfection.
Charles covered the frown in his face with smiles when he saw Stella approaching. she must have came with dinma,he thought.
" someone is coming to sit on that chair" Charles said pointing to a chair opposite him, one of his body guards quickly wiped it clean.
Stella approached, Chidinma was not with her.
what!!..
he stood to check if she was behind her,it was only Stella..
" what the fuck?" he cursed,his guards trailed behind him.
" what's happening? where's she?"
" well…" Stella sighed.
" she left the palace…I didn't know how she did it" she added.
Charles furrowed his eyebrows.
" let's move" he said to his bodyguards.
" I won't be attending the feast,send the message to the palace" Charles said and drove away in a separate car.
????????????????????