The Healer. Chapter 6
6 min read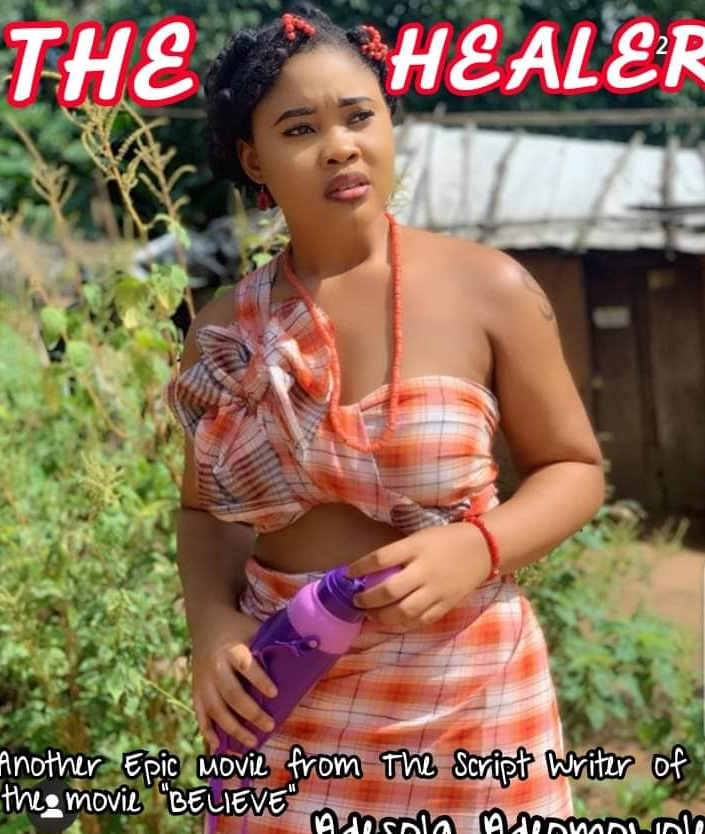 #THE_HEALER♥️
[kill me????heal my heart]
© adesola adeomowole.m.
Settings;Nigerian Epic drama????
Chapter 6????????????????????????
now,enjoy..
********Chidinma's house ????
Chidinma rushed in through the back door where she tossed the tray she stupidly held the purse firmly.
"dinma you're back,you came back early oo go and rest small so you will hawk the last tray" her mother said.she walked in.
"good evening papa"
she greeted her father as she find her way to the room she shared with her brother.
she kept the purse under sleeping mat then took a deep breath.
"what am i suppose to do with this money now
she smiled when she remembered the incident most importantly the way Drema acted..
"seriously? some people are stupid!!
what's my business anyway.
she took off her clothes and tied a neat wrapper she bathed and wore the only gown she have..
she took the purse and passed the back door where she bumped into her mother.
"dinma where are you going?"
"mama am not hawking today again,am tired"
"tired kwa,how much have you sold today. nnayin(my dear husband) did you hear dinma saying she's not hawking today"
"let her be if she say so,she used to hawk like 6trays in a day…leave her alone she will do it tomorrow"her dad said,she smiled.
"chidinma how much did you sell today,give me the money"
chidinma sighed and hands the purse over to her mother.
"this purse is heavy,what did you put inside
"chimoooo 60,200 how come.
"where did you get this money from,start talking well I know you too well that you don't steal"her mom said,her dad already stood.
Chidinma laughed.
"hmm the gods have buttered our bread
"how"
"it's one proud rich boy like that he poured my tray away and paid me"she winked.
"sooooooo!!!her mom said.
"go with the last tray now,who knows if there's another person that will pour it away"nonso said…she crackled.
"what do we do with the money???
????????????????????????????????????????????????????????
THE HEALER BY ADESOLA GOLDEN STORIES
*************
Drema's Suite.
Prince Drema arrived in town,in a five star hotel precisely where he lodged.
It was a couple suite,he felt comfortable sharing the couple's suite with his assistance, Bethel.
bethel has been his assistance for close to 2years so no cause for alarm.
bethel won't stoop so low to try anything to take advantage of him.
Soon his designer arrived and got him dressed he looked sooo hot in the cooperate suite. Since he will be modelling for coca cola, his suite was colours.
white fitted shirt,a sky painting red jacket….
his shoe was as if it shouldn't touch the floors.
He's already made..
Soo handsome..
"over to me"the industry's stylist arrive and did little make up for him.
he carefully brush the soft brushes on his face
everything was set and perfect.
they left.
prince drema's personal guard helped him to the dinning,he sat although his sight still got weak or was he imagining it that time his sight got clear .
no no no it was the truth.
his sight got clear the other time when the groundnut seller was fighting him.
somehow he wished Nora was there when his sight got clear he could have seen what his girlfriend looked like….
but instead,the first female face he saw was that of a groundnut seller.Not even his mother's face…imagine.
fuck!!! he got so confused.
he sat at the dinning where bethel already sat eating.
"how's my schedule?"
"the shoots starts by 4 and would end by 6 or 7 after that you're totally free sir.
"okay"he replied.
He drank milk only.
bethel stood up and helped him with the apples.
"so did you help me talk to Nora
"umm I tried to but…you also know how spoilt your girlfriend is? she insulted me for interfering in your relationship matters"
"she gave no listening ears
"yeah..she totally shunned me in the presence of her friends"bethel said.
prince Drema said nothing.Bethel then smiled and placed her hand on his hand.
"You're really handsome,gentle,kind and cool I really wish you could let go of Nora
she's not the girl for you
she always makes you feel like you will die without her,
she carries herself as if she is the only beautiful girl in this world.
she wants you to always beg her…why? because she knows you can't leave her that's why she's feeling proud.
does she even says sorry whenever she is wrong"….
"it's alright, Bethel thank you" prince Drema cuts in..
bethel sighed.Just then her phone rang.
"sir your shoot is about to start"
Drema stood up.the lenses nkem gave him was helpful but his sight still gets weak and very unclear some times.
the shoot was successful and he insists they return to the palace immediately.
????????????????????????????????????????
Royal palace…..
the royal banquet was still going on when they arrived,it was still very late.
his guards helped him to the prince empire.
"my son!!!
queen chiamaka came right in time and hugged him.
"how's father??"he asked in turn.
"he's….he's ..he's fine…u can just
"no I really want to talk to father right now…
"no you can't,the party is still..
"I mean he's having a meeting with the chiefs" his mother lied.
knowing fully well that the king don't want to see Drema,she had to put on the distance.
"you can go"she dismissed the guards and led prince Drema in herself. Everyone they came across gasped in awe and took pictures of prince Drema.
REPORTING LIVE, QUEEN CHIAMAKA SPOTTED HOLDING THE WORLD SWEETHERT DREMA JEWEL.
???? Drema!!! Drema!!!
???? oh my God! I love yyyyooooou!!!
???? jessss!!!! he's so hot!!
???? I never knew he's in this banquet!!
the girls screamed crazily and were even pushing each other. No one knew he is a prince…they only knew him as a celebrity that was the part that bruised drema's ego
"relax drema it's just for a while
"your father loves you! he will see you once till her cool! should I set your bath now!!
"hmm no need" Dre replied and laid flatly on his king sized bed.His mother sat and carefully lifted his head on her laps.
she sang for him like a baby, Drema chuckled the image of the groudnut seller suddenly flashed to his memory,he smiled for no reason
the door opened revealing Nora.
queen chiamaka smiled and excused them.
Drema already perceived Nora's scent he knew she's in the room but he kept quiet intentionally.
"Drema,I came to tell you that I need space? she said.
"you need space? if it's about the perfume matter I already said am sorry,what else do you want me to do!
"you are shouting at me Drema! Nora said, she really wanted Drema to beg more she wanted him to chase after her and beg but unfortunately Drema didn't even stand from where he lay on the bed.
"whatever I am leaving,am done!.
she threatened.
Drema didn't even move,
he didn't beg her and begg like he used to do.
He strained his eyes to see Nora's face, although his sight got blurry but he captured the cloth she wore.
he could see all her breast in that little gown she wore….he kept quiet.
"whatever I am leaving,am done" Nora shouted and left,she knows Drema will soon call her to beg.
************** Chidinma's house
chidinma and her mother were seen in the kitchen.she smiled to herself as she stirred the lemonade tea.
her mother was busy making the chicken kabeb..
"mama you should go and give the remaining money to madam tamara,you know how miserable she gets if her money isn't paid in time"dinma advised.
"yes it's true"
nonso rushed in.
"happy birthday nonso!! chidinma shouted and handed him a cup of lemonade tea.
really!!! nonso beemed.
"mama are you celebrating my birthday with chicken kabeb and lemonade tea"
"yes now…did you call your friends? your clothes is inside"
"mama I love u!! aunty Chidinma I love you! nonso screamed and rushed out.
????????????????