The Healer. Chapter 7
8 min read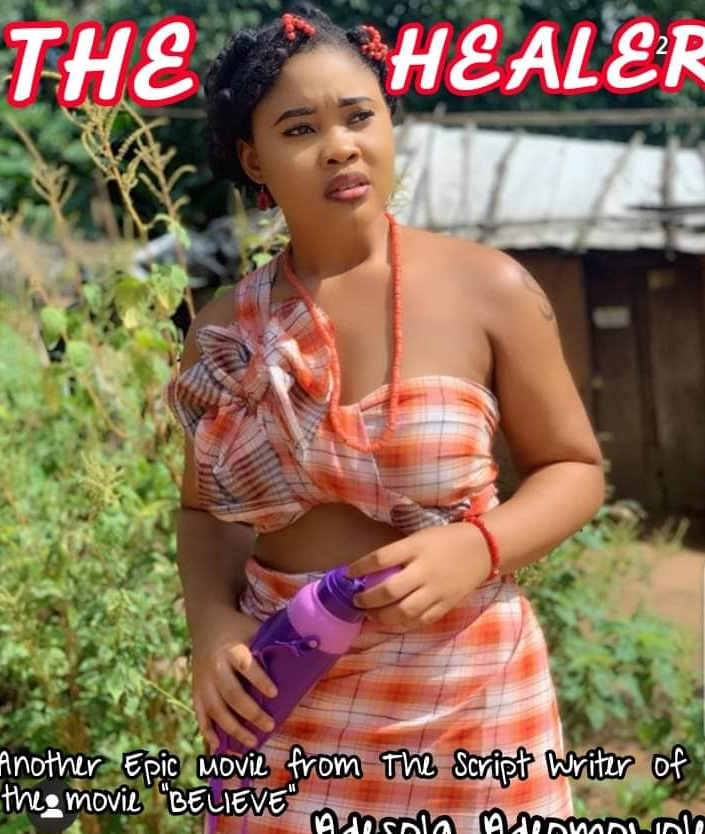 #THE_HEALER♥️
[kill me????heal my heart]
© adesola adeomowole.m.
Settings;Nigerian Epic drama????
Chapter 7????♥️????
now,enjoy..
the night got so tiring for Chidinma,she got tired with moving from one place to the other at the orphanage where they celebrated nonso's birthday.
"I had a lot of fun today"nonso beamed.
"good for you"she replied him and rushed out to bath.when she was done at the back bathroom,she tied her wrapper and walked in Hannah arrived right in time,
she placed her hand in the back door before Chidinma could lock the back door.
"Hy Hy Hy…
"chi wait"Hannah said over excitedly.
"did you win a lottery or raffle?
"aiish it's more than a lottery"han replied
"what then?
"chaiii the banquet was super hot..ahh dinma you missed. Should I talk about the celebrities that came or the handsome princes…
Soo many handsome faces,I wish you were there" Hannah said.
"good you met them,will see you tomorrow" chidinma said abd wanted to lock the door.
"hey"Hanna put her hand again.
"but am not done talking???
"umm okay wait let me change…my body is getting cold already"dinma said and rushed in
she wore a dress wrapper she really want to lay on that mat and sleep but she can't deny her best friend listening ears.
she walked out to meet her,they stayed under the shade..
"the princes got recognized…his highness was really nice. He has two sons although I thought they were three"Hannah said.
"ohh okay"dinma replied.
"gosh they are so cute,especially the first prince..he's handsome"Hannah smiled.
"is that all??"
"noo am not done"Hannah dragged her back
"I thought I had seen the best handsome face until this hot cake arrived in the party. You need to see his face,the girls couldn't help screaming…I think it's a celebrity"Hana said.
Chidinma nodded.
Hana smiled,Chidinma looked at her confused when she hugged herself.
"is that why you're hugging yourself? someone who doesn't even knows you exist" Chidinma said they both laughed
"his name is drema…those classic girls at the party were shouting "drema" so I think that's his name. I like him…am attracted to him
will he find me attractive enough,
I mean will he ever notice me"Hanna asked.
"of course you're beautiful"Chidinma replied. her mind wasn't even in all what Hana was saying what she needed was a great sleep.
"out of the princes that came,he dresses so sexy..his walking steps are amazing–
"Hannah are you sure you're not in…
"good night already*Chidinma said abd walked in through the back door.
"if only I have an hour glass shape like you,he will notice me faster"hannah said.
"you're crazy now"
"am not crazy….because of him am applying for a maid in the royal palace*hanna added.
"good luck…goodnight"
????????????????????????????????????
Nora's Suite…
Nora strolled in her room,
her right hand held her two phone cos she was expecting a call.
the other phone rang
"what happened have been expecting your calls since???*she said
"am sorry madam but the gown isn't ready. Emma won't be going on the runway anytime soon…glow skin dropped her"
"so what happened to the gown?"she asked.
"the designer recorded 38 instead of 30 which is your preference" I'm sorry I didn't cross-check"viola said.
"it had allowance,didn't it!! jeez voila I was feeling sick but you just ruin my mood what's the essence if my effort isn't paying off" Nora almost yelled.
"it's not my fault also…"Viola said
"must today be bad"Nora said and dropped the call angrily.
she strolled round her room for a while and finally moved into the section where she had a pool.She sat in the white pavement that separated the pool water.
she relaxed well but still felt water on her pant the pavement stored a little quantity of water
it was very white and beautiful.
soon a maid moved in with a set of towel alongside with kits.
she helped Nora to take off her crop top,her bikini was exposed revealing her full breasts.
the maid closed her eyes as she gently applied the oil at her back into her waist.
she dropped the sun burn oil and dammed Nora's hair with a warm towel then sprayed a moisturizer all over it.
Nora tied the big towel.
her white phone rang.she smiled in full as Stella helped her with the phone
"who is calling??
"madam it's Denzel"
Nora frowned,she thought it was Drema.
why hasn't he called her.
she collected the phone from the maid and dismissed her.
let me exercise patience till tomorrow,
he will call me….he always beg me to stay"
she layed on her bed.
her pride has taken over every part of her body
???? hi Nora! Emma has been picked up again.. you're getting the gown after it's been modelled right??" she got a text.
she stopped staring at dremas picture and picked the phone where she got the text.
???? sure! I always be the first to buy….what's the recommended price" she texts.
???? nothing much…just 1million naira so cheap"
???? ohkay,I will send it now" she replied
she copied the account number and wanted to do the transfer until she remembered what week it was.
"Drema hasn't sent me my wardrobe allowance for this week,is he joking or what?"
she seethed and wanted to call him but her pride won't allow her.
"why should I call him now when he will still come back to beg me!!
she terminated the process and transferred the money from the last money drema sent to her..
????????????????????????????????????????
Prince Drema's.
prince drema was finding it difficult to sleep as usual,his insomnia condition doesn't allow him sleep at night so the queen hired a story teller to tell him stories through out the night.
drema find it as a great help plus the woman was fun..
just then his phone rang,
the woman helped him with the phone.
it was Bethel,he dropped the call soon..
the story teller told him one more story but she wants something better for prince drema.
"can you try to close your eyes so you can sleep??"the woman suggest.
"aiishh,I develop headache each time I try.. I know better not to try that"
"okay"
"can you leave,I just want to be alone" prince drema said.
"ohkay,have a nice night"
the woman left.
prince drema dropped the pop corn bowl, it dropped the moment he stood. He took few steps forward and noticed his necklace wasn't with him anymore..
"did I dropped it??
"if yes then where???
he moved out as usual,his sight got weak and with the lenses he managed to go up the stairs and located the king's room.
he was about knocking when the door opened to his face…It was Charles.
"what do you want and who brought you up here??"Charles asked.
"is that a question??"drema replied and pulled back his hair band.
"am here to see father"he added.
"which father? is it the one that disowned you? Charles smirks.
"if you call him father…why didn't he show you off at the banquet,I guess he was too ashamed to admit a blind son"Charles laughed
"either blind or not,I still want to see father…
it's not about what's outside,it's about what's on the inside" drema said.
Charles fumed…
drema smiled and chewed his gum slowly that alone made Charles angrier.
"leave before I push you down…you've overstayed your welcome infact you're never welcomed"he said.
"I forgive you for the fact that we share the same father! I give you this last chance to move away from my way"drema said.
Charles laughed."that sounds like something a weak person would say".
"yes father"Charles answered and purposely slammed the door on Drema's face.
"who was that?? he heard.
"Dre"
"it's no one important" he heard.
he doesn't know what he felt hearing his father say something as hurtful as that.
"are you okay"nkem came right in time
"just take me out of here"
"where sir???
"anywhere"he replied.
nkem took him out…like he knew what was on drema's mind.He stopped at a cool place.
drema stepped of the car and walked down, nkem got uncomfortable when drema stood for a long time he knows the story too but he thought drema will be over it by now. he decided to call bethel and inform her.
"this is exactly where I stood…I saw the girls face and I wasn't blind for a seconds"
he said..
"you mean you see???nkem asked.
drema stared at him but he didn't reply.
""drema please we have to go before people recognize you here…am not sure of this environment"nkem said..
drema didn't move..
Chidinma on the other hand was enjoying her peaceful sleep until the soft hand of her mother woke her up.
they forgotten to return money to the place they borrowed from.
"you need to return this money to madam Tamara..tomorrow is suppose to be the deadline…onsiso onsiso(fast fast fast)"
her mother said.
Chidinma stood immediately and collected the money while rubbing her sleepy eyes.
"onsiso onsiso!( fast fast) nonso will follow you since it's night"her mother headed.
she hurried out with her brother.
Bethel on the other hand arrived to the spot prince drema was. she was quick to find his necklace on the floor near to the path side.
"why are you here drema? is it this??"
she asked. drema didn't even reply.
she sighed.
"you don't need to let them hurt you emotionally not everyone will be part of your life forever,some will come and go…
some to stay forever…no matter how sweet sugarcane is,we can never swallow it." bethel said..
"I saw for 1seconds when I met that girl"
prince drema said.
"common you're imagining things"bethel said
"it doesn't look like an imagination am I a kid" drema said and walked down.
Just then Chidinma and her brother walked beside the scene. Drema didn't notice because he had his back turned to the path he was facing. it was bethel who saw Chidinma first.
chidinma got scared when her and bethel's eyes locked. they must have find out she duped them #60,000.
"aunty am sorry,I was only playing but you fell into my trap of #60,000….am…I don't have any important groundnut it was just play….am…
drema turned,his sight got cleared again and he couldn't help with staring at this girl who seemed to be the most beautiful….
nonso noticed the look and held his sister who didn't notice firmly..
"run"he whispered to her
????????????????????????????