The Healer. Chapter 9
7 min read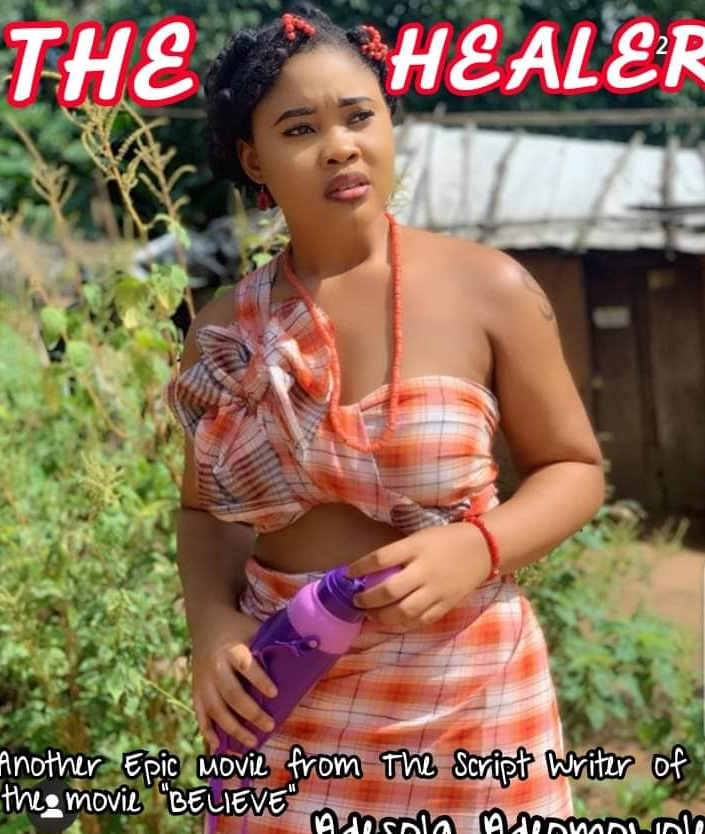 #THE_HEALER♥️
[kill me????heal my heart]
© adesola adeomowole.m.
Settings;Nigerian Epic drama????
Chapter 9????♥️????
now,enjoy..
prince drema's suite????
prince drema wasn't himself,he kept on moving to and fro in his room,his mind raced ten thousand folds his head got full.
he soon stop moving and collected his breath "so one day,I am finally going to use my sight"
"ohh God I need a miracle"
he said and took his lips in.
the image of chidinma's face flashed into his memory countless times each time her memories flashed,he smiles absent mindedly.
sounds if his ringing phone distracted his thoughts,he picked the phone from his pocket while straining his eyes to see the caller ID,it screened bethel he hastily picked the call.
"my prince"
"Gotv wants to interview you and your unveiling for Heineken beer is tomorrow,your travelling should get started immediately although the invite was late"bethel said
"please cancel all my schedules"he replied.
"whaaaaaatttt???
"pass pass pass*he said.
"But Dre are you seriously walking out on 140million naira…are you for real?? I will advise you to give this a second thought.
.besides you sound nervous..
this is a global star record,this opportunity is rare"she said.
"maybe it's not meant for me then…because that tomorrow won't work"
"why?????
"are you questioning me bethel?
"aaah am sorry sir…am sorry sir
"better" he dropped the call.
he ran his fingers into his pretty hairs, unknown to him some obsessed maids already lined behind the bluish glass that gives him an amazing sight.just to see his face..and everything that revolves in his room.
the HD wallpapers,
the glass floors..
the royal couchhh
the tables were his jewelry sat lined together mixed lights came out of the bathroom door halfly,everything screamed wealth.
"I wish I could go in but he doesn't likes anyone around…I feel like he's proud"Abigail said..
"hmm no I don't think he's proud…he just like being lonely,at least his girlfriend comes around"chioma added..
"back to the quarters"
the maids dispersed on hearing Rose voice.
"there will be sanctions for roaming the young prince empire next time"rose,the maids coordinator said.
"we are sorry"
"sorry for yourselves…"
"clear the remaining three beds,another one will be brought in shortly" she added.
"hunn why??? another three maids!
rose walked out.
Nkem entered prince drema's room.
"hey how did it went?"drema asked.
"fine my prince,she agreed..you both are meeting 4pm tomorrow at that same spot"
Dre took a deep breath.."please don't disappoint me I had to work out of 140millionaire."
"I hope this works"Dre added.
"it will…you're really strong"nkem added.
"if not for anything,I want to feel a father's love it hurts whenever he ignores me"Dre said.
nkem just smiled,he suddenly felt free with the prince
"you know I still don't know how to thank you, nkem…thank you for being this true"
"it's my duty to protect you"nkem said.
"ask me anything,I will give it to you even the ones that are not possible I will make it possible"he said.nkem smiled.
"aahh nothing…maybe you should just be my.. ahh I don't want anything" nkem said.
Dre laid flatly on the bed and hugged the fat teddy bear to himself.
"why???Dre asked
"you know the rules my prince" nkem said.
"what rules???
"don't you know I am a slave to the throne,long conversation with you is wrong,I shouldn't even sit with you"he said.
"sounds funny"drema said.
"we could just be brothers then…call me drema if you want"prince drema said.
nkem smiled,he was shocked a bit. He knows drema grumpy side tho.
"you mean–
"yeah drema call me that but when we are seeing the girl tomorrow,don't forget my name is Obim,and I am meeting her as a poor boy" drema said.
nkem smiled.
????????????????????????????????????
Nora's place.
Nora was at the poolside with her princess friends.laura walked out in pant and bra. also an award winning model.
she took the lemonade juice pack.
"you shouldn't be drinking that…you should take mapia instead"Emma said.they all laughed except for Nora.
"gosh I can't believe prince Charles could do that to me at the banquet,he left me stranded and started looking in the midst of those village girls that looks like dirt"Princess Laura said.
"he looks like someone who has taste"Amanda added.
"then he's probably tasteless in women"Jackie said and poured herself wine.
"you and Charles didn't share anything it was just one time sex and that was because you both jammed at the club you both wanted it and you got laid that moment"Nora said.
"what do you mean? U mean Charles doesn't like me???*Laura asked.
"I never said that,Charles doesn't look like someone who wants to be in a relationship you obviously were not a Virgin and he didn't make any promises…that one time sex doesn't mean he's your boyfriend"Nora said and walked in.
she's not just sure of what's wrong with her.
she got dressed in a perfect red dress,she brushed her hair,her mom called.
she picked the call.
"Hy???
"did you go to drema's palace??
"mommm!!! she rolled her eyeballs..
"have you called him!
"fine,no I haven't"she replied
"why????
"he should be the one to call me,and I am not going to his place till he calls me to apologise" she replied.
"umm Nora,it doesn't depends on whether he is blind…it what's inside that matters. He buys you gifts,he gives you 7million naire every week and monthly wardrobe allowance, he treats you nicely…
"sooo??? Nora replied.
"please come back to your senses"her mom said..
"okay"she said and dropped her phone
she dialed drema's digit.
He picked immediately but never said anything…
Nora's pride won't allow her say a word, she was expecting drema to start begging her when he picked but surprisingly he said nothing.Not even Hy.
drema dropped the call when she wasn't saying anything.
Nora started crying.
????????????????????????????. Chidinma's house
Chidinma was frying groundnuts,her mother was trying it,nonso who sat on the floor counted them.
Hanna arrived.
"good evening nne" she greeted.
"my daughter"her mother replied Hana.
she collected the spoon from Chidinma, dinma went to answer Hana in her room.
"guess guess guess"Hana said.
"I don't know how to guess so just tell me"
Hana took a deep breath
"I just got the maid job…in the royal palace!! free accommodation,free food and a fat salary plus I will see my dream man, the only guy that I think of…imagine I don't even think of my own future,I will really meet prince drema in human..I will be a maid in his empire" Hana exclaimed.
"huni that's nice.am happy for your job"
dinma said sadly.she will miss her friend.
"we can still be together you know…as in there are application for 3maids,you need to apply faster before it gets too late"hana said.
"umm noo,I am okay. I can't leave my mother and brother no matter what…I should be telling you not to forget me"she said.
Hana smiled.
"so what type of maid are you there??
"hmm the princess maid. Princess Lila will soon arrive from the states,I am her assistant"
Hana said.
"chaiiii those spoilt kids,it's well" dinma said.
they both laughed.
Hana left afterwards.
Chidinma took her evening bath immediately hana left, she wore the most beautiful dress out of the ten she had. she didn't bother about her hair she only oiled it.
prince drema already arrived at the location with nkem.drema's dressing was so low and he did that purposely,he felt more comfortable not letting her know he is the prince.
he waited patiently for her in the spot with nkem, his Royce Roy's car was packed in a distant..
he had no earrings,rings,and chain on..
his hair was binded with a local bracelet and a local bracelet was on his neck as planned by nkem….
????????????????
Chidinma oiled her hair and walked into her mother's room,she poured a little powder on her palm,she had no idea why she wants to look beautiful.
she even looked in the mirror several times.
"when last did I look in the mirror??
"hey mirror am I beautiful enough???
she poured the powder away and used a little Vaseline on her lips.
she walked out with a small local bag.
"dinma where are you going to? her mom ask.
"hmmmm…..
"okay don't stay long"she added.
"should I follow you?"nonso chirped in.
"no it's far,next time" she winked.
just then hefty men walked into their compound and grabbed Chidinma….
her mother stood up immediately.
"nneeeee(mother)!!!!! Chidinma screamed when they grabbed her.
"move it"…
"Chidinma!!! her mother screamed,the hot spoon almost fell on her legs.
nonso rushed out,one of the men pushed him back..
"let me go ooo"
"Chidinma!!!!
"mamaaaaaa!!!!!
"where are you taking me to?…
her mother doesn't know what to do.
"Umagu!!!!!!
she shouted the village name.
"Chidinma !!!!….she shouted her name.
"what did I ever do to this village,I already lost a child before now another one got snatched from me,who did I offend?? forgive me please!
she shouted.
"mama don't shout,your health"little nonso said.
madam Tamara showed up all in smiles.
"let's meet at the chiefs house??? she said.
"Chidinma,where's my daughter? are you the one behind it!!! she asked. madam Tamara laughed.
????????????????