Back In His Arms. Episode 2
5 min read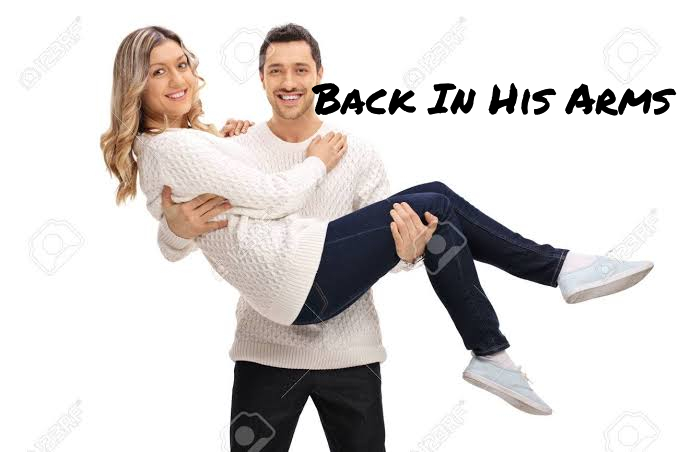 Back In His Arms
.
.Episode 2
.
.
lts been four fours since Elle has been asleep. Nate couldn't stop staring at her. She was beautiful and he was a fool to treated her badly for all these years.
Since last two years he was happily married to his wife. He loved her so much more than anything in the world till oneday he arrived home and he saw his wife sleeping next to a stranger.
A man who was half n@ked.
Since then he lose respect for her. He didn't care about her or make love to her anymore.
He was very dissappointed in her. He has made her years miserable that's why she ran away from him and he couldn't forgive her for that.
He was very determined to take revenge on her for that but anytime she was close to him. He is very weak.
He forgets everything and thinks of nothing than to strip her n@ked and make love to her as if nothing happened.
At 6:30pm Elle was awake. Her hair was messed up. Nate was just staring at her.
"What?",she frowned
"We are going to have a dinner with my family"
"Well I'm not going"
"Of course you are … get dressed I will be waiting for you downstairs"
"l said I'm not going"
"I'm giving you five minutes",he slammed the door and went downstairs besides he was already dressed.
Elle bathed and wore her night gown ready to go to bed… She didn't care whether he was waiting for her.
lts been 20 minutes since Nate has been waiting for her but she was really wasting her time or has something happened to her…
He has to check. When he reached the bedroom,she was busily reading an article.
He got angry.
.
.
"What do you think you are doing?"
"Reading…",she said as he snatched the article from her hand.
"Come on get dressed"
"No! I'm not going"
"Elle don't let me do this the hard way"
"l don't care . As l said I am not going"
He grappled her arm and raised her up to her feet. He pulled her close to him.
"Let go of me Nate.. ",she exclaimed.
"No…",as his hands went to her back and released her zip. Then in one quick motion he pulled the dress of her.
She was n@ked in front of him.
Her bre@st was bare as she used her arm to cover her bre@sts.
"Elle don't hide those from me… You are my wife and l have the right to see them.",as she released her hands from her bre@sts.
"You are a….."
"Don't… l told you this is gonna be hard for us both"
He opened the wardrobe and took a white dress. She was struggling so hard not wear the gown but at last he did wore it on her.
She was so furious. She raised her hands to slap him but unfortunately he grasped her arm and her lips landed on hers.
God! she tasted so sweet. He couldn't resist her.
Within two minutes she finally released her but she gave him the slap he deserves.
He didn't bother to argue rather pulled her into his car..
When she reached his family home. She was very furious.
"Smile sweetheart… You look more beautiful when you smile..".
"l hate you.."
"But then you responded to my kisses.."
"l didn't.. . you forced me into it…".
When they were at the dinner room,she was very excited.
His family was lovely. She wished he was lovely as well.
When they reached his suite she was really exhausted.
She was feeling very dizzy.
"Nate I'm not well…"
"Stop it Elle… stop acting"
Nate was enjoying Elle squirm up until the moment her eyes rolled into her head.
He then moved reflexes catching her in his arms. He quickly repositioned his hold and lifted her up ,carrying her down the hall to the bedroom.
He then settled her onto the king size bed and sat down on the edge of the bed.
Elle has always been on his mind since the day she left.
Nate leaned over to her. Elle' s breathing returned to normal. Her ruby lips parted and her anxious expression faded as she relaxed into the bed..
Nate couldn't help teaching out and blushing his fingers along her cheeks. Her skin was soft as he remembered.
She sighed as the back of his hand slid down the face of her jaw..
The Elle the public saw was so cool… so put together.
He watched her on television shows over the years and seen in the interviews. She was wild,unshakeable,unflappable.
Nothing like widely passionate woman who had shared his bed. She stirred so many emotions in him.
Anger,jealousy,arousal,resentment anxiety.
When she first left,he was confused and furious. His worst fears has been realised.
it was as if something was missing in him.
The only thing Nate knew for certain was that he wouldn't let Elle break him.
He'd funneled him with anger into building the greatest casino in Paris finding the perfect way to exact his revenge.
Back then his need for Elle has been all consuming. Marrying her was the best way to guarantee that Elle was his forever.
Elle groaned softly "what happened?"
"You fainted…."
"What am l….",she looked around again, "Why am l lying in your bedroom"
Nate smiled at her.
"Our bedroom sweetheart. l carried you in here like a good gentleman"
"Are you expecting me to say thank you"
"Yea…"
"Then I'm sorry to dissappoint you…"
"it's alright Elle l know when you will say thank you to me…. Tomorrow morning we have to go on a dinner with some Italian businessmen"
She eyed him.
"You can't say no because l can do worst things than what happened the last time"
"l didn't say anything.. l will be there"
"Good girl.."
.
.