Confused Boyfriend. Episode 14
7 min read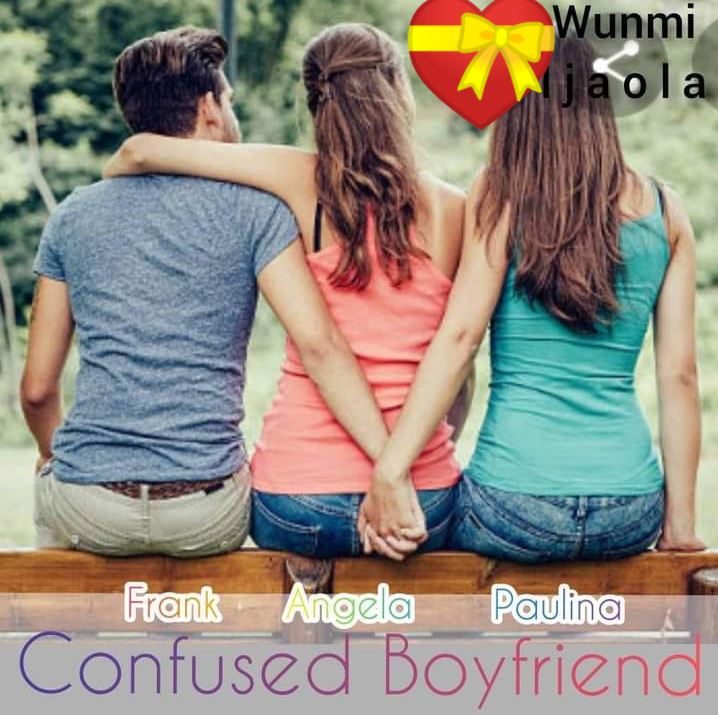 CONFUSED BOYFRIEND
(I'm in love with two girls)
Written by Wunmi Ijaola
Chapter Fourteen.
F **** F. * Fast – Forward.
Paulina's POV
Exactly when it was 6:30pm…
Well according to what was written on the invitation card, the party starts by 7:00pm.
I got dressed in a lovely pink gown, Aunt Bella picked the dress for me. She said its perfect since its my boyfriend's birthday…She still refers Frank to as my boyfriend. Anyway, I think he is too.
The gown was armless, if one is really close to me, he or she… no, he. He will surely see my b00bs.
I was looking so stunning, elegant and gorgeous.
My aunt styled my natural long hair, I think that's the only thing natural in me.
She did a light but very perfect makeover on my face..
And I put on an high white heels to match.
Staring at myself through the mirror, will you believe I was drooling -Over myself¿
Just as I was about to leave my room, my phone beeped. I thought it was Frank but no, it wasn't. It was Freddie..
He already called me several times last night and this morning too but I didn't pick the calls… For Christ Sake, do I have to yell at him before he'll understand that I'm not interested in him.. at all?
When my phone won't stop ringing, I tiredly gave an eye roll then picked it up.
"Hello Freddie" I almost screamed into it.
"Paulina" I heard him sigh, yeah whatever.
"I called you severally just to tell you that today is my birthday" He said.
"So? Happy birthday" I said and rolled my eyes again as if he could even see me.
"Oh Good, I have a birthday party to attend now, so if you're thinking I would come all the way to Kartella to celebrate a party with you then you are wrong" I quickly added.
"I know, I'm not at.. "
I interrupted him: "Freddie, I'll be candid to you. If I continue to talk to you now, I'll be late to the party.. Aside that, speaking with you makes my head-aches" I said and hung up the call instantly and when I was about to shove back the phone into my bag, it rang again.
Oh seriously, I think I'm gonna change my sim but the inner me made me glance at my phone to check who the caller ID was, it wasn't Freddie this time but Frankie.
I hurried slid to the receiver, blushed then put the phone on my ear.
"Hello Babe" Frank said before I could even speak..
"Happy Birthday dear"
"Thank you. So I'm expecting you or should I come and pick you up? " He said.
"Oh Come on, it's your day. There won't be a need for that, I'll be there in few minutes" I told him.
"Then…..Bye" He said.
"See you soon"
*I came out of my room, Aunt Bella was a in the sitting room.
"And here comes, Princess Cinderella in a pink dress" She clapped her hand.
"Are you Kidding me aunt? "
"Well no, hurry, go have fun and tell your boyfriend I said 'Hi'and 'Happy birthday to him" She said.
I smiled and nodded then gave her an hug before heading to the door…
As soon as I got to the door, that same annoying thing that happened to me in school last week, – happened again.
My breathe was ceased, it affected my stamina this time as it made me fall on the floor.
"Paulina… Paul…" My aunt screamed and ran towards me, bending behind me.
"What is wrong? " She asked, but when I couldn't speak, I gave her a pale look. True it's not possible to speak when you are not breathing.
But.. I've done this before, I've held my breathe myself before for at most 5 seconds but this one is not my doing. I couldn't just breathe, no matter how hard I tried to, it took longer time than the one that happened when I was in school.
"I will go get you water" Aunt Bella said then left and just when she returned, whatever held my breathe released it and I coughed out and was able to breathe again.
"Aunty" I could speak now.
"Paulina, what happened to you? "
"I…I don't know but this is the same thing that happened to me when I was in school the other time" I told her.
"Wh…What? This is serious Paulina, don't you think so? What do you think is happening to you? " She asked me.
But… How would I know? It's just started happening, I wasn't born this way.
"I don't kmow" I said, worried about it but it didn't make me cry because I didn't want to.
"I'm okay" I told my aunt.
"Oh my dress is in a mess now" I exclaimed and quickly stood up from the floor.
"You won't be able to attend the birthday party" My aunt said.
"No, I can. I'm okay now" I insisted.
"Paulina!!"
"Seriously, I am fine. The stuff just come and go" I said but she gave me me an -I'm-afraid look.
"Now I'll go change my dress and make sure I do not ruin my make over" I said then quickly went back to my room before she will insist on stopping me from going to the party.
*…..So I changed into a lovier pink gown, took a small posh-looking purse then said Bye to aunt Bella and scurried out of the house.
It didn't take time before I found a cab to take me to my destination -My Frank's place.
…I got there after 3 to 5 minutes, I alighted before paying the Cab Driver who drove away almost immediately.
..Staring at the storey building in front of me, I muttered : "This guy's parent is fvcking rich"
I sighed and tried to give out my best look before making an attempt to walk further towards the big building. – 33 coker's avenue.
"Paulina" After walking a bit closer, I heard Frank's voice called me.
He was right there, on the stairs then he ran to meet me.
"Hey, Happy Birthday once again" I said to him.
"Thanks once again too. I've been waiting outside here for you" He said.
He was looking more handsome, than when he's on school uniforms.
He was putting on a suit material, inner shirt and white Jacket..He was even putting on a necklace and his hair style is kinda different as well.
I was just about to compliment him but I was second to do that because he did first.
"You are…,you are looking so beautiful " He stammered still staring all over me. What if I didn't mess up the first dress which exposed the things that makes guys go crazy and what if that was what I wore -here, then we will perhaps be making out by now.
"Thanks" I smiled and he held my hand and kissed it. Oh finally, there's no doubt about it, Frank is more than a friend, not just my crush but he is now my boyfriend!
What does it mean to be kissed on the hand?
Err, is it 'I cherish you alot' or ' I want you' ?
Whichever one, all I know is that a kiss on the hand means alot to me.
"The party has just started, follow me" He said making an isoscele angle with his hand – arm.
I smiled again and intertwined arms with him.
"I'm going to introduce you to some people you don't know, my friends, my families and most especially, my twin brother" Frank said.
I huffed, disbelieving him: "Oh now you're lying to me that you have a twin brother? "
"I do, I really do but because he doesn't stay here with me or attend the same school with me. So many people don't know that I do have a twin" He said as we began to climb the stairs.
"Oh wow, really? " She exclaimed.
"I can't wait to see him. In my next life, I would love to come in a pair, I mean I would love to be a twin. And we should be very identical b'cos I presume having a twin is splendid when we share the same room, do same things, have same things and all that" I said and he laughed.
"Well, maybe not. My Twin and I are different, we have different things, different suggestions, we are just different in so many ways and we are not even identical. His name is Freddie, You know, twins name are supposed to sound alike but ours do not except for the similar alphabet 'F' " He said.
"Freddie? " That name, that guy.
No, he can't even be the one.
"Yeah Freddie" Frank said;
"We are there now" He said when we stood in front of a door.
"Be ready to welcome the loudest noise and the most merrious merriment" He said and was about to turn the door knob but someone turned it first from inside and it opened.
"Hey Twinee, why did you leave immediately the real fun started" A guy came out of the room and asked Frank.
Fre..Freddie?
Huh?
Freddie?
*********