A Maid For Him. Episode 4
6 min read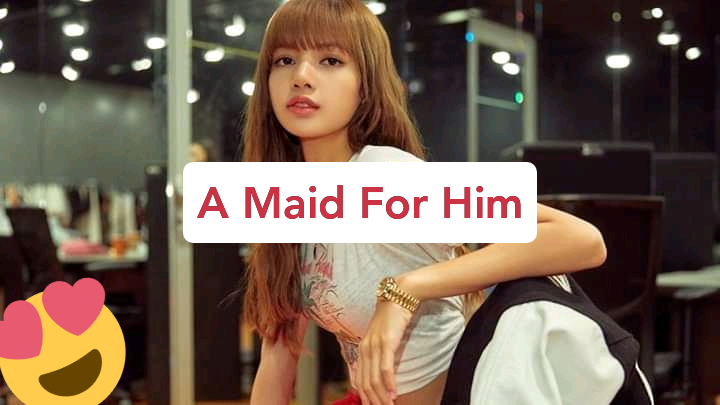 ???????? A Maid For Him ????????
(Mum brought her )
Episode 4
By Simrah Saeed.
????️ Nora ????️
Holy crap!
I jumped up from the bed seeing the time, it's few minutes to 7
How the hell did I sleep this long like a pregnant woman?
I quickly rushed to the kitchen and began preparing dinner.
I will just have to make something easier before Mr Evan comes back!
I took out some noodles and eggs. Noodles and sauce for dinner. He won't complain right?
After all, he didn't give me a time table to follow.
I feel so good and alive again, I also sure I am going to add lots of weight before I leave this house.
Lots of enjoyment, just imagine how long I have slept. The house was so boring, nothing to do so, I had to sleep.
In some minutes, I was done. The aroma of the noodles filled the room.
Yeah! Just on time, I heard a car honed. That must be Mr Evan.
I quickly picked up the plate I served to the dinning.
You will enjoy eating noodles when it's hot!
The door opened revealing him!
" Welcome Sir " I greeted.
He only nodded as usual! I wonder if he doesn't know how to respond to a greeting! Always nodding like a lizard!
Oops! I didn't mean to say that!
He dropped his brief case, removed his suit and handed them to me sitting down on the table!
" Keep them in my room " he said without sparing me a glance!
I rolled my eyes and left to his room feeling so refreshed .
And who says enjoyment is not good? I pray my prince charming have lots of money like Mr Evan.
I have seen him very rich in my dream! I know he is rich anywhere he is.
I smiled and to myself trying to bring the image I see in my dream!
I am being stupid right? Well! You have to know I am stupid sometimes.
My prince charming will never be like Mr Evan, he won't dare carry women about and f*"king any lady he sees.
If he tries that and I get to know! Gosh! Let's leave it till then.
Yawning loudly, I dropped his suit and briefcase on his bed and headed to the kitchen!
I am hungry!
*
*
Next morning….
???? Evan ????
This lady's food is just sumptuous! Wondering if her body is as sweet as her foods taste.
I licked my lips with the image of how she will look when she's clad in nothing!
Today's Saturday and nothing to do. I don't normally go out on weekends after my morning walkout .
And if I do, that's to bring home some bitches to f*"k.
I changed the channel to 231 and it happened to be a horror movie!
I was so lost in the movie when a knock came on my door.
Nora ran from the kitchen to get it open! It must be Mum because I am not expecting anyone.
" Evan !"
My head snapped at the voice and oh my goodness!
" Jenny !" I called as her body landed on mine.
Gosh! I have missed this face!
" Goodness! Is this you Jenny? What where you eating in London?" I asked turning her around!
" What could I have eaten Evan " she chuckled and hugged me again.
" You've added so much weight and looking more beautiful " I complimented and she blushed!
" I know you are flattering me Evan "
" Of course, I am stating the fact "
" Okay! Thank you " she said sitting down while I sat beside her
" So how have you been? You didn't tell me you were coming " I said feigning hurt.
" I am sorry Evan, I just wanted to surprise you " she replied apologetically!
" It's fine, take her bags to the last room Nora " I said to her who was just staring like we were acting some movie.
" I miss you so much Evan " she pouted
" I miss you too beautiful " I replied.
Wondering who Jenny is? That's my best friend.
She based in the UK with her parents and do visit me once in a while like now!
" Who's she?" She asked furrowing her brows.
" Don't tell me you haven't left your flirtatious ways Evan " she said glaring at me.
I smiled in return, I can't do without f*"king ladies and she knows that.
We've been friends since childhood before they relocated to London.
" She's my maid Jenny " I chuckled.
" But you are still chasing after all the things in skirt right?" She asked…
I opened my mouth to talk but couldn't! What do I say?
" God, I am so disappointed Evan " she said hitting me.
" Okay! Can we not talk about that now so you can go upstairs and freshen up then come back for lunch "
" Yeah, I need that "
……..
????️ Nora ????️
Jenny? I wonder who she is to him. But why was she staring angrily at me?
Not that we've met before!
I dropped her luggages heading out when I met her half way.
" Hey wait up " she said and I stopped!
She looks so beautiful and classy, I am sure she's from a well-to-do family!
She stared at me up to down ! Okay! What's her problem?
" What's your name?" She asked folding her hands.
" Nora "
" Okay, dear Nora! You are just a maid in this house and I don't like the way you stare at my man " she said and I scoffed!
Stare at who? Her man? She's Mr Evan's girlfriend?
" I don't remember glancing at you both Miss Jenny " I replied boldly
" First, do not ever scoff while I am talking to you, secondly, do not talk back at me you lowlife "
Seriously? Just her first day in this house?
I stared at her and smiled!
" And you are?" I asked.
Who will even drag someone like Mr Evan with her? A total flirt? God forbid it for me!
" you know what Nora, I will get back to you later " she snapped and entered into her room.
Only God knows how I am going to give her a small beating if she crosses my path!
……
I wonder why Mr Evan isn't at the dinning yet .
He ought to have come down since!
Thank goodness that witch of a girl left to Mrs Scott's to spend the night and will be back tomorrow!
She's so proud! Arrogant and rude. How I wanted to pour the coffee in my hand on her this afternoon when she told me I don't know how to cook!
I knocked on Mr Evan's room and heard a faint come in.
" Good evening Sir, dinner is served " I said.
He was lying on the bed.
He sat on the bed looking at me!
" I am not eating Nora but I want you to do something else for me " he said smiling mischievously
" What Sir?" I asked .
He licked his lips as his eyes landed on my b**bs.
" Did you know how hot you look in this nightie? " He asked.
I quickly covered my b**bs ! Crap! If I had remembered I was on my nightie already, I wouldn't have entered his room.
" What did you want me to do for you Sir?" I asked changing the topic
" It's simple Nora " he said and climbed down from the bed walking towards me.
" I want to on the bed with me and you will give me a massage "
What?
He walked closer to me and threw pushed me to the bed!
Is this man okay? How can he force me to give him a massage?
" Start with your work already Nora " he whispered in my ear.
I tried standing up but he was quick enough to hold my left hand!
" I don't look like one of those ladies you bring in here Mr Evan, I am your maid not a massager " I replied
" Okay then, if you don't want to give me a massage, maybe I should have a taste of you "
Huh?
He pushed me down bringing his smelly mouth to kiss me and I gave him a resounding slap!