A Maid For Him. Episode 6
6 min read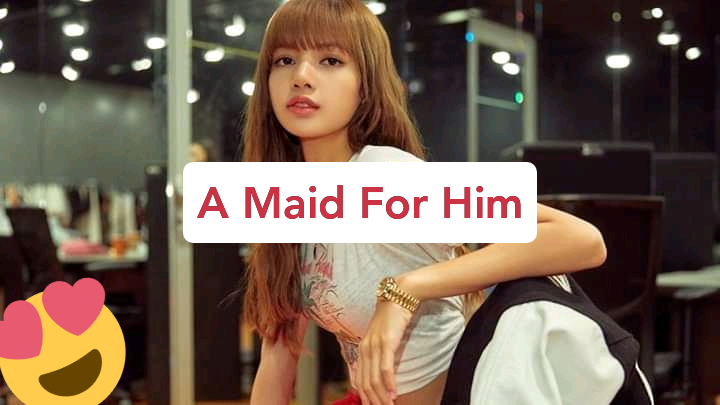 ???????? A Maid For Him ????????
(Mum brought her )
Episode 6
By Simrah Saeed
????️ Nora ????️
" Don't you get it fool, I need burger and fries not this thing you prepared " Jenny said staring at me and the meal with disgust.
God knows I am being quiet because I don't want to murder someone right now.
" Really? What's wrong with you having fries and chicken soup for lunch? " I asked.
She Scoffed passing me an irritating look. What's her problem huh?
" What are you paid for Nora? To cook and take care of the house so why are you complaining? I have the right to choose any food I want to eat " she snapped.
" Of course you do miss Jenny but I won't be the one to prepare it for you. If you don't like this, then you are free to enter the kitchen and make one for yourself"
I replied and she stared widely at me. I didn't kill anyone right?
(Written by Simrah Saeed Hareerah.No piracy ❌❌)
" Are you mad Nora? Did you know you are just a maid here ? This is my man's house and I have the right to talk to his maid and send her too " she said standing up.
I seriously don't want to pick a fight with her. I ain't in the mood.
My anger is very possessed more than a deadly spirit
" it's better you bring in your own maid Miss Jenny, I was paid to serve Mr Evan not you"
Before I could understand what was happening, she slapped me. Wait! This must be a dream!
It can't be real because I will sure kill someone for the first time. .
*
*
*
???? Evan ????
" Yes! "
" You there, oh God! "
" Daddy"
" This is heaven! No seventh heaven "
" Ahhh"
" Ow! "
The sl*t I don't know her name kept moaning in my ears as I f*"k the hell outta her.
I turned her around and withdrew my rod outta her taking my mouth to her ho*ny pot eating it .
She really taste so good!
My hands on her b**bs and I played with her n*pples .
" Oh! Ahh"
" Evan !"
" I have always loved you "
" God!"
She mo*ned as well began eating her ho*ny pot roughly till I was satisfied.
She made me lay on the desk ! Well in my office like I said.
I laid on the desk as she took my d*"k in her hand stroking it slowly before taking my full d*"k into her mouth giving me a blow job.
I closed my eyes enjoying the pleasure I was having. It's been awhile since I was last given a blowjob .
She licked every part of my d*"k and I couldn't help but let out a loud mo*n.
This lady is really good at what she does.
I grab her b*tts squeezing them in my hand. There are so soft and big.
While she was sucking my d*"k, I took my two fingers into her f*"king her harder.
" Ow " she squealed a little and opened her legs wide giving my fingers entrance to her p*ssy .
I entered three of my fingers then four. She was so wide that it entered with ease.
She seems not to bother as she was enjoying it. I mean who wouldn't?
I began f*"king her roughly not caring if she gets wounded or not.
I reached my climax but she didn't let me pull out of her mouth and everything pour as she licked them with ectacy.
F*"k! She's a real bitch ! Okay! I think I am done !
" You are done here " I slowly pushed her off me reaching for some cash in my drawer.
I brought out a bundle of dollars and handed it to her
" Out " I said coldly.
" It was really nice having a hot s*x from you " she said seductively.
" I said get out " I yelled. She nodded and quickly put on her dress running out.
Idiot!
I left the office to my relaxation room to freshen up. I know my body is smelling like I woke up in sperms semen .
I had to get some ladies to f*"k after I left mum's.
The news about me getting married to Jenny was hell of a decision.
How will she make decisions for me without my consent?
Well yes, Jenny and I have been friends for almost 22 years now and I know she has feelings for me from the way she acts jealous sometimes seeing me with other ladies but I don't love her more than her being my friend and a sister figure.
I can't do anything about it now, and heck! Marriage is the last thing on my mind.
What do I do? I can't argue with Mum! Her decisions are final! No turning back and again, Jenny might make a good wife but one thing I can't promise is being faithful to her.
I will just watch her till our marriage! She's not my kinda lady!
I sighed and entered into the bathroom! I will be having a meeting in less than an hour.
I quickly took my bath and I felt clean again!
The only thing I could think of taking my mind off this marriage thing was getting a p*ssy to f*"k and it did help.
It worked like a magic !
I dressed up and headed back to my office when my phone beeped.
Jenny!
I sighed and picked up the call!
???? What's up Jen? ????
I said. I heard her breath out in anger.
???? What's the problem Jenny?????
I asked again!
???? Isn't that stupid maid of yours? Can you imagine Evan? She gave me bruises all over my body ????
She cried out wincing. Bruises? How? Gosh! Why's Nora so stubborn?
???? Did you get into a fight with her?????
I asked
???? No, I saw her packing half of the food stuffs in the kitchen to perhaps the market to sell them so I approached her and she hits me ????
W…what? Is this the reason my foodstuffs gets finished so quickly all the time?
???? I am sorry okay! Hold on! I will be home in two hours, I have a meeting now. I am really sorry okay? ????
???? Be quick about that ????
She said and hung up
………
???? Jenny ????
That nerve of a girl! I will so deal with her in this house till she decides to leave herself.
Ouch! I touched my skin and it hurts so badly!
She has the guts to lay her hands on me!
I can't believe that she have so much power.
My body hurts so badly!
Getting to know that Evan will be getting married to me, it makes me the happiest lady on Earth.
That's what I have ever wished for! I love him but he's too blind to see
His Mum told me about it yesterday and I can't be more happier
This alone will give me power over that witch that calls herself Nora.
I lied to Evan and he believed me! Of course he will! I am his best friend and fiance and I can't lie to him.
I will stay and watch the drama.
That Nora is a threat to me. I just feel insecure with her around Evan.
I am scared he might run after her, you know he's after everything in skirt!
He's a flirt and I hope I change him.
Evan is mine and not even her can take him away from me.
*
*