A Maid For Him. Episode 25
4 min read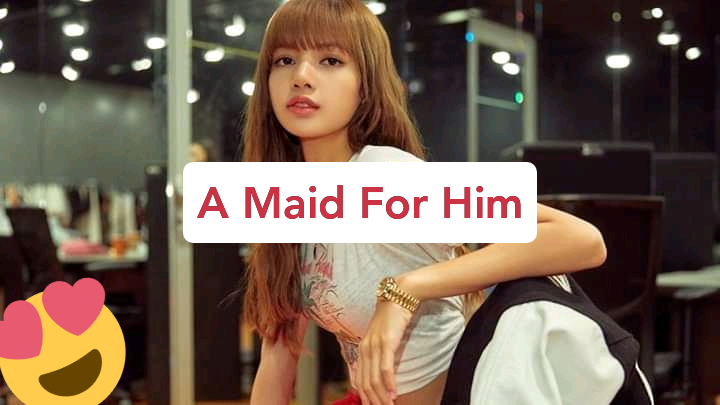 ???????? A Maid For Him ????????
(Mum brought her)
Episode 25
By Simrah Saeed Hareerah
????️ Nora ????️
I could kill to see the look on Evan's face right now and Adam is worsening everything by laughing.
I seriously didn't mean to throw up on him. It was accidental!
But the rose, why does it smell so badly? I quickly dropped it on the table to avoid throwing up again
" Look at your designed shirt Evan, it look so beautiful " Adam mocked and I glared at him .
" I will kill you Adam " Evan threatened which made me chuckle.
"I am really sorry Evan, let's go upstairs so that you take your bath and change into something else "
I said holding him by his arm and yuck! He's smelling !
I covered my nose and he groaned!
" Did you have to make me feel bad for what you did ?" He murmured while I smirked .
" Of course not Evan, I said I am sorry but seriously you stink " I said laughing and he threw me a glare.
He scoffed removing my hand around his waist.
" Thanks for your compliment " he said and left me there while I laugh my @ss out.
" I am sorry Evan " I yelled after him but he didn't answer.
Gosh! I feel so hungry.
I made my way to the kitchen while Adam followed suit.
" You are really giving Evan a hard time did you know that? " He said smiling while I rolled my eyes.
Is it my fault?
" It's the babies not me, his babies are giving him a hard time " I defended while he chuckled.
" It's seriously amusing how you get him to do everything for you Nora, he truly love you dearly " he said and I flushed
I know right? He's really proven to be responsible and he's becoming the kinda man I wish to be with.
I still can't believe things turned out to be this way.
Getting pregnant for Evan and being an item with him although I don't know where this is heading to but I am sure it's gonna be good.
" Awwn look who's blushing, what did you want to eat? I can prepare it for you , I don't want you to stress yourself you know" he said and I narrowed my eyes.
" You know how to cook?" I asked . He nodded shrugging.
" Yeah, for the fact that I was raised among six girls and I the only son. I picked interest in doing whatever they do"
Wow! Six sisters!!!!
" That's impressive unlike my baby daddy that doesn't know anything about cooking" I said and we both laugh. .
" Evan is a lazy ass you know, so what did you want to eat?" He asked.
I thought for a while and clapped my hands.
" Lobster Mac and cheese " I replied cheerfully.
" Alright, you go back to the living room, sit down, take a remote and watch your favourite channel while I prepare it for you, it will be ready in less than an hour"
He said.
" I can stay and help you with one thing or so"
" You don't have to worry pretty, I will do everything " he assured and I nodded.
*
*
*
*
???? Unknown POV ????
" Did you find her?" I asked curiously while he shook his head.
" No boss but I think I have a clue on who she might be with, I saw her on the TV with popular Mr Evan "
" Are you trying to say she might be with him in his house?" I asked
" Yes boss , I think she might be there "
" Then find her, by all means, I need her before Dawn "
" Yes boss "
I can't loose this opportunity of finding her again, I have kept a tap on her for a long time till she disappeared into the thin air.
I couldn't find her but not anymore, I promise to get her very soon.
*
*
*
???? Evan ????
" Are you listening to me at all Evan?" Mum asked and I sighed.
Can't they allow me have a little rest in my own home? Gosh! Nora is a case with her pregnancy and Mum is worse.
She's always saying I should do this for the babies, Nora needs me, the babies this, and that!
It's really so frustrating that at this point, I am glad I don't have any sister to add to my problem.
" Evan?" Sh called again while I turned to her.
" I am listening mum, you can use any colour for the decorations " I replied
" If you say so, where's Nora?" She asked
Isn't she just coming in? Nora is downstairs with Adam.
" She's downstairs and probably in the kitchen , I need to rest a little before Nora starts her demands again " I said jumping on my bed while she chuckled.
" Perks of being a father " she chuckled again and I heard the door closed. She's gone! Hmm!
I am going to propose to Nora as soon as possible so that if she gives birth, we won't waste time before setting the wedding date.
I can't wait to make her mine, only then I can have her as I wish to. She will be mine completely.
I won't stand a chance to leave my baby mama to anyone.
Not when she's my light, without her, I will become blind.
That day I checked her diary, I stumbled on something. Her birthday!
Her birthday is in two days and I am thinking I should propose to her then.
.
.
T. B. C.
Who is the unknown again????.
And who is he/she looking for?????.