Saved By The Demon. Chapter 14
7 min read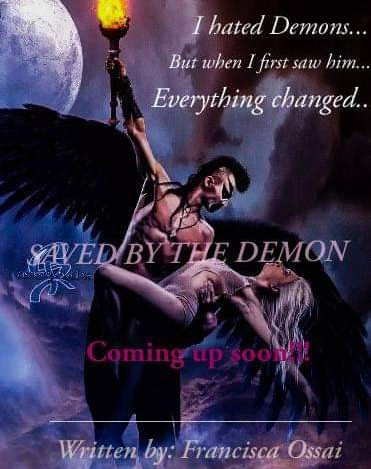 ???? SAVED BY THE DEMON ????
Written by: Authoress Cisca ✍️
" Truth… Dreams… "
☘️ Chapter 14 ☘️
???? Elena ????
I wasn't at rest for two reasons I wish I can find an answer to.
First, seeing Lucas in such state was something baffling. I don't know why the hunters won't rest and they won't let us rest either.
I just can't imagine the pain Lucas will be feeling right now.
Second, last night Lora had seen me in his room. God only knows what she might be thinking right now.
I don't want her to find out but if she did, I'll have to tell her the truth then.
I was so much relieved seeing Lucas sit on his bed like nothing happened. With the royal physicians, I had much hope everything was gonna be alright.
But I can't help wondering why Lucas won't heal himself. Or was he enjoying feeling the pains?
I searched for Lora in her room and she wasn't there. There's only one place she'd be now, the garden.
Luckily for me she was sitting under the same tree she sat the previous day. She smiled as soon as she saw me, making a chance for me to sit beside her.
I smiled back…
"How is he?" She asked.
"Getting better. "
" I didn't want to disturb him so I didn't bother checking. " I watched her pinch her fingers as she spoke. " He's gonna be alright, right?" She asked directing her gaze at me.
I nodded softly, seeing how concerned she was, " Of course."
"All this is because of me." She blamed herself.
"Why did you say that?" Confused, I asked.
"If I hadn't come here, none of this would be happening. No one would be getting hurt because of me. Maybe somehow the hunters knows I'm alive and that's why they keep attacking. "
" Hey, hey. No one is blaming you okay? " I said burying her face in my palms. " It's not your fault this is all happening." She shook her head as the tears fell. " Everyone gets hurt for a reason, Lucas knows that too. And no one is planning on giving you away. "
I held her cold hands, " Remember when you first came here, when I told you no one was gonna hurt you? "
She nodded slowly…
" I meant the words. "
~~~~~~~~~~~~~~~~
I walked into Lucas room to meet him at the seat-out. He stood as his eyes trailed around the fortress.
I stood for awhile watching him pitifully. He was amazing likewise the sweetest person in my life.
My eyes met his wounds, he wasn't healing. Or he didn't want to heal.
"Why aren't you healing?" I asked caughting his attention.
He turned his head toward me but didn't say a word to my question.
"Your hurting yourself."
"I want it." Was his response.
"Lucas…"
He cuts in, " Elena, this is my punishment. I deserve it."
"No, it's not. You're hurting yourself and this is crazy, okay?! You don't deserve it! Any if this!!" I snapped at him.
" All those humans died because I wasn't there for them. If I had done something earlier all this wouldn't have happened! None would be happening.! "
I shook my head.
It hurts you know, seeing him in this condition. Seeing him hurting himself, hurts me too.
Cause he doesn't deserve it!!
"For once I wanna feel their pains."
I walked more closer to him, just an inch gap made the difference.
" How does it feels?"
"It hurts… A lot." He looked at me, " And I want it that way."
"But I don't want it that way and Lora… She wouldn't want it that way either. " Tears had already stained my face. " Lucas… "
I can't talk… I just can't stop feeling his pains inside of me. Why?
But why?
He wiped my tears with his thumb then pulling me into his warm arms.
It's been long I had this moment with him. It's been so long he took me in his arms, and drying my tears. It's just been so long.
I had this similar moment with him two years ago when I'd lost my parents in a war with the hunters.
Honestly, I can't regret ever hating the hunters because they deserve nothing but death. And if there's any chance, none deserves to live.
"Elena," his voice sounded in my ears, " You're the last person I ever wanted to bother about me. You don't have to protect me, Elena, it's my duty to protect you. "
" Then stop hurting yourself! " I kept weeping in his arms. " Don't you know it hurts me too?"
" I know. That's why I don't want you to bother about me."
"You know I have to. Of course I have to, Lucas. Don't I have every right to bother about my brother? " I insisted.
He squeezed me more tightly in his warm embrace, giving me a chance to pure out as much tears as I can offer on his shirt.
"It's gonna be okay."
"Yes,it is. Because I believe in you." I said with a continuous nodding.
I believe he is gonna do everything in his power to get those hunters right to their early grave. All they need is just someone so heartless as they are.
After awhile, we broke the long hug. I stared down at the fortress watching how happily and peaceful the people were. What if…??
What if they invaded in here? This time, I guess father knows what our fate is.
"I went to the garden, Lora was there too." He looked at me again. " She was happy, very happy. And I had to guess she's so much comfortable being here. But…" Our eyes met, " don't you think it's time she has to know the truth?"
I took my gaze away,, I waited but he said nothing.
" Don't you think she has every right to know? To know your true identity?"
Yet, he still made no comment.
" You know how she loves you. How much she wants you. Those looks, they aren't ordinary, okay? It's just how much she needs you, Lucas."
His eyes were fixed into mine. An uncomfortable look I can withstand only for one good reason.
"Now don't give me those look like I'm kinda crazy. You know I'm saying the truth. Inside you I can see it, why don't you let her see it too? Why hiding it from her? "
" If you're thinking she'll be scared of you if you tell her whom you are, then you're wrong. She'll only be scared if you keep hiding it from her. "
" Lucas… " I whispered, " In here, you're my family. Anything good for you is good for me too. " I placed my hand on his shoulder. " It's getting late, you need some rest."
Almost at the door I made a stop. " Before I forget," I said turning to him, " your mother sent a message this morning. She said she'll be here in two days time. "
I left…
~~~~~~~~~~~~~~
???? Unknown ????
She laid on her bed, shutting her eyes at nature's call. In and out,, that was the uniform movement of her chest as she breathed.
The evening was dark and silent. Everyone has made their way to their rooms.
The first air blew, it was ordinary, it was normal. And there was a peaceful normality for a moment.
It blew again… Sending some forces into her room. Into the world filled with her greatest fear. In the same way but in a different category.
Now, she was standing right there in the battlefield of the hunters and the great demons.
But her eyes caught at something,,, a figure.
The figure was covered in a red coat,,, identity unknown. Who?
On Earth could that be?
She ran as fast as she could, as fast as her legs could ever carry her. But it all stood to nothing, running a kilometers of a never end journey.
She decided to call Luca's attention. Her voice made no effort to reach to him.
"Lucas, you don't have to fight this! You're gonna die!!"
Yet, not even an echo could be heard.
"Lucas…!" She yelled effortlessly, " Lucas!!!"
Then her eyes caught with the hidden figure again. The figure rose her left hand up, so did Lucas. His mighty sword rose above the others.
The figure said something and in a blink, his sword was burning. It was covered in red fire.
But as the war began, it ended tragically. Having the both masters die at the same spot. Their bloods rolling out of their open wounds.
*Lucas… " She muttered his name, tears had already made it's way down her cheek. *Lucas… "
She shut her eyes for awhile before opening it again.
In reality she was restless. Her body moved sarcastically on her bed. Her hands held her blanket firmly, squeezing it tighter in her folds.
Her breath deepened. Sweets stained her pillow. Her eyes blinking continuously.
He's dead again for the second time in her dream. For the damn second time she watched him die right in front of her!!
The wind became harsh around her surrounding. Every object falling uncontrollably on the ground. It was too much.
He died… Again!!
He died… Again!!
He died…!!!
She woke up. Forcefully sitting up erect, her both hands tightly held her blanket…
*SHE SCREAMED…*
Breaking every windows down. Everything scattered around, broken object here and there. And she was left with nothing but her bed and herself clean and untouched.
She gasped…
She fainted.
~~~~~~~~~~~~