Underground Demon. Chapter 2
9 min read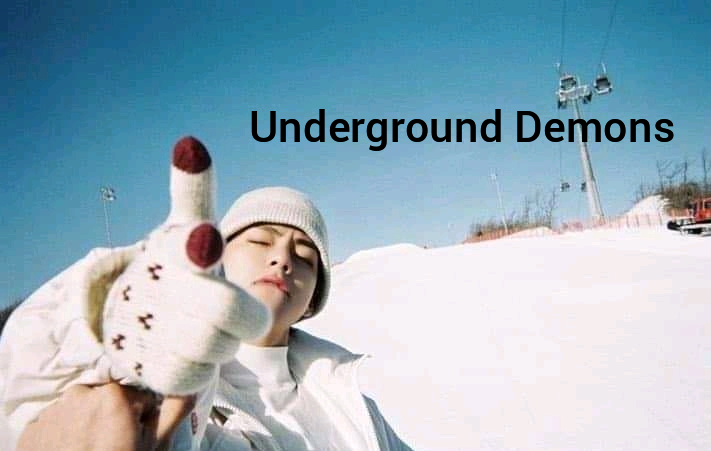 ???????? UNDERGROUNDED DEMONS????????
????
_______???????? The Revenge????????________
????
????????Chapter Two????????
Brought by Chris Val ????✨
????⚡????⚡???? Jack POV ????⚡????⚡????
The following day, which was on Sunday
It was always normal that I can never dream on Sundays
Even on Saturday
And if I eventually do, it always comes to past
Don't call me a dreamer because what am trying to say is, not that I dream all the time but if I dream on ordinary days about something, it can never come to past
And if it mistakenly occurs on either Saturday or Sunday, it will be a must
????
I got dressed up for my Sunday service
Everyone was ready and they were outside waiting for me
Someone knocked on the door and opened it almost immediately
It was Jane
"Oh, am just scared because you haven't come out since morning" she had said
Why would I come out without dressing up?
It was on Sunday and we normally go on time
I wouldn't want to waste time also
I had a bathroom in my room
Surprised?
Oh I forgot that I didn't introduce myself that much
Sorry my dream was too creepy for me to stop thinking
Oya here we go ????
????
Yes we are poor but my Dad was once a wealthy man
Our house was the only thing left for him after getting bankrupt
He managed to get a small job that only saves our daily bread
Do you care to know his current job?
A dry cleaner at the most popular hotel in Mexico
How he has managed to pay our school fees sometimes was what I couldn't tell
He insisted that we must graduate
But situation was proving him wrong
So sad ????
????
I was already back to school on Monday
Our house wasn't far from the school, that's why I normally visit home every weekend
My school, National autonomous University of Mexico
3rd year student
Meanwhile I stays in Ciudad Universitaria (University City) which is National Autonomous University of Mexico (UNAM)'s main campus, located within the Coyoacán borough in the southern part of Mexico City
That was actually close to our house
So it wouldn't be a difficult task for me to visit my parents
I don't just visit them because I missed them, but for my fees
????
Jane in the other hand, was at The National Polytechnic Institute of Mexico abbreviated IPN,
It is one of the largest public universities in Mexico with lots of students at the high school, undergraduate and postgraduate levels.
It is the second best university in Mexico in the technical and engineering domain according to the QS World University Rankings by Subject
????
Jane's fiance was one of the teachers at that same polytechnic and he was taking the responsibility of her education
That was her luck anyway
????
That Monday, I dressed up for school
With My best friend, Dan who was also my roommate but was lazy
He was still sleeping when I was done
"Hey, dude" I said tapping him on his leg
"I still need small sleep" he responded rolling over on the bed
"Am not waking you up, I just want to let you know that am leaving, don't forget to lock the door" I said and he jumped up from the bed
"Are you planning to meet Lizzy before going?" He asked
Lizzy was my female bestie
We were so close that people do think that we were dating
But who would have such time when I wasn't able to carter for my own self
"Stop joking, we are already late" I said instead shifting to a little table inside the room
I heard a sound of the bed and I knew that he has lay back again
I ignored him and packed up my books for the day
I got to where I would take a cab but it seems like everywhere was empty
After some minutes, I saw a lady coming down from my right hand side but she was walking on the middle of the road
She looks so exhausted
But even at that, she doesn't need to be walking on the road
I was watching her from the spot I first sighted her to almost where I was
She was just walking like a snail
The next thing I heard was a sound of a long vehicle from the left hand side
I turned to look at it, it was really close
"Hey!!!" I shouted at the girl but she didn't even shake her head, let alone looking at me, that was calling her
I wanted to rush and drag her but the vehicle gave me a heavy horn that I had to fall back
I sat there and watched the girl as the vehicle just wanted to hit her
But to my greatest surprise, I only saw the vehicle running through her
"Oh my God" I said slowly as I watched the vehicle ran down to the right hand side
The girl was just standing there
The next thing was for her to turn to my direction and my eyes widened in surprised
I was forced to stand up, dusting my buttocks
She started walking to where I was standing
I didn't know if I should rebook her or run away
The next thing was a cab that stopped before me
"Hey, Jack" a lady from it said
I looked closely and it was Lizzy
I smiled
"Hop in" she added using her hand to support her word
With demonstration
I first of all looked up at the other girl and she was close
I rushed and opened the door
"Good morning" Lizzy greeted
"Good morning, hope you slept well?" I asked
Still my eyes at the direction of the other girl
Lizzy noticed it because she looked at that direction
"What's the problem? You have been looking at that direction?" She asked
"Oh, nothing, I was just looking around" I lied
By then, the girl was almost closed to our car
"Okay, driver please take us to the school" she said to the cab driver and he drove off
Our sitting position was, her sitting at the left hand side of the window while I sat down on the right side, which was at the back
The front seat was empty
Only the driver side was occupied
I wanted to look back to check on the girl but it would surely look suspicious
I had to check on a way on how to do it
I still had to looked at the back but the girl was gone
Lizzy looked at the back as well
"You aren't telling me the truth" she said
"I just wanted to know if I picked up the whole book, because I fell down at that spot, earlier" I replied
Truth was that I fell down but as for the book, I knew that I picked them all
Shocked that the girl was not there anymore.
As I returned my face, the girl was already sitting in the front seat
Beside the driver
I had to hold myself well because Lizzy wasn't aware of my gift yet
"Can you see me?" The girl asked
But I ignored her and placed an earphone on my ears but the earphone went off
I couldn't hear anything from it
"Stop avoiding me and tell me the truth" the girl added
But how could I answer when Lizzy was just beside me
"Can you see me?" She asked again
Another idea needed to be taken
I had to think fast
"Can you.."
"Yes!" I almost shouted, cutting her short
Even the driver was shocked
"What is yes?" Lizzy asked me because she was confused
We weren't having any conversation
"Oh sorry everyone" I responded with a little smile
"I was actually listening to a football match that my favorite team is" I lied
"You really love football" Lizzy said while I forced out a smile
The other girl was just looking at us
"Am happy that you can see me, but I don't like people who lie a lot" the girl said and disappeared immediately
That was a relief tho
"Please young man, which club is that?" The cab driver asked
The man was just ????
Luckily, Dan's call came in and I picked it up immediately
That was how I escape that question
Thank God that we were close to the school
????
We alighted at the school compound and we got down
Lizzy paid him and we meant to go when the cab driver called me back
I asked Lizzy to continue going while I went to answer the man
I bent down to look at him
"You are really smart" he said
I was just confused looking at him
"That ghost that was talking to you" he added
"You saw her?" I asked immediately
"Yes, just stay away from her or you might die" he said
I wanted to say something but he ignited the engine and drove off
I was just left with thought
????⚡????⚡????Axel POV ????⚡????⚡????
That morning, I got dressed up for school
All the A gangs were already in my house waiting for me to get prepared
Me and Ajax was living outside the school campus
We rented an apartment because that was our father's decision
Although not the same compound
????
I offered them chair to sit
It doesn't take me time to get prepared
I walked out of my room and locked the door
I don't normally drive, we have someone that drive for us
Although they have their own cars but we like going with the same car
Which was mine
Aiden was the main driver because he was an expert in that
I sat on the passengers side while the other three guys sat at the back
????
We were already in the school
At a spot was crowded with lots of people
"What is going on there?" Andrew asked
"Let it not be another death" Anthony said
"We need to find out" I responded
Aiden parked and we got down
We walked closer to the crowd
"A gangs" one of the students said as everyone made a way for us
We walked to the middle and it was a lifeless body of a student
I turned to the right hand side and saw Mira
She saw me looking at her
She turned and walked out of the crowd
"Everybody stay aside" that was Mr Noah's voice as he walked into our midst
"Time keeper, your work" he added
I shook my head and walked out
I just pitied for those living at the school dorm because the first one was from the school dorm
????⚡????⚡???? Ajax POV ????⚡????⚡????
I drove into the school compound
Mira was just right before me
As in she was just locking her car
Only a car was in between us
At the back was a group of people
"Mira" I called her
Mira's family was just our family
We called them family friends
????
She turned to look at me
Her face curved into a smile
I got down from my bike and walked to where she was
Just then, an ambulance drove into the school compound
"What is going on?" I asked her
"Another student is find dead" she replied
I couldn't believe it
It was making it two students already
Immediately the ambulance left, the school bell was rang
Everybody paid attention
Our new principal, Mr Noah's voice was heard from the big speaker, meant for announcement
"Good morning everyone" he greeted
"It is quite unfortunate that things are beginning to happen in this school lately"
"I just want to assure you all that you are still safe"
"Don't be afraid, I am looking into it" he added
????⚡????⚡????Jack POV ????⚡????⚡????
After the first lesson, we all went out
Dan went to the teacher that called for him while I went to sit in a separate place
It was just an empty hall for cool and quiet study
The next thing I saw was that same ghost girl
I was shocked to see her there
"You again" I said with so much surprise
"I need your help" she said
"I thought you said that you don't like me?" I asked
"I didn't mean it" she replied
I needed to hear her out
I looked around to be sure that I was there alone
"What do you want?" I asked
"Am not really dead but I can't find my body" she replied
"Confusing" I said
"The thing I remember is that, the same cab that brought you to school, was the cab I used before I found myself like this" she replied
I was just confused
I remembered that the cab driver asked me to stay away from the ghost girl
He must have done something bad to the girl